20th Oct 2023 - 04:00
Image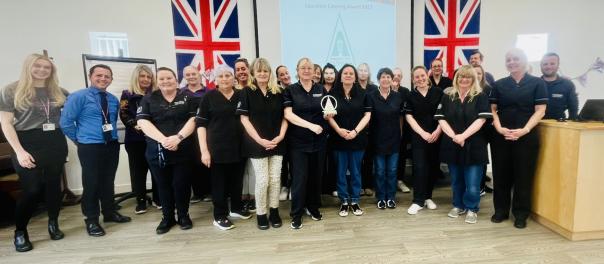 Abstract
Blackpool Catering Service won the Education Award at this year's Public Sector Catering Awards. David Foad talked to catering service manager Derek Wright to find out what an award-winner looks like.
Q: Can you briefly describe Blackpool Catering Services core mission?
Derek Wright: We are a local authority catering service, one of the smaller ones. We are surrounded by Lancashire County Council, while Blackpool is a unitary authority within it. As a catering service in 2019 we were struggling.
We are in as high academy area, there was a lot of service tendering going on and we had just 11 schools and so we set ourselves a mission to expand. That needed us to improve levels of service, quality and to recruit more local staff to bring some assurance and quality. In other words we were looking for a sustainable approach aimed at improving health and nutrition in an area with a lot of deprivation, all underpinned by local employment.
In a strange way Covid helped us, as a number of catering services went into administration at the time and gave ourselves an obligation to support all schools that needed help, whether they were with us not at the time.
Q: Can you provide a few figures that give us a snapshot of Blackpool Catering Services?
DW: We were serving 30,000 meals a month in 2019, that is now 135,000 meals a month from 32 kitchens across Blackpool – that's 30 of the 48 schools in the town and two cafes run with a staff of 150. So we've grown rapidly and that's been underpinned by the fantastic work of the team.
We have also made a further commitment to the community and to education by setting up our Chefs Academy, helping young people by supporting them along a route into a catering career.
Q: Can you tell us a bit more about the Chefs Academy and about your approach to training more widely?
DW: Those youngsters enrolled in the Chefs Academy spend two days a week working in a kitchen and the meals they make go out into the community. Now in its third year, it is based at Highfield Day Centre and takes on around 30 students aged 14 to 16. As well as learning how to cook, the scheme is teaching them teamwork, organisational skills and how to work under pressure.
They produce meals for the college on site and for a further adult education site. It provides a realistic working environment. We embarked on this with Blackpool Council's children's services department, operating it as an education facility.
The students must want to come in and be interested in a career in catering – it offers an opportunity for those who are not academically inclined or perhaps have learning or behaviour difficulties.
It operates on the classic brigade system, which provides a good learning environment and it focuses on those fundamentals that we take for granted such as peer mentorship. It's a pathway and we work with the local Blackpool College and get our apprentices work experience with local hotels.
Q: Can you describe the catering operation at Blackpool Catering Service?
DW: We are a bronze Food For Life caterer and very much try to focus on using local products. In the past there has been a lot flexibility around menu cycles, but recent cost pressures mean we have needed to be a bit more stringent on menus.
Two menus a year that run through three-weekly cycles, so we must be able to guarantee that we have the supply chain to support that. If a dish doesn't go down well at one school, then we'll look at changing it.
Our development chef supports all teams and most products are cooked from fresh. It's quite possible to source local produce – sometimes it's more competitive when it's in season. So we need to focus on seasonality to use that local produce.
It can be difficult, but we need to think differently about our menu cycles to get the most local and British produce as possible. Local cuts food miles.
Q: How has the service developed over the last five or so years?
DW: It has changed dramatically since 2019. We have brought in additional people - an extra area manager and a development chef are the main changes. We'll be looking for further expansion in the future, but for now a lot of consolidation is taking place.
Staff development is key to the future of our services because recruiting a cook or manager off the peg isn't that easy now, so it's more about training. The Chef's Academy is now a qualification centre to make it part of the training for our staff too.
Q: Has there been a strategic plan you've worked to?
DW: We have an ideal plan, but we couldn't have planned for what we've been through – a pandemic, increased business, war in Ukraine, increased food prices.
But we can plan to have a workforce that is ready to be challenged and step up to meet new demands. And our team has definitely stepped up. Even so, the workforce want to know where they will be in four or five years' time, and we can't always do that.
Q: If there were to be a change to school meal provision, what would it mean to you?
DW: If there were to be expansion of free school meals, we would need a bigger workforce to support that, plus infrastructure investment and to meet industry standards and be sustainable.
Funding mechanisms would need to change to fund school meals. Schools get the full funding – but at 65% uptake it's not clear how the funding supports us. That would be even more the case if we moved to a universal meals model.
Q: Can you tell us about the food you serve and how you develop your menus?
DW: Blackpool is a very transient area, so as well as a strong local flavour we offer a varied menu with some new and some traditional options.
Tuesday is always roast dinner day, we then look at the dishes that are most popular. Our Quorn and sweet potato curry, for example, has been very well received.
After that we look at flavours and what's going on in the market because we need to make sure our menus are vibrant and reflect those flavours as well as supporting traditional dishes.
I work with our supply chain to make sure they can support all that. With allergies and special diets we need variations and we try to change the menu item to suit the young person. We do introduce into our menus when we can recipes that eliminate one or more of the allergens and we use gluten-free gravy mixes as it simplifies the environment.
Q: Staff recruitment and retention is an industry-wide problem, how do you approach it?
DW: Across the north west councils we've spoken to at length – development is the key going forward. There has been a slight improvement in the market recently, with a few more applicants but it's not the same as pre-Covid.
The challenge lies with unit managers, chefs, and skilled cooks. We haven't got applicants for those – and that's a massive gap for hospitality in general. We stress the positives, such as no split shifts, regular hours and just Monday to Friday and we in the schools market generally we are seeing more skilled chefs coming in.
Q: As a service and individually you have entered and won a number of awards. Does this help the team?
DW: I think it's really important. It's good for morale, ensures that their efforts are recognised and that they stay focused on the direction we're travelling. Recognition underpins the achievements we've made in very challenging times.
And it's important that we share all successes because it can it take people away and others have to step up to fill in the gap. So it's a team effort.
Q: Can you tell us about any developments under way or planned?
DW: It's a great time to build the team for the future and we constantly need to invest in that development. We have an ageing workforce, so we need succession planning and to be training the next generation of unit managers.
We face a lot of challenges, in tendering and managing cost pressures in this new academic year. As far as further expansion in Blackpool is concerned, knowing the industry schools will always come and go, but we'll always be there for them as we were in the pandemic.