9th Dec 2021 - 12:28
Image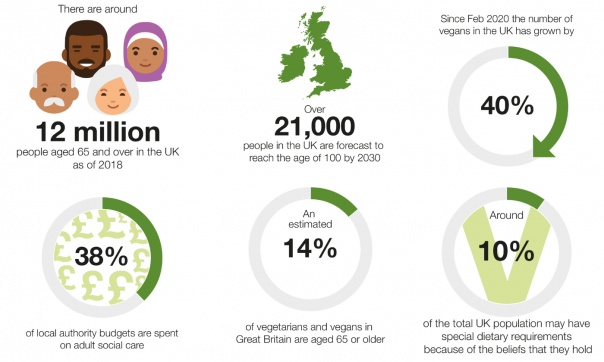 Abstract
A report by the All-party Parliamentary Group (APPG) on Vegetarianism and Veganism has made a number of recommendations to support the rights of people in care settings, writes Phil Mansbridge.
A new parliamentary group report has highlighted a 'worrying trend of serious breaches of rights and dignity rights' among those with religious and philosophical beliefs while eating in care.
The inquiry was sparked by several reports of such beliefs, such as veganism, not being respected and correctly managed by UK care establishments. The inquiry gathered evidence from various individuals receiving care, their loved ones and those who work in the care sector.
The report not only makes recommendations, but also highlights many disturbing incidents and experiences which act as examples of people with religious and philosophical beliefs having had their dignity and rights compromised.
Case studies
Evidence received as part of the Inquiry included the story of a retired professor, Douglas, who had been vegetarian for 60 years being fed ham at mealtimes.
Similarly, the report outlines the story of John, a vegetarian of 30 years who was in hospital. Despite a label above his hospital bed saying 'Vegetarian', he was regularly being fed meat.
In another testimonial, it was revealed that a care home worker, Tuesday, who herself was a vegan, complained to management that one resident was being fed minced meat every day, despite their file being labelled as vegetarian. When she raised this issue, she was told to feed the resident meat anyway 'for nutrition'.
Vegetarian for Life
Amanda Woodvine, chief executive of Vegetarian for Life, a charity that works on behalf of older vegans and vegetarians across the UK, explains why it is so important to get this right: "It is so devastating to hear these stories from the families of loved ones who have gone in to care settings and their entire belief systems have simply been swept aside.
"We know from our work at Vegetarian for Life that these are not just isolated incidents – this is an ongoing issue that breaches the rights and dignity of people in care daily.
"Sometimes it is down to training, sometimes it is down to understanding and empathy, and sometimes it is a result of confusion about how best to deal with those living with dementia, but ultimately, we all have a right to having our dignity upheld, especially when at our most vulnerable."
Legislation
There is a variety of legislation that already exists to protect individual beliefs. This includes the Human Rights Act 1998, the Equality Act 2010, the requirement to consider the 'best interests' of individuals under the Mental Capacity Act, and a variety of devolved Health and Social Care Acts – for example, the Health and Social Care Act 2008 (regulated Activities 2014).
However, as this does not seem to have stopped the issues highlighted in the report, it therefore calls for a strengthening of the existing framework with the following recommendations:
• Strengthen care regulations and related guidance – by recognising that philosophical beliefs are as important as an individual's religious beliefs or cultural background.
• Introduce mandatory training – helping carers to learn more about, and fully understand the importance of, religious and philosophical beliefs.
• Dietary guides in kitchens – ensuring that dietary practices arising from protected philosophical beliefs such as veganism and vegetarianism are easy to understand and accessible for chefs.
Improvements across care sector
Chair of the APPG responsible for the report, Christina Rees MP, says she wants to see improvements across the care sector regarding this urgent issue. "The report sets out some shocking and deeply upsetting failures in the care of vulnerable people who have not had their rights protected.
"This is clearly unacceptable and those of us who express our philosophical beliefs through our choice of diet will rightly feel saddened. However, everyone should be appalled by the failing to protect basic dignity that the report highlights. It is right that these examples are highlighted but I am also proud that the report sets out recommendations that will see improvement across the care sector.
"Some of those recommendations are simple and could be implemented easily. Others are more wide-ranging and will require support from all sides with the help of organisations such as Vegetarian for Life and The Vegan Society."
APPG on Veganism and Vegetarianism
The All-Party Parliamentary Group on Vegetarianism and Veganism was formed in December 2016. The APPG is chaired by Christina Rees MP and brings together MPs, Peers, and third sector organisations from across the political spectrum to debate, discuss, and campaign on the key issues that vegetarians and vegans face.
It is supported by charities Vegetarian for Life and the Vegan Society, which act as its secretariat.
Vice chairs of the group include Baroness Anita Gale, Darren Jones MP, Seema Malhotra MP, Kerry McCarthy MP, and Henry Smith MP.
Following the launch of the report, Vegetarian for Life has arranged meetings with a variety of MPs and organisations to discuss the recommendations.
Additionally, an Early Day Motion (EDM) calling for the Government to consider and legislate for the recommendations has been submitted for debate in Parliament.
You can read the full report at: www.vforlife.org.uk/inquiry