14th Dec 2021 - 07:00
Image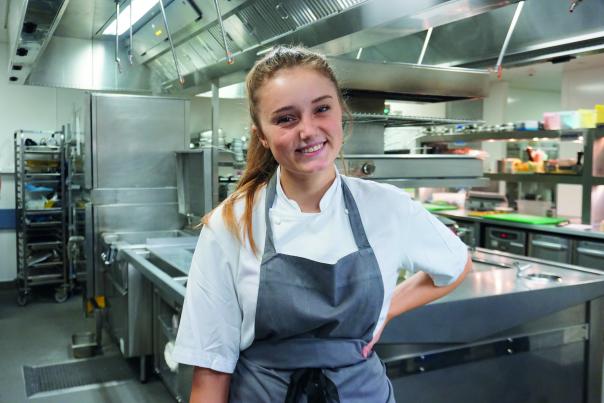 Abstract
BaxterStorey head of chef development Rik Razza describes how the contract caterer is using apprenticeships to recruit and help existing staff upgrade their skills.
It's no secret that there is currently a national skills shortage in the hospitality industry. In fact, three in every ten hospitality businesses currently find vacancies difficult to fill. It's a complex issue that stems from a variety of factors ultimately leading to a negative perception of the industry.
The reality is that there is a wealth of opportunities within the hospitality industry, and BaxterStorey is working towards promoting these opportunities through an apprenticeship scheme, aimed at developing the skills of future hospitality professionals through increased training and support.
We offer two types of apprenticeship programmes through our award-winning Chef Academy, including Food Service and Professional Cookery, which offers training from both a practical and theoretical viewpoint, and focused on leadership and coaching.
A wide range of innovative teaching materials and forward-thinking is adopted, such as Food EQ – a project introduced by BaxterStorey's chef apprentices, with the aim of changing reliance on meat and fish as a sole source of protein, introducing alternatives such as grains and pulses to become the stars of the plate.
EQ culture is all about raising awareness of plant-based cookery, optimising the use of plant protein, and decreasing meat and poultry. That is not demonising meat and poultry, it's just saying we need to get a better balance to create a more sustainable future.
There's also the transferability of skills offered within the apprenticeship scheme because we target all the key skills that chefs need - from kitchen management to how to put a dish together.
We identify them and create training which allows chefs to practice them, whether it's kitchen admin, team dynamics and leading a kitchen, or understanding finance -it's about getting chefs really focused on the breadth of the role.
What's also incredibly important to BaxterStorey is keeping our culture of entrepreneurship and encouraging our chefs to create their own menus by giving them the tools and freedom they need.
No two menus are the same across our restaurants, as our chefs bring their own creativity and innovation to the plate.
Megan Baldock, now a commis chef at a London-based bank, went through our apprenticeship scheme, and this is what she said it has meant to her.
"When I look at where I am now to when I started my apprenticeship over two years ago, I feel like a different person – I've learnt so much. I passed my commis chef level 2 apprenticeship with a distinction and qualifying as 'best in class', a real proud moment for myself and my chef mentor, Scott Dineen.
"I even made it as a finalist in the Nestle Toque d'Or Awards; it was an amazing experience. Some 400 apprentices and college students applied, 60 made it through to the semi-final and six were chosen for the final. The apprenticeship has opened a lot of doors for me, and certainly helped me get to where I am today."
My colleague Maureen Sandbach, the people director at BaxterStorey, says our challenge now is to make sure examples like Megan translate into senior positions. We're proud to work with a hugely diverse range of clients, and we're dedicated to building a workforce which is reflective of this at all levels.
The perception of working in hospitality can be negative, with ideas that it is low-skill and low-pay, and this is something we'd like to challenge.
We are investing more into recruitment, so we can reach potential candidates who might otherwise feel sceptical about a career in hospitality.
The wellbeing of our teams is an absolute priority, and we appreciate the highly skilled work our team members undertake.
In this way BaxterStorey is busting the myths about apprenticeships and promoting the hospitality industry as one of the most important and fulfilling industries to work in.
Not only is it rewarding, but it's one of the only industries you can join with little to no skills, and progress in any direction, in or out of the kitchen.
We have a deep understanding of what it means to thrive in the sector, our chief executive Ronan Harte, for example, began his career as a chef, and so we work hard to create an inclusive environment for chefs to explore their creative freedom.
Apprenticeships are available to everyone and provide the opportunity to gain the transferable professional skills needed to excel in such an exciting sector.