2nd Nov 2021 - 05:00
Image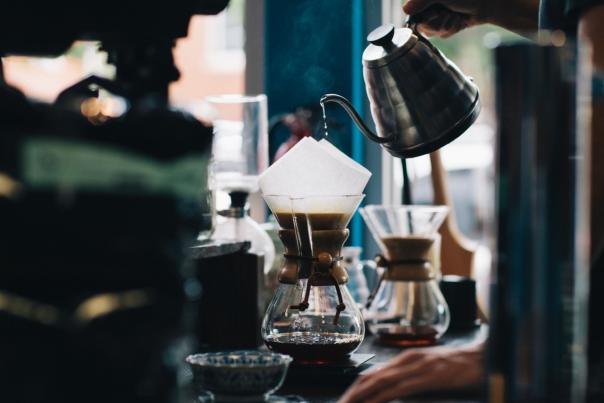 Abstract
Privately owned caterer and hospitality services company Bennett Hay has found that the coffee break has taken on a new significance in offices as teams actively make time to congregate together and interact.
Increased demand
Bennett Hay has seen an increased demand for coffee by employees before they take to their desks at the start of the day along with a marked call for coffees and hot beverages at the traditionally elevenses mark.
Food and drink in particular are being used to encourage employees back to the office and is being played out in breakfast and lunch meetings for teams and cross-departmental meetings.
Coffee consumption, which grows year on year by around 1.5%, is now an important part of food and beverage strategies for workplace solutions and particularly as the average age of coffee drinkers is getting younger. 
New flavours
Backed by many employees purchasing coffee machines for home use, the beverage is now going beyond the traditional cappuccino, latte and flat whites to encompass new tastes and regions.
Gennaro Aniello from Iccomplished, Bennett Hay's coffee partner shares: "Today's palate is much more sophisticated, and expectations are far higher. Consumers want to know the provenance of what they are drinking, they want to understand the impact of growing and harvesting the beans and they want to know of artisan methods behind preparing and roasting the beans.
"Commoditisation of coffee has been superseded with a far more conscious outlook on the supply chain, plus the needs to address a far more sophisticated drinker both in the home and in the office."
Bennett Hay selects Rainforest Alliance
Bennett Hay has chosen Rainforest Alliance certified beans from small farms stretching from Sao Paulo all the way to Mina Gerais in Brazil as its house blend across the workplaces and estates it manages.
A curated calendar of coffees has also been brought into play to allow guests to broaden their palates and to understand nuances and differences in coffees grown at different altitudes and in different climates and countries. 
Coffee as a focal point
Anthony Bennett, founder of Bennett Hay, added: "Coffee is being used by employees as a focal point for talking, interacting, and shaping conversation and formalising new workplace cultures.
"It's interesting to see how history is repeating itself - Viennese coffee culture in the 16th and 17th century also brought people together to meet and to converse and significantly to escape the home.
"Another significant realisation is the health and wellness benefits associated with drinking coffee. In moderation it can sharpen concentration, helps circulation and can increase stamina. As a consequence, we're also seeing plant-based additives and other vitamins added to coffee as eating and drinking follows the path for personal vitality at home and in the office."