24th Apr 2020 - 08:00
Image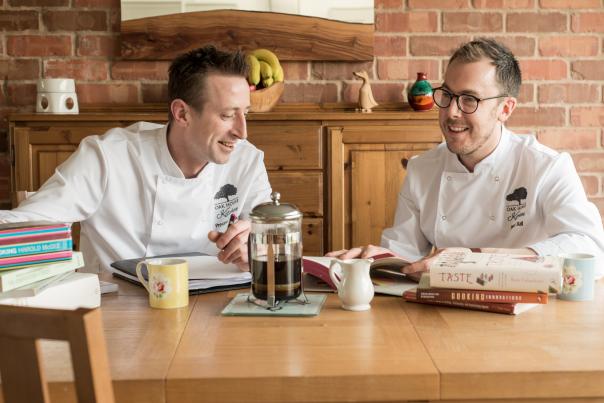 Abstract
Love British Food ambassadors Preston Walker and James Ball run Oak House Kitchen, a catering consultancy testing and developing ideas for care homes and hospitals and training chefs in the sector.
Public Sector Catering: What attracted you to working in the care sector?
James Ball: I was very late into the industry and found cooking when studying Sports Science. I started as a chef in restaurants and hotels, moved into restaurant management and now here.
Preston Walker: I was inspired by my father and wanted to follow in his footsteps. After leaving school in 1993 I gained experience in various restaurants and hotels where I was lucky to work with some fantastic chefs and wonderful ingredients. I am passionate about improving standards and raising the profile of healthcare catering, which is a sector I find so worthwhile and rewarding.
PSC: How important is it to source British ingredients?
JB: Understanding the importance of quality when selecting ingredients is paramount in any cooking, and as a chef this underpins the quality of finished dishes. Buying seasonal British ingredients allows for greater quality on the plate. Freshness is one consideration, but also the ability to see where and how produce is being grown or reared is really important and that direct link to producers and suppliers is vital to understand what is best at that time. It is no different in the healthcare sector if you are prioritising the quality of nutrition, health and wellbeing for this vulnerable population.
PSC: When it comes to potatoes, which varieties do you prefer to use?
JB: With the great variety and range of characteristics available in Britain there will usually be a potato variety that best suits a recipe – whether steaming, boiling, roasting, chipping, etc. We use Maris Pipers as our 'mainstay' variety as it's great for chips, roasts and mash; but then use a Charlotte or Pink Fir for salads.
PSC: You are advocates for British Food Fortnight, why is it important?
JB: I feel genuinely privileged living in Rutland and to have been shown what quality produce really is. Being involved with British Food in general and British Food Fortnight, in particular, I hope I can do my bit to showcase what is available, how it is relevant in the healthcare sector and how it can be used to make delicious and nutritious meals.
PSC: What's your favourite potato dish?
JB: Mash, or rather 'pommes puree', if I can say that. I'd obviously use British potatoes, butter and full fat milk.
PW: There is also nothing more comforting than a potato gratin naturally fortified with cream and garlic, garlic and more garlic.
PSC: What is the biggest issue facing the care home sector?
JB: Kitchen skill and availability is an issue for all sectors of the hospitality industry – and catering in healthcare settings is no different. However, we have been involved in the availability of industry-approved vocational qualifications and have developed a number of specialist catering courses so that standards can be raised. This is a major focus at Oak House Kitchen.
---

Why Buy British?
The UK has some of the highest welfare standards in the world ensuring we produce top quality beef, lamb and pork.
No growth-promoting hormones are fed to sheep, pigs or beef cattle in the UK and antibiotics are only administered if prescribed by a vet.
The British meat industry is the envy of the world. Breeding from our livestock and genetics from breeds native to Britain are much sought after by farmers in other countries.
The distance between farm and restaurant is much smaller than imported meats so fresher meat and less carbon footprint.
Every animal can be traced to its mother and place of birth with the British cattle passport system.
Eating British fruit and vegetable in season is good for you.  Foods in season contain the nutrients and minerals needed at that time of year.
Love British Food is the national promotion of British food encouraging consumers, retailers and caterers responsible for sourcing food in our schools, hospitals and food outlets to make British their preferred option.