21st Feb 2022 - 06:00
Image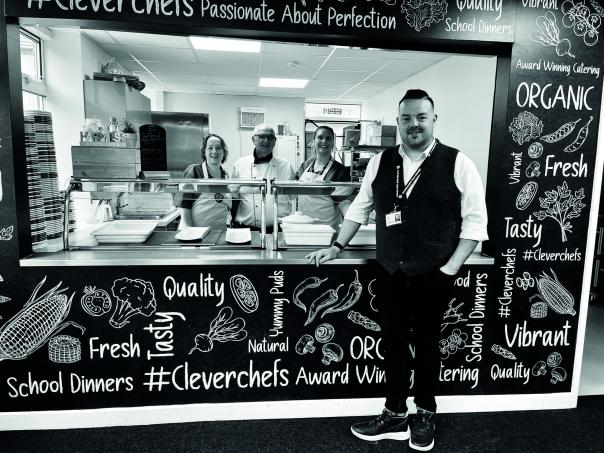 Abstract
Nick Collins, founder-director of CleverChefs, explains how and why he's taken his wedding and events catering business into the schools sector.
David Foad: Let's start at the beginning, can you tell us a bit about your own catering background?
Nick Collins: I started washing dishes at 16 in a local pub whilst training to be a mechanic. I loved cars but I quickly realised cold garage floors and oily hands were not for me, so I went full-time in the pub as I decided my next move. A few days later the starter chef walked out and I was thrown into the kitchen, unsure of what to do but super excited. The head chef was impressed with me saying I was a natural in the kitchen and I think it was then that I caught that kitchen buzz.
My head chef at the time was a really great chef who had stepped away from the famous kitchens to have an easier life, which was strange because he said he didn't want me to work in a pub as my first chef job, and helped me to get into a Michelin-star kitchen near London. I learnt the attention to detail and sheer determination you needed to succeed in these kitchens, working 18 hours days with little sleep and getting shouted at, but that passion for food and the industry keeps you in check.
After working at that level for a while my mum informed me that there was a job going in the BBC. It was Monday to Friday, finishing most days by 3:30pm and it sounded like a dream, though I didn't really think that it was going to be 'real cooking'.
I was astonished at the sheer volume of candidates going for this sous chef job and after the interview felt extremely nervous waiting to find out if I had been selected for the role. When the manager called it was to tell me and I hadn't been successful, but that he had seen something in me and was willing to create a junior sous chef role for me so he could fit me into the kitchen. I gladly accepted.
My first morning in a contract catering kitchen is one I will never forget. The place was huge, sectioned out so professionally, and the team of chefs was making beautiful food in such a different way to what I was used to in the restaurant. I think it's safe to say this was the moment that I fell in love with contract catering.
I went on to enter competitions for chef of the year, took part in salons culinaire and even cooked at the Culinary Olympics. I was also was on BBC's MasterChef the Professional back in 2008.
Later I spent some time cooking for celebrities in the alps in high end properties and on super yachts around the Med. On my return to the UK I decided that I wanted to use my skills in a different way, and became an executive development chef for a large, independent contract caterer.
Ten years on and I wanted to start my own thing when an opportunity came my way to run a small restaurant in south Wales, where I was from. My first little girl was only a month or so old, so it was a huge risk to leave a secure role with a decent salary and car and all that comes with it to start again, but I just went for it, with a few months' salary behind me.
DF: You started CleverChefs in 2015 with the idea of 'changing the way wedding and event food is produced'. Tell us about this
NC: I started to offer weddings in my local area for a few reasons. There was a huge gap in the market for exciting food because everyone settled for the fact that it was likely to be rubbish food, but they felt this was OK because 'what else would you expect'.
I decided to ditch the soup, roast dinners and pavlova and offer food that people really wanted to eat. This meant exciting restaurant-style dishes, sharing platters and exciting food stations. But the most important thing that I insisted on was flexibility and finding out what the customer wanted. It's their big day after all.
I went from 40 weddings in the first year to 480 weddings in year five of trading, won many wedding catering awards and we made a real name for ourselves across Wales and the south west.
DF: Did it work as planned or did you have to modify your ideas?
NC: If I'm honest I still pinch myself as to how well it went. I think we have created a strong brand identity and are at the top of our game in the wedding industry.
DF: You have subsequently looked to move into other markets, why?
NC: It was always a dream to become a contract caterer in my own right, however its incredibly hard to gain contracts from a standing start so it was always at the back of my mind to get established in the event sector to show how different we were and how our skills could be transferred over to make an impact in the cost sector.
Having worked in the sector for such a long time you keep notes of things that you perhaps could do better if you had the chance. And the thought about how I could make a real difference kept niggling away at me.
DF: The move into the school catering seems a step into a very different sort of market. Is that how you see it?
NC: The main thing that drives us in this market is why does it have to be different, why should school food suck. It can be exciting; it can be tasty and, of course, it has its challenges because for too long school food has been cooked by dinner ladies who are given recipes by large companies that are happy to simply buy in ready-made food that just gets warmed up.
In my previous career working for other people I was heavily involved in developing food offers for public and private schools.
I think having two little girls spurs me on even more because the thought of them eating horrible lunches makes me sad. When we started to get a bit of traction in the tenders and to get into schools on site visits I was completely shocked at the level of food that was being served. Some lunchtime services we witnessed made us quite emotional if I'm honest.
I think it was like lighting a firework behind us and really drove us to say 'this is not acceptable to serve children'. That passion led to us winning our first three-year contract. We are so proud now to have partnerships with over 40 schools - a mix of primary, secondary, colleges and even schools in the independent sector.
DF: Can you tell us about how you positioned the company to work in the schools sector?
NC: Our moto is simple - Good Food. Whether that's a sandwich or a freshly-baked cake, our food needs to set the standard in creativity in every area of our business.
We have turned our inherited dinner ladies into real chefs, training them the way to handle food in a 'cheffy' way, showing them what to look for and, most of all, planting that passion in them to want to make a difference so they can get a sense of satisfaction out of their work day.
And 'great vibes' are important to us, because we want our kitchens to have a great feeling when you enter them. Whether that be from some light music boosting the team spirit, a great uniform or just a real infectious 'can do' attitude across the team,
We quickly realised that it isn't possible to turn every team member into that positive foodie, but we persevere. We think differently to others; at Cleverchefs we are dedicated to making a happy team so they can deliver happy food.
DF: Can you tell us about the impact Covid has had on the business?
NC: A challenge no business owner wants to find them self in - a very scary time for my staff and me. It felt like I had just got half way up the mountain with CleverChefs and I had to go back to the bottom and start again.
After a few weeks at home with the kids trying to process it all I realised that as a caterer with access to heavy duty kitchen equipment in my central production kitchens and a fleet of vans I could help someone. We produced food for NHS staff and vulnerable people in the community.
I decided to build a platform on my website where people could order afternoon teas and gentlemen's teas for Mother's Days and Father's Days. It went crazy with orders and we were in undated.
With all of my staff furloughed I brought a few key members back to assist me and we pretty much spent the year building up that side of the business.
We had taken it to a national roll-out of food kit boxes, afternoon teas, grazing boxes and even hand-made cocktails using couriers and our own van fleet to keep Cleverchefs going.
DF: What did you decide to do with the business then?
NC: My team took care of the food delivery service online then day to day so I could focus on growth.
When the weddings were full pelt I had no time to think or develop as much as I would like to, so I thought maybe I could use this down time to develop a new offer in the school catering market.
I called in my financial controller to run the idea by him of looking to employ someone to help me write tenders and win new business in the education sector. He thought I was mad because everyone was letting people go in the industry - you could see it on LinkedIn - it was so sad to see.
But I was so confident that this was the time to make an impact that I did it anyway. I had lots of applicants as you can imagine, but one popped through that I had worked with previously called Jason Jones. After meeting I knew he was the kind of guy I needed to help me on this journey. He's all about the detail and getting all the information needed before writing proposals. With my creative eye for marketing we make a fantastic team.
DF: What are the key issues facing a business like yours?
NC: I think the dreaded Covid and its variants is still an obvious worry, but it seems to be turning into other issues with staff leaving our industry and putting us under additional pressure. We face supplier issues for the same reason, which in turn pushes prices up on the products we buy.
DF: If you had the ear of the prime minister, what would you tell him needed to be done to help catering companies, especially in the education sector?
NC: There needs to be enough notice given if you do decide to change things and more support for those contractors that provide services for schools, especially when it comes to tackling unhealthy eating.
DF: What's the next step for CleverChefs?
NC: Hopefully to stay on the path we are on. Our company is very much divided into the events and the contract sector. We plan to grow in the contract catering sector in a steady and calculated fashion, carefully choosing the kind of workplace or education partners that match our ethos values. We want to grow in a more sustainable but stylish way.