15th May 2018 - 08:35
Image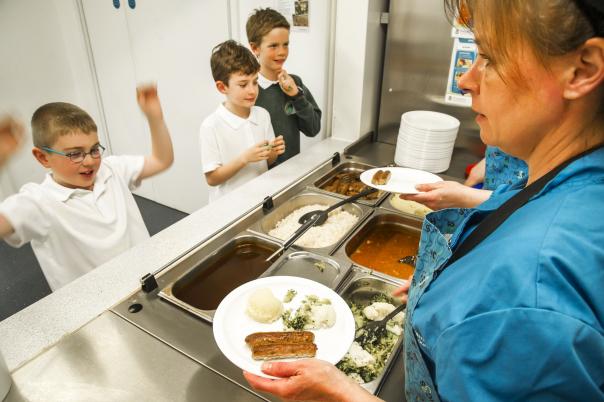 Abstract
When there is a school catering problem in Salisbury, the chances are that HC3S will use Melanie Lloyd as a troubleshooter.
Based at St Mark's C of E Junior School in Salisbury, Melanie Lloyd has to be ready at short notice to help out if another Hampshire County Council Catering Service (HC3S) client school in the city suddenly finds itself short-staffed.
On the day we went to meet her she was one of a team of two preparing meals at Greentrees Primary School, which has a pupil roll of 420.
Cost Sector Catering: What is your role?
Melanie Lloyd: I'm a mobile unit manager
CSC: Who are your customers and how many of them are there?
ML: Normally I work at St Mark's, which has 360 pupils, and we serve about 130 meals a day. From the same site we prepare a further 70 meals for Exeter House Special School, which is on a different site but is part of the same academy trust.
Tell us how you engage the children with the food you prepare?
It's a mix of approaches – from talking to them at the service point, making sure we listen to what they say, and just generally making ourselves approachable. It's important to remember to smile and, later, to ask if they enjoyed the meal. Sometimes we go into the play area to talk to them.
What are the busiest times in the kitchen?
The key preparation and cooking time runs from 10am to 11.30am, while it also gets pretty busy at the end of service between 12.45pm and 1.45pm.
How does the kitchen design help you?
At St Mark's we have a brand new kitchen that's 'all singing and dancing' with great equipment and ample space and storage. We have two walk-in freezers with sliding doors, which makes it easy to access and store food. We have burner stoves and two combi ovens.
How many in the team do you work with?
There are four, and they are all team players.
What's on the menu?
Roast beef with Yorkshire pudding, vegetable chilli with brown and white rice, Thai Chicken Curry with naan-style bread and brown and white rice, and a Quorn burger with herby, diced potatoes. We always have lots of vegetables too, such as a medley of broccoli, cauliflower and carrots – usually two or three with each meal. Plus we have desserts such as St Clements sponge with custard, chocolate and pear crumble with custard, an organic apple lolly, and apple and blackberry love cake. We always offer the children salad and freshly made bread, too, plus Yeo Valley organic yoghurt.
What specifications do you have for the food and drink you buy?
All our meat is Red Tractor and all fish is MSC (Marine Stewardship Council) certified. We also try to use organic chicken, where possible, and source the food as locally as we can. For example, all our eggs are free range and come from the New Forest in Hampshire, as does our low-sugar ice cream.
How does the equipment you have support the menu?
We've got two good, new, Lincat digital combi ovens that help us plan better batch cooking, so the meals are fresh and high quality for the children. Each one can take seven trays of bread. We also use two Falcon six-ring gas burners and a large Hobart mixer.
How often do you get food and drink deliveries?
Twice a week. Fruit and veg comes every other day to ensure it's fresh. The major items are kept in dry store freezers and fridges.
What are the children's favourites?
Roast dinners, pizza and fish and chips.
Do you cook from scratch or buy in prepared products?
We cook from scratch as much as possible. There is always at least one homemade dish on the menu daily plus desserts like a jumble biscuit and homemade cakes. We also bake for special events like the Pudsey Bear shortbread for Children in Need.
What's the biggest challenge you face?
Managing two different schools, each with its own, specific needs.
What do you like best about your job?
My role gives me plenty of variety, I love the children, and I'm very proud of the people I work with and the food that we produce.
What's your favourite piece of equipment and why?
I love the new digital ovens, which makes our lives so much easier.
And do you have a favourite kitchen gadget?
That would be the scales we use to get the precise measurements of ingredients.
Any big plans for 2018?
Simply to carry on supporting the area to provide the best possible meal service so that the children eat well and enjoy their food. I also aim to impart my skills and knowledge as a mobile cook to everyone I work with across the different schools.