18th May 2023 - 09:14
Image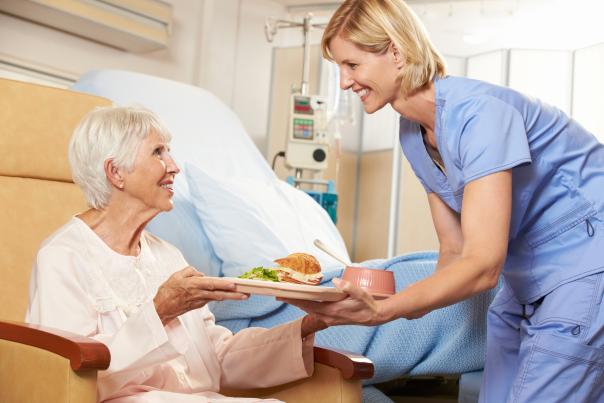 Abstract
Hospitals in New York City have made a bold and striking move: They've gone vegan, and patients are, by and large, enjoying it, writes Amanda Baltazar.
The 11 hospitals in the system, New York City Health + Hospital (NYC H+H), between them feed hundreds of patients per day through foodservice contractor Sodexo. Now, the first and the second choices offered to patients are 100% plant-based, though there's a meat alternative available if that's preferred.
The menus have been a resounding success, with 50% to 60% of patients opting for the plant-based meals. And satisfaction is between 90% and 100%, too. The main goal of the new menus has been to improve health.
"We are a healthcare institution and a good majority of the population have some form of cardiovascular disease and diabetes, and science shows that eating a more plant-forward diet can help treat these co-morbidities", says Samantha Morgenstern, MS, RD, CDN, senior director of nutrition services in acute care at Sodexo.
Making a major menu switch like this has been an enormous amount of work for Sodexo, which solicited feedback from other accounts, conducted a lot of research and development and tested many, many recipes.
Other Sodexo employees came to the hospitals to give feedback, along with dietitians and chefs.
One of the biggest challenges, Morgenstern says, has been ensuring patients receive sufficient protein, from ingredients such as lentils, legumes and tofu. We have to make sure we offer the correct micro- and macro-nutrients.
The second challenge has been to be as inclusive as possible. The 11 hospitals are located in the five different boroughs of New York City, each of which has different demographic — there's a strong Hispanic population in the Bronx; a lot of Eastern Europeans in Brooklyn, for example.
"Comfort foods and foods they enjoy are different for all of them," Morgenstern says. To meet everyone's needs, foods from the different cultures have been incorporated into the cycle menu.
"To test these items, Sodexo ran these meals as monotony breakers on the regular menu before it launched the default plant-based menu, and received feedback from patients."
One of the most popular dishes is sancocho, a Hispanic stew that usually features meat; another favourite dish is a black-eyed pea casserole served with cornbread and plant-based cheese; on the Italian side is a pasta Bolognese made from a selection of mushrooms; and there's a jackfruit burrito.
But the number one obstacle the team expected to face was patient acceptance. For this reason, education was one of the top priorities when rolling the programme out.
"We educated and engaged our staff, leaders, and patients, on the benefits of having plant foods as the star of the dish," says Morgenstern.
This education started when Sodexo began testing the plant-based meals, which kicked off with Meatless Mondays in 2019.
Seeing early success with this initiative, the contractor launched plant-based lunches by default (the main lunch offered unless patients opted otherwise) in March 2022.
These meals were also met with approval, so last September plant-based dinners by default began and by December all hospitals were offering them.
During the rollout, Sodexo also operated a plant-based roadshow, which literally took to the road and visited all of the New York hospitals.
Staff were offered tastings and a presentation to teach hospital and foodservice staff about the benefits of plant-based diets and give them the ability to talk about it with patients.
It was really important to make a stir with the new menus, says Mercedes Redwood, MS, RD, assistant vice president for managed services, adding that they had wanted there to be a 'buzz'.
To create this buzz, Sodexo created announcements that appeared on staff computer screens and catering staff began wearing -and to this day still wear - badges celebrating the programme, to really spread the word.
It was vital to educate the foodservice associates at the hospitals, too. These employees visit bedsides three times a day to verbally recite the menu to patients and take their orders. They're an important, and close link between the catering department and patients, Redwood says.
Part of this communication includes discussing the benefits of plant-based foods and describing the two default vegan options. If neither of those appeals to the patient, he or she can order a meat-based meal.
"We provided our foodservice associates with descriptions of the meals and the ingredients they contain to share with the patients,", says Morgenstern.
"Our goal is to introduce the idea of plant-based nutrition to patients while they are in our care. We want to make sure our patients have the tools they need to make healthful choices after they are discharged.
"We're very intentional around the language used to describe our dishes. We don't use words like 'vegan', 'vegetarian' or 'default' as they tend to scare patients away."
Dietitians and chefs also visit patients to talk up the new menus and to provide a direct link to the kitchens and the food being prepared. Sodexo is even hiring more chefs to grow this side of the programme and to strengthen that link between the kitchen and the patients, Redwood points.
"Having our executive chef visit patients in our facilities has really elevated the dining experience and shown how patient-centred our services are," Morgenstern adds.
As well as educating staff members, Sodexo wanted to let patients know more about the programme. Now, on being admitted to the hospital, they receive a letter from the catering department that welcomes them to the plant-based menu, explains what it's about, why these foods are offered, and how they can be beneficial.
Many patients know very little about plant-based foods so this was really important, Redwood adds. On top of that, when patients check out, they leave with a booklet featuring 40 plant-based recipes from the hospital system.
The catering department hopes that discharging patients with this booklet will encourage them to cook and eat more plant-based meals once they get home and to help them make those changes, even if patients start with simply adding one plant-based meal to their weekly repertoire.
Staff focus on how plant-based foods can improve patients' diets in their conversations, but they also touch on how plant-based foods can help them decrease their carbon footprint and help climate change.
With the roll out of the plant-based programme, the 11 NYC H+H hospitals have also elevated the patient dining experience. They've invested in nicer uniforms for the foodservice associates and added better quality china. The china is also carefully selected for each meal for the best possible presentation.
Less than six months after the full roll-out of the programme, the goals have been met, says Morgenstern.
"Now we have a to look at how we can expand. This could include offering more plant-based choices at breakfast, which is a challenging undertaking because there are not many plant-based proteins people would want at breakfast."
She'd also like to expand the programme to the hospitals' behavioural health population and add more plant-based desserts. A recent success was plant-based rice pudding.
But not all dishes work, with a pad Thai and an edamame falafel were not among patient favourites. However, all dishes can be reworked and foodservice associates ask patients for feedback after every meal. This is all reported back to the kitchen staff, chef and R&D personnel to improve and refine the meals to better suit patient palates.
Sodexo uses a cook-chill commissary to prepare all food for NYC H+H. The contractor served almost 350,000 plant-based meals at the hospitals between March and December 2022.
And on top of the health benefits, the vegan meals are less expensive, Morgenstern points out, as there's a 59 cents (49p) saving with each meal.
For Sodexo, the next step on the menu development is to take some of the learnings from NYC H+H and translate them for introduction to other of its accounts.
"There is lots to learn from the strategy applied here, the tools, education and marketing, so they can then learn from what we've done and adapt it," Morgenstern says.