8th Nov 2021 - 05:00
Image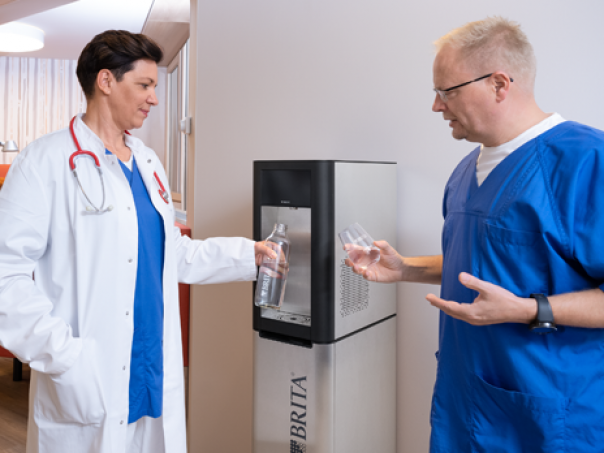 Abstract
Rebecca Fairfield, head of key accounts at BRITA Vivreau, shares advice on how operators in the public sector can optimise hygiene in shared areas and all with one eye on the planet.
Sustainability is a priority for most public sector businesses, many of whom will have a number of targets to reach. As well as lowering their carbon footprint, reducing waste is a major focus for businesses, particularly within the healthcare setting.
Having dedicated hydration facilities not only has a positive impact on our health, but also supports businesses in the public sector to achieve their sustainability goals. For example, four billion plastic bottles have been eliminated in the environment to date by people drinking BRITA filtered water.
That's why water dispensers are a great addition in helping to eradicate the need for single-use plastic bottles, therefore reducing waste to landfill- something which is increasingly important with the additional waste being created by vital, but disposable, PPE.
To put that into perspective, if 100 people each drink approximately one litre of filtered water daily from a dispenser rather than plastic bottled water, it equals 560kg less plastic waste per year. This is the equivalent weight of a new-born grey whale.
Naturally efficient
In addition to reducing plastic waste, the natural refrigerant in our water dispensers such as BRITA Vivreau Top and Extra also offers powerful cooling technology, without the need for shipping, storing and refrigerating individual plastic bottles.
Instead, residents, patients and staff can enjoy great-tasting filtered tap water in reusable drinking bottles. This helps to reduce outgoing costs, not just for plastic bottled water, but also in terms of energy bills.
What's more, both products are KIWA and Water Regulations Advisory Scheme (WRAS) certified which means they have been assessed and are in accordance with established requirements and standards.
Remaining hot on hygiene
Looking beyond sustainability, hygiene remains a top priority especially when it comes to shared amenities making built-in hygiene features very important.
That's why, the BRITA Vivreau Top and Extra systems, for example, have been developed with a unique HygienePlus solution and ThermalGate technology, which protects against retrograde contamination and regularly self-disinfects thermally to clear 99.99% of bacteria.
To ensure safe, filtered drinking water for all, the systems also come with an optional extra Easy Access Panel (EAP). This provides an additional control unit that can be positioned at a lower point, either flat to a surface or at an angle, which is ideal for wheelchair uses in public sector settings.
To find out more about hygienic, safe and sustainable water dispenser solutions for your business, visit here.