18th Nov 2019 - 05:00
Image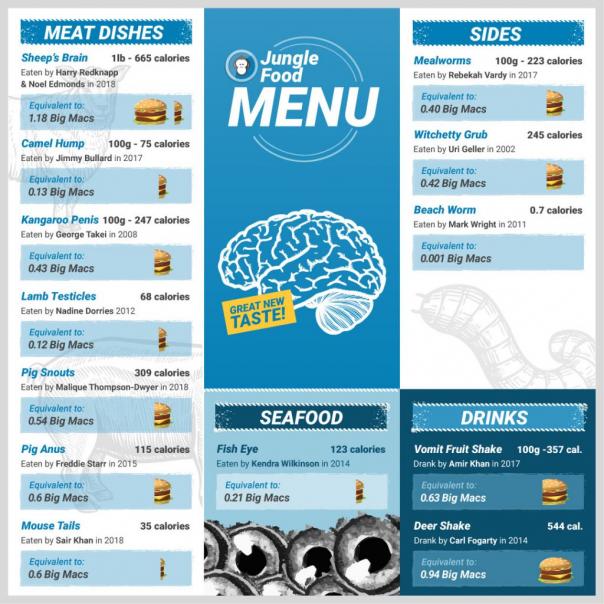 Abstract
OddsMoneky has looked back through the best and worst 'Jungle treats' that celebrities have eaten and complied a calorie menu.
From Uri Geller eating the first ever witchetty grub in series one back in 2002 to last year when Noel Edmonds and Harry Redknapp both tucked into sheep brains, the I'm a Celeb contestants have eaten a variety of insects and animal body parts.
OddsMonkey compared the Jungle snacks to a Big Mac, which contains 563 calories. Here is a look at the top six 'Jungle treats' with the most calories.
Sheep's brain (1lb)= 665 calories
Harry Redknapp and Noel Edmonds competed against each other in last year's edition of the I'm A Celeb eating Bushtucker Trial. A sheep's brain contains 665 calories, which is more than a Big Mac.
A sheep's brain also has more calories than Redknapp's beloved jam roly poly which contains 400 calories. 
Deer Shake (kidneys, liver, blood)= 544 calories
The 2014 winner Carl Fogarty was challenged to drink a Deer shake, which contained kidneys, liver and blood. He passed the challenge and it had about the same calories as a Big Mac.
Vomit Fruit (100 grams)= 357 calories
In 2017 boxer Amir Khan downed the vomit fruit shake. The vomit fruit is said to have a horrible smell and taste (hence the name).
Pig Snout (one)= 309 calories
Malique Thompson-Dwyer and Sair Khan ate a pig snout during last year's programme.
Kangaroo penis (100 grams)= 247 calories
Eating a kangaroo penis was one of the most iconic moments in I'm A Celeb history. The 'Jungle treat' has been eaten by a number of celebrities over the years. In 2008 Star trek 'legend' George Takei took on the challenge to eat a kangaroo penis. 
Witchetty Grub= 245 calories
During the very first eating challenge in I'm A Celeb history vegetarian Uri Geller took on the challenge to eat a witchetty grub. Although it can be a staple of the Aboriginal diet it only contains 245 calories (less than half of a Big Mac).