10th Apr 2016 - 23:00
Image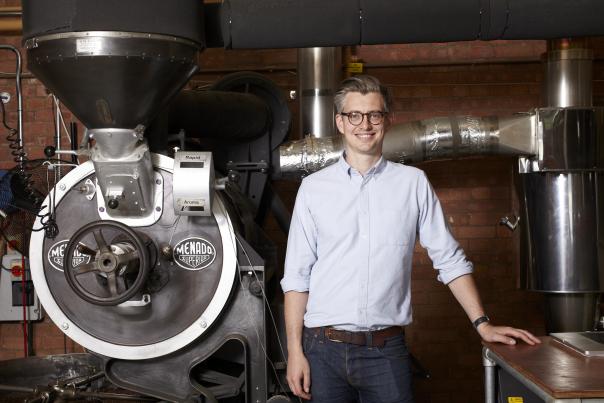 Abstract
Founded in 2008, Square Mile Coffee has grown to a 16-strong team, working with over 100 businesses around the UK. Lunch Business spoke with co-founder James Hoffman about the business, the coffee industry and his connections with UK Coffee Week.
Can you talk a little about Square Mile and how it all started?
Before starting the company in 2008, myself and my business partner Anette had been doing a lot of training and education. There comes a point where you feel that you ought to stop telling people what to do and to go and do it! We both travelled a lot, and were aware of blossoming coffee scenes around the world. We felt passionate about fostering that scene in London and bringing great coffee to a city that didn't, at that time, have very much.
We initially planned to open a roastery cafe, but in early 2008 the world somewhat broke, so we decided to just focus on roasting and wholesale, and helping passionate people open great cafes. That focus hasn't really changed in the last 8 years.
How did you get into the coffee business? Passion for coffee or something else?
I started working in coffee before I drank coffee. Initially I worked as a demonstrator in a department store, selling little domestic espresso machines. However, at some point I discovered just how rich and interesting the world of coffee is and down the rabbit hole I went. I loved that it is such a diverse and complex industry, with so much opportunity. I felt I could work in coffee for a lifetime and never get bored of it!
You've now got a 16-strong team, how did you manage to grow the business from what it started to where it is now?
We made the mistake so many businesses make: we thought that if we were passionate and knowledgeable about our product, then that would be enough. I very quickly realised that I needed to understand the business of business. It was at this point that I focused on the mechanics of Square Mile, ensuring we had a strong platform for growth. It's very hard to make good decisions without good information.
It was at this point that we started using Xero to keep on top of our finances. It really changed the game for us, because even when I'm travelling (which I do a lot) I know exactly where the company is at financially - just by going into the Xero app. It also simplifies everything, but gives us incredibly valuable, accurate and up to date information about our cash flow. That's huge. The coffee market is ever more competitive and challenging, so flexibility and adaptability are incredibly important. Using Xero also allows us to make more informed decisions about the business, whilst freeing up our time to focus on the most important thing - roasting coffee! 
How important is UK Coffee Week, especially the partnership with Project Waterfall?
I'm a trustee of the the charity behind Project Waterfall - so to me it's  hugely important. The coffee industry touches so many people every day, and I think speciality coffee drinkers are passionate people who care about what they eat and drink, and the lives of those who produce it. I'd love to see UK Coffee Week grow, and to help that audience do incredible work through a passionate charity.
What is Square Mile doing during UK Coffee Week?
Our main goal is advocacy, as we don't have a cafe, or anywhere to interact with customers face-to-face. We're supporting our wholesale customers during this time, as well as doing some fundraising in-house.
Who does Square Mile supply to? How many cafes? London-based only?
Our customers tend to be businesses that want great coffee to be a key part of their offering. These tend to be businesses owned by people who are passionate about the importance of delicious coffee, but who understand that this is difficult and are up for the hard work and challenges involved. We supply around 100 businesses in the UK, though we're strongly focused on London as we love to be local to our customers.
Biggest challenge Square Mile has faced?
Hard to say - at the start I might have said that we were a wholesaler looking to sell to quality focused cafes in a city with only three of four cafes like that. Now it is probably the sheer number of new coffee roasting companies that are starting each month in the city.
Biggest success to date?
Hard to say, to be honest. We've had some amazing highlights over the years - from World Barista Championship wins to project like our Penny University pop-up and lots more, though I think we're always very cautious not to dwell on the past. What we do requires we constantly look forward, and try to progress. We're terrified of complacency.
What about the wider industry, what is the biggest challenge for the UK coffee market?
Right now the challenge is that the rate of cafes opening exceeds the rate at which consumers are being converted to speciality coffee. Supply is vastly outstripping demand, and that means the bubble is going to burst in the next few years. A lot of what we're doing and thinking about here is how to weather that challenge and how to succeed in a difficult market.
What do you predict the future holds for the UK coffee market?
Honestly, something of a difficult two or three years. We're going to see a lot of cafes close, a lot of coffee roasters struggle as the market corrects. The upside is that for consumers coffee is going to be ever better and great coffee more easily available as the base expectations for quality from the market continue to rise.