22nd Sep 2023 - 04:00
Image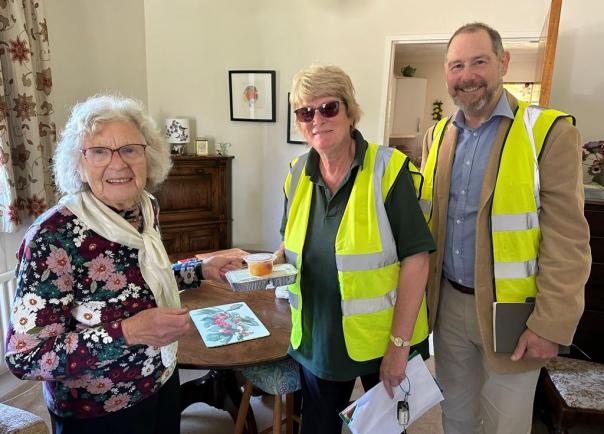 Abstract
Fears are growing about the future of meals on wheels in the UK, with a new report due out. David Foad spoke to Neel Radia, the lead for the National Association of Care Catering (NACC) on the service, about his concerns.
Ahead of Meals on Wheels Week (October 30-November 3) the NACC plans to publish some new research into the state of the service. And although many people acknowledge the huge benefits it brings in helping the elderly to live independently – preventing hospital admissions and making discharges easier and smoother – the omens are not good.
David Foad: The percentage of local authorities running a meals on wheels service has been dropping in recent years. What was the most recent figure?
Neel Radia: The last research conducted by the National Association of Care Catering was in 2018, which showed that only 48% of the top tier local authorities in the UK were still providing a meals on wheels service in the UK.
Five years have passed since this report was published and we are eagerly awaiting a new report that we have commissioned in partnership with the Association of Public Sector Excellence (APSE). We expect this to be published on September 11.
DF: And what do you fear might be revealed by the latest research in this area by APSE?
NR: As an association we are expecting the results to be particularly concerning. Social care budgets as a whole have been underfunded for many years; a recent report by Care England has revealed that the current shortfall in funding is estimated at around £1.5bn a year.
The challenge we have with meals on wheels and access to nutritional support for older people and those living with disabilities in the community is that there is no statutory requirement for local authorities to provide these services. The consequence of this is that these services are then not having their money ring-fenced to continue providing the service, resulting in closures.
Malnutrition, or under nutrition, within older people has long been a challenge in the UK. This is a topic we have discussed for many years, and still has not been properly addressed. As a progressive nation, malnutrition and food insecurity are not just somethings that we should have a moral obligation to tackle, it should be a legal one too.
Services like meals on wheels and lunch clubs are ways of addressing this. And having sufficient funding to ensure these preventative services are sustained is vital. BAPEN estimates that one in ten people over the age of 65 are malnourished or at risk of suffering from preventable malnutrition.
DF: Do you have real concerns about the future of the service?
NR: There is a real concern now about the future of meals on wheels and whether they will even be around in next couple of years. The last 12 months have been challenging for everyone; we have seen general inflation at its highest causing the worst cost of living crisis in modern times and food inflation causing untold damage to the catering and hospitality industry.
Yet, with all these challenges, budgets for meals on wheels, for the majority of services have not been increased in line with the increased costs. This has left the local authorities running these services in deficit. Passing on the high meal prices to service users make the meals unaffordable for those in extreme need of the service, and by not subsidising them it takes the local authorities into the red. There are no winners.
The current cost of living crisis in a post-pandemic world means that more and more adults with care needs, who wish to live independently and well in the community, have been expected to make that challenging over the winter about whether to heat their homes or eat. With more meals on wheels closures this year, this raises concerns about the impact on service users mental wellbeing and physical health.
DF: Is one of the major problems the fact that meals on wheels is not a statutory service?
NR: It is a known fact that good nutrition and hydration are key contributors to good health and wellbeing for people of all ages. Yet for older people, and those with disabilities, who are trying to live independently in their own homes and may need some additional support in maintaining this, we fail to see that the access of good nutrition is a key factor in helping them to maintain their independence.
With this in mind, it is hard to comprehend that meals on wheels is not a statutory service within local authorities. Having this as statutory responsibility would enable it to be regulated and safeguards put in place for those receiving the service. Meals on wheels is more than just a meal; it also includes wellbeing checks and is often the only contact some will have with another person that day.
DF: Local authorities might want to fund a service but are struggling financially. What is the estimated funding gap nationally?
NR: At this stage, without the evidence of the survey, the gap is unquantifiable.
DF: Can't local authorities simply outsource meals on wheels contracts to get round this?
NR: Meals on wheels is currently a postcode lottery, and we are seeing different models being employed across different local authorities. Simply outsourcing the contract does not absolve the local authority of the overall commitment to provide the service.
Many authorities will have contracts where they have underwritten a minimum commitment and even then, there is evidence to suggest that the contractors themselves are voluntarily withdrawing from contracts, or not retendering, purely because of the uneconomical proposition.
DF: Briefly, what are the benefits to individuals and society of a properly run meals on wheels service?
NR: Meals on wheels support older people in living as independently as they can in their own homes, for as long as they wish. For the individual it means that they maintain their independence whilst being relieved of the task of creating a warm and nutritious meal each day. For the community it means that we have less demand on the NHS and other social care services. Proper provision of nutritious food for those that need it most is a win-win for everyone.
DF: Are there any solutions out there that could improve the overall situation?
NR: There are some great models for consideration by local authorities before axing a service, including looking at shared services and/or social enterprise models. HILS in West Sussex is one such partnership between a local authority and a social enterprise that is working very well.
DF: What actions can the NACC and local authorities take to drive home their message most effectively?
NR: We all need to get Government and the decision-makers to listen to our argument. The NACC runs Meals on Wheels Week each autumn to help raise awareness of the service. This year the theme will be quite simply 'Save our Meals on Wheels'.
We will continue to use every opportunity to get our message across, be that through direct contact with MPs and Peers or by lobbying local authorities for more favourable treatment. We need to get everyone to understand that preventing the vulnerable from entering the NHS system in the first place by better provision of good nutrition in the community is far cheaper than having the beds blocked and extended waiting times for everyone else.
DF: Are there any grounds for optimism on this issue?
NR: There is always optimism. To paraphrase Nye Bevan's immortal quote, there will always be meals on wheels as long as there are folk with faith left to fight for them. The benefits of preventative nutritional services in our communities are currently being undervalued.
Urgent intervention is needed to ensure older people and those with disabilities in our community are not left to go hungry. When they do, they then have to face the damage to their health that under-nutrition can cause, putting further pressure on the NHS and GP practices.
As a progressive nation, malnutrition and food insecurity is not just something that we should have a moral obligation to tackle, it should be legal too.