20th Apr 2021 - 09:43
Image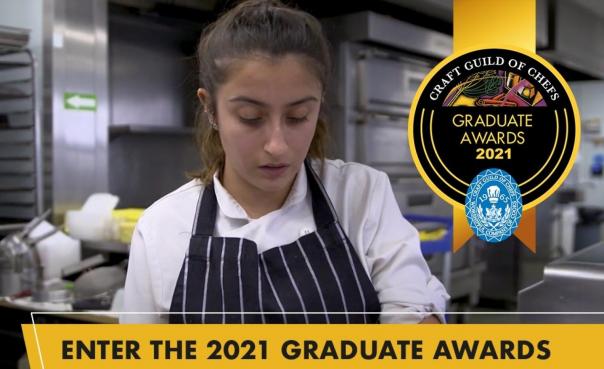 Abstract
Pastry Highest Achiever, Ranna Ameer explains her experience of the event and future career plans.
At the end of last year, five talented chefs achieved the Graduate Award 2020. These chefs put themselves forward and completed the award in the toughest of years for hospitality. Each of them showed determination, resilience, and a passion to work on their own skills and career development.
Chefs under 25 are invited to enter the 2021 Graduate Awards, which allows them to develop their skills. Russell Bateman and Will Torrent will examine the kitchen and pastry entrants. Entries remain open until Friday 30th April via a short online entry form.
Can you tell us about your current job role?
I work at St James Hotel and Club as a pastry demi chef. I did my initial training at Greenwich Community College and completed my Level 2 at Bermondsey Community Kitchen. My first job was at the Tate Modern which was a fantastic place to work. I've only been a chef for four or five years but have also had the opportunity to work at Michelin starred restaurant, Galvin La Chapelle.
What do you love most about being a chef?
I like how creative you can be with this job. This is only my second role as a pastry chef, but I love how you can make food look so exciting and something that people really want to taste. I knew I always wanted to work in a kitchen, but it was only after learning all areas of culinary arts that I decided to specialise in pastry. It was always important to me that I learnt everything before working in a particular area of the kitchen.
When did you realise you wanted to be a chef?
I did a couple of cooking courses when I was at secondary school and loved baking at home. Cooking for other people is something that I've always enjoyed doing in my spare time. For me, it's important to have a job where you love what you are doing.
Who has inspired you the most in your career so far?
There isn't one particular person as everyone I work with inspires me to be a better chef but pastry chef, Steve James, has taught me things in a way that nobody else ever has. His expertise and advice were so valuable when I completed the Craft Guild of Chefs Graduate Award.
What do you like most about competing?
The Pastry Graduate Award was the first time I have ever put myself forward for anything like this. Competing isn't something I had ever considered but it was suggested to me by my chef. It all felt very new, and much harder than I expected, but I really enjoyed the experience and learnt a lot from it.
Why did you decide to take part in the Graduate Awards?
I just wanted to see what I was capable of and what I could do; I never expected to get as far as I did but felt it was worth giving myself a challenge. When I found out I had achieved the award, I was quite shocked. At the final exam, it felt like it was really hard, and things didn't go to plan. However, I remained focused on getting everything done as all I wanted was to be proud of what I had achieved.
You were the joint highest achiever of this year's pastry award, what does it take to come out on top at events like this?
Lots of practising! Most of this had to be done at home which was challenging at times but the hard work paid off. I really didn't expect to achieve this award in my first attempt so to get it meant a huge amount to me. I simply wanted to do the best I could and having that mentality worked for me as there was no expectation.
How has this event helped you during the pandemic?
Just having something to focus on has really helped me during the last year. In 'normal life' being a chef takes up all my time and to go from up to 60 hours a week to nothing was hard. With the Graduate Awards, it was good to have a purpose and something to work towards.
I would recommend any young chef try this experience. It was something I needed encouragement to enter but you have nothing to lose if you simply see it as a chance to find out what you are capable of.
What would success be for you as a chef?
I just always want to improve and be the best chef I can possibly be. One day I would love to be a head chef or have a restaurant of my own. That feels like a long way off so right now I just want to keep getting better. The Graduate Awards forced me to push myself. Do something out of your comfort zone and you never know, you might achieve it.