19th Jan 2022 - 05:00
Image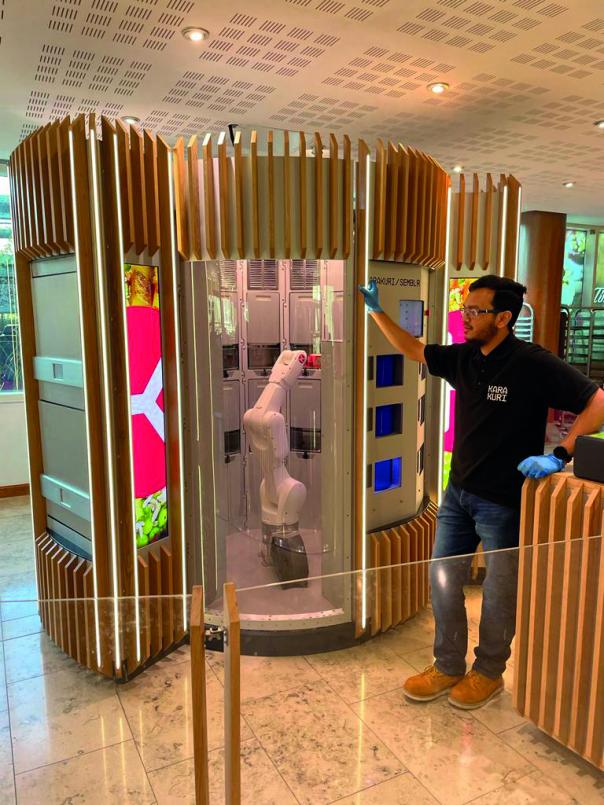 Abstract
We may have had to wait until well into the 21st century for it to happen, but the world's first large-scale foodservice industry robot is now busy serving hundreds of meals a day to staff at Ocado's Hatfield headquarters, reports David Foad.
In September last year, to a not particularly great fanfare, it was announced that the future of restaurants 'had arrived'. Tech start-up Karakuri launched Semblr, which it claims is the world's first installation of foodservice robotics in a large, high-volume catering environment.
For a little over three months now Semblr has been preparing fresh, personalised lunches for the 4,000 Ocado employees who work at the office, and according to Chris Ince, chef director at Atalian Servest, the move has been a great success.
"The response to our integration of Karakuri's Semblr at Ocado has been fantastic. Employees are really engaged with the new foodservice delivery and are pleased with the flexibility it has given them.
"It has reduced queue times and meant that staff can avoid busier times. They can order via app and collect their lunch at the time that suits them. Since launching in September we've been able to speed up our operations serving more bowls per hour.
"Customers can also clearly see the nutritional values of each dish and have the flexibility to make changes to reduce fat or calories or increase protein, for example.
"It's great for people following diets or requiring specific nutritional intake to complement workout programmes.
"Foodservice via Semblr is more robust in terms of allergies. The potential for cross contamination at the point of service is significantly reduced because all the ingredients are kept completely separate.
"It presents far less risk than a busy counter with open dishes of food and manual handling, particularly in restaurants with high footfall.
"Our Semblr foodservice has been so successful in its first few months of operations that we've been able to move into phase two quicker than planned and we're already testing new ingredients.
"We want this to be a continuous journey for our customers and give them new things to look forward to. Phase two includes the introduction of different grains, dressings and condiments.
"Robotic food service is a constant learning curve. Every day we're learning about which new ingredients can be introduced and those that keep better than others, as well as how to dispense quicker.
"We're proud of this new addition to our team and we're looking forward to getting more creative with our menus."
The installation of Semblr is the culmination of result of a coordinated effort between Karakuri, a world-leading food robotics start-up, FM services company Atalian Servest, and Ocado, which in addition to its online grocery operation is pioneering the development of its Ocado Smart Platform for use outside the grocery retail world.
Barney Wragg, chief executive and co-founder of Karakuri, says: "Putting our robot in action in a busy dining room for the first time marks a huge milestone for everybody at Karakuri.
"We've come a long way in two years and our mission remains the same - to develop robots that support the hospitality and catering industry and to improve the experience for both hospitality operators and customers.
"What we've delivered to Atalian Servest at Ocado is the most advanced food robotics technology in the world. We will be watching with anticipation and excitement how Ocado's employees enjoy the food.
"Covid has really made people stand up and pay attention – we need to be thinking about automation, in terms of efficiency in our business, and the social distancing of our kitchens."
He says Semblr has been designed to address the biggest challenges facing the foodservice industry - increasingly complex consumer diets, labour shortages and food waste.
"It pushes the boundaries of automation in commercial catering to give Ocado's employees unparalleled choice in what goes into their meals.
"With 2,700 different combinations of the dishes on offer, customers can specify down to the gram what hot and cold items, proteins, sauces and fresh toppings are included. This is something that is simply not possible in traditional restaurants and commercial catering."
Bringing Karakuri's robotics into the catering operation has involved a partnership with Angel Hill Food Co, the specialist corporate catering division of Atalian Servest which runs the Ocado staff feeding contract.
For Wragg it showcases how his company's technologies can be used to support restaurants and retail environments in a post-Covid world.
"The clean, contactless nature of robotics makes it ideal for supporting the hospitality industry as they adapt to new ways of working due to labour shortages and a more socially-distanced way of working.
"Semblr's installation will provide Karakuri with critical data and learnings that will support future site installations and product developments," he said.
Daniel Dickson, chief executive of Atalian Servest, agrees, saying: "Working with Karakuri to deliver a successful first installation of Semblr is part of our technology-led FM solution at Ocado's head office.
"We're now more excited than ever about the possibilities this revolutionary technology can bring to other parts of our business.
"Our Angel Hill chef team has been working with Karakuri to develop innovative, contemporary and healthy menus that offer a fantastic added dimension to the Ocado Workplace food offer we deliver."
And for the client itself, Stewart McGuire, head of corporate development and strategy at Ocado Group Plc, added: "Ocado and Karakuri share a vision of automating key elements within the food value chain; this real-life installation is an exciting and long-anticipated moment.
"Karakuri is developing systems that sit at the intersection of food, people and technology, and we are delighted to help make their vision a reality.
"As demonstrated by us opening up our canteen, our investment goes beyond financial support, and this 'living lab' gives Karakuri a way for them to perform stress-tests in a production environment.
"Plus, we get to give our staff a sneak peek at the potential future of food service."
Wragg added: "Consumer eating habits in and out of the home are changing rapidly as demand increases for healthier options that match specific dietary requirements.
"This growth in menu personalisation is putting huge pressure on restaurants, cafes and other food retailers.
"Our systems prepare personalised meals onsite in real time to the exact requirements of each customer. At the same time, our technology aims to minimise food waste, packaging and distribution costs and all of the associated environmental impact."
Semblr aims to provide a 'robotic solution' to delivering a high-throughput, fast-turnaround, completely personalised, portion-controlled, foodservice.
It incorporates many technologies to handle a large range of foods that enable users to choose portions of each ingredient that are then served on plates or in bowls and dishes in a way that Wragg claims 'improves on human service'.
As a result, Ocado's workforce can now customise and place their orders and pre-orders from their phones, with Semblr then individually preparing each meal, selecting from 17 hot or cold ingredients that are weighed to match the customer order.
Multiple robotic arms enable it to prepare a number of different orders at the same time, ensuring it meets the demands of a busy staff restaurant.
The venture began back in 2019 when Ocado spent £7m to buy a minority 18% stake in London-based Karakuri, which had already created a range of 'chef' automated robots.
Ocado chief executive Tim Steiner said at the time that by integrating Karakuri's technology into its own supply chain, its warehouse technology customers would be able to 'make a decision on whether they want to add a ready-made food offering' in the near future.
The decision came as Ocado sought to revamp its reputation as a leader in robotics and automation, after its high-tech automated warehouse was destroyed by a fire, reportedly originating from one of its robots' batteries.
"Our investment in Karakuri, potentially a game-changer in the preparation of food-to-go, gives us the opportunity to bring the best innovation to the benefit of our own customers as well as our partners," Tim Steiner told the media back in 2019.
Karakuri's first robot, dubbed Marley, was able to produce customised ice-cream orders and cocktails, while the next generation DK-One machine was built to produce a custom meal every ten seconds.
It had been due to be tested in the autumn of 2019 at Ocado's headquarters, preparing free breakfast bowls for staff, but the trial had to be postponed until 2020 as a result of Covid.
The robot could prepare freshly-made, customisable, ready-to-eat meals from 18 hot and cold ingredients with precise portion accuracy and it gave customers a precise read-out of the amounts of each ingredient in their meal, including nutrients and calories.
For Wragg it marked the first time they were able to use a pre-production machine to demonstrate the DK-One's commercial and nutritional benefits in the real world - and his vision for the future of food.
Much of the development work that had taken place in the meantime was at the 'back end of the machine' to enable it to accurately dispense wet, dry, soft, and hard ingredients.
"The difficult bit is how do you manage this three-dimensional, non-linear, always-changing piece of material that we call food," Wragg told The Grocer at the time.
"If you can do that accurately then you can build a business that goes into all areas of cooking and meal preparation."
Professor David Lane, director of the Edinburgh Centre for Robotics and co-chair of the UK government Robotics Growth Partnership, says: "Even before the pandemic, it was clear there were many opportunities to increase sustainability, resilience and productivity in the catering industry, and to better address changing consumer tastes and lifestyles while reducing the huge amount of wastage.
"The pandemic has thrown up further challenges of distancing and remote working that can now readily be addressed through robotic innovation."