16th Oct 2023 - 04:00
Image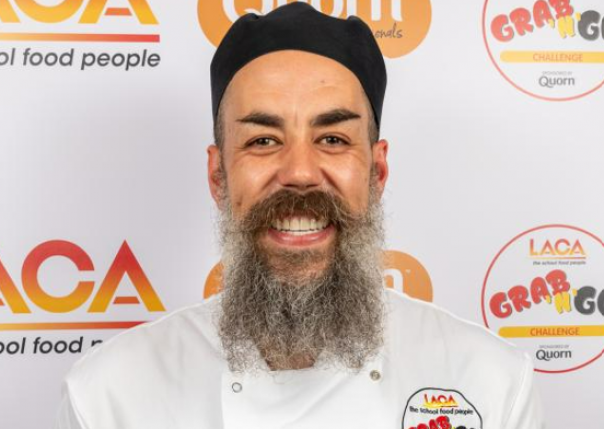 Abstract
Jody Iske from Queen Ethelburga's Collegiate in York was named as the winner of LACA's inaugural Grab & Go Challenge following a cook-off at the Main Event.
The competition challenged school chefs to design, cook and serve a nutritious food item that can be eaten 'on-the-go' by youngsters. 
Chefs were tasked to cook four portions of a grab & go meal or breaktime savoury snack with a total cost per head of 60p (to include food costs and serving item- box, cone, paper wrapping).
Tell us a little about your school?
Queen Ethelburga's is a private boarding school in North Yorkshire. We cater for pupils up to and including Year 13, with a lot of international students making it really important that the meals we serve appeal to a wide range of tastes.
Tell us about your winning dish?
I cooked a Quorn Burrito – a flour tortilla filled with Quorn mince, Mexican rice and a spicy mayonnaise.
What inspired your winning dish?
I joined a couple of our home economic lessons when developing the recipe for the competition. Firstly I explained to the pupils what I was challenged to do. They then gave feedback as to the foods that they enjoyed. They wanted spicy flavours and something that was simple to eat. This led to a burrito.
After spending time preparing certain variations, I went back to the pupils and they gave feedback, suggesting more spices and texture. Some of the pupils had been hesitant about trying Quorn but on the final session tasting session the feedback couldn't have been any more positive. They loved the spice, the texture, the flavours and some didn't even know it was meat free with many saying that it's something they would choose on the menu.
Why did you enter the Grab & Go competition?
Why not! I wanted to challenge myself and do something a bit different to the day job. This competition was the perfect opportunity. I loved the process. We got to engage the students, visited Quorn's head office in Leeds for a cook-off and then of course the final at the LACA Main Event. It was a brilliant experience.
What's your most popular meat free dish?
We have a lot of meat free dishes on menu to cater to our range of international students. Great flavour is really important. We have everything from Jambalaya, stir-fry dishes, gyros, pasta and meatballs, lasagne, chilli and curries. Now of course the Quorn Burrito will be up there too.
What do you like about working with Quorn for your menus?
Quorn's ingredients take on flavour really well which makes it easy for us to make meat free versions of the dishes our students love.