28th Jun 2018 - 07:00
Image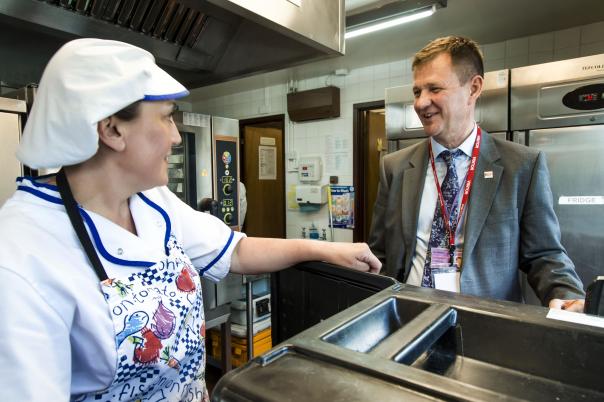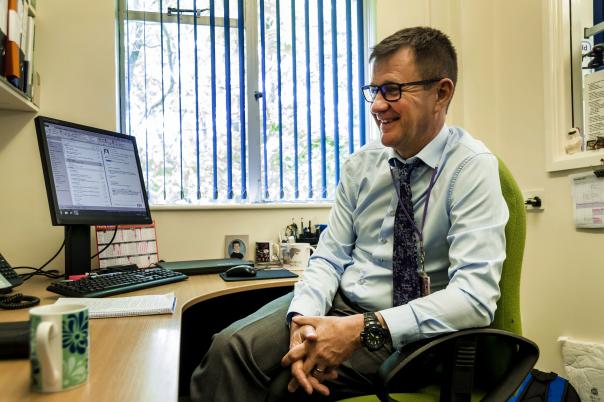 Abstract
How do you manage a countywide school meals operation serving 52,000 meals a day and lead a national industry organisation at the same time? As he prepares to step down after two years as LACA chairman, Tim Blowers offers David Foad some insight
David Foad: Where do you work?
Tim Blowers: I'm based in the Matlock office as head of county catering service, part of Derbyshire County Council's children's services, which covers all schools in the county except the city of Derby. As a unitary authority the city organises its own school meals service. I also manage the foodservice management team that is looking for new business, including picking up schools now involved in multi-academy trusts.
What is your role?
I take the strategic lead on catering in schools plus other County Hall clients. I am also involved in food procurement for adult services, such as day care centres, working with a budget of £9 million a year. We are a fully traded service.,
How do you juggle the competing demands of this with your role as chairman of LACA?
I spend up to three days a week on LACA business, but I got permission from senior management here before I accepted the chance, and they have been 100% supportive ever since. I was able to recruit a deputy in Kate Evans, who can stand in for me as head of service. And what also makes it possible, of course, is that I've got a good team behind me. We are spread over four different offices and provide catering at 380 schools – 24 secondaries and the rest are primaries, special school and nurseries. We serve 52,000 meals a day, which represents a take-up of 60%, which we're very proud of. In fact, take-up for universal infant free school meals (UIFSM) is 85%, and even among older children free school meal take-up ranges from 70% to 80%.
You must be very busy. What time do you start your working day?
I'm normally in the office by 8am and then get home again about 5.30pm to 6pm, but I'm not one of those who stays late if there's no need for it. However, the day can be very different if I'm attending a LACA event, as they often involve travel to London and other parts of the country. Once or twice a week is not unusual, and quite often that also means an overnight stay. I'm also a governor at a local school, and like to stay involved with what they're doing, so I've got plenty going on.
Can you take us through a typical day?
It could easily involve a managers' meeting, which we hold every six weeks, and I also hold all-team meetings involving the 30 people working in the department. I'll be reviewing procurement and food prices, training with development officers, and IT issues.
Take a recent week, for instance. On the Monday we had a workshop day with the Association of Public Service Excellence (APSE), involving all schools traded services. On Tuesday I did a review of the business, looking at things like staffing and food costs and had a one-to-one meeting with my line manager, the Children's Services' service director. On Wednesday the core leadership team (CLT) in education services got together. This includes catering, adult education, schools and learning, outdoor education and virtual schools. On Thursday, I did some LACA Awards judging.
What's the biggest challenge facing school catering in Derbyshire?
Rising costs, without a doubt. We have bottom-loaded pay rises with the national living wage, and the up-and-coming £9 an hour minimum wage. As this applies to 75% of our staff this will have a significant effect on our budget. As a result, we are reviewing the selling price of meals to schools and parents for the first time in a number of years.
The other issue that's affecting us is the multi-academy trust (MAT) programme. It has happened very quickly and communication has suffered as a result. Without the chance to build a relationship it puts more pressure on the management team.
What can be done to meet these challenges?
I have developed a bidding team to respond to the demand, but things are very unbalanced, with MATs developing largely in the east of the county where the towns and cities create a denser population. As a traded service organisation we can, and do, look for business beyond the county borders. But there's no doubt about it, that accessibility is an issue for smaller rural schools and some have no kitchen and rely on meals delivered from others in the area. Some are forming into federations to cluster around secondary schools, where they can pool their resources, and this may help a little.
What do you like best about your job?
Simply, working with the team and together providing the best food and education we can for the children. It's great when I get the chance to go out and visit schools and meet the heads, though this is something I've not been able to do as much while also LACA chair.
How many are in the team you work with?
We have 14 staff working with me in Chatsworth Hall here in Matlock, but there are 28 of us in total working across four different sites. We have a total of around 1,500 staff in schools.
Do you get involved in staff training with your team?
Not directly because we have trainers for that, but I have tried to be very supportive of the role of apprentices for a number of years, long before the current focus on apprenticeships started. We also offer work experience and make a special effort to provide such opportunities for young people in care in Derbyshire.
Do you eat a lot of school meals? And what's your favourite on the menu?
As I said, I've not had the chance to get out and make as many visits over the last couple of years as I would like, but I always enjoy the chance to try the food when I do. My favourite is beef meatballs made from the organic beef we source from Lower Hurst Farm in Hartington near Buxton. We use the meat for meatballs, burgers and casseroles. And the relationship we have built with the farm means they help us arrange school visits to show children a working farm that is providing some of the food they eat.
You are obviously convinced LACA membership is worthwhile. What would you say to those who are not yet members?
The membership provides so much, from networking opportunities to the website and the news and resources that it provides. Managers know they can email in questions and get a quick, informed answer. We have the three main events: School Chef of the Year, National School Meals Week and our conference, awards, exhibition and competitions highlight in July – The Main Event. I think membership offers some great opportunities, helps keep you up to date with industry trends and, of course, there are the regional meetings as well.
You will be handing over the role of chairman after the Main Event in July. What will you look back on with the most satisfaction?
I would say the main things include the research that we launched into UIFSM. It involved a lot of work and I ended up doing a number of live radio interviews, and it prompted the Department for Education to commit to a statement saying how valuable UIFSM has been to children's health and wellbeing. I also tried to target data collection and we have joined with APSE in pulling together a joint survey that will be presented at the All Party Parliamentary Group on school food later in the year. Its importance is that it includes responses from local authorities in England, Wales and Scotland. And I'm also proud of the links we have formed with the Love British Food campaign, which runs British Food Fortnight. As Brexit becomes a reality it makes sense to find ways to put more British produce on our menus.
Have you enjoyed your time as chairman?
Yes, without a doubt. Having shadowed Sally Shadrack as her vice- chair for a couple of years I knew quite a bit about what to expect, but I must admit the sheer amount of travelling involved has surprised me.
What are the big issues that face school meals in the UK over the next few years?
Quite simply they can be summed up as budgets, Brexit, MATs and, hopefully to a lesser extent over the next year or two, UIFSM.
Lastly, how do you like to unwind when you're not working at either of your two roles?
I love attending soul events – in particular anything Northern Soul. Manchester was only an hour away by train when I was growing up and we used to travel up regularly to enjoy the scene and I still enjoy it today. The other big thing is windsurfing, which my wife and I have done for a number of years now. We've travelled to South Africa, Greece and the West Indies and loved every minute of it. Closer to home we both like walking at weekends, watching films and TV and I still enjoy the chance to get back in the kitchen and do some cooking when I have the time.