25th Feb 2022 - 06:00
Image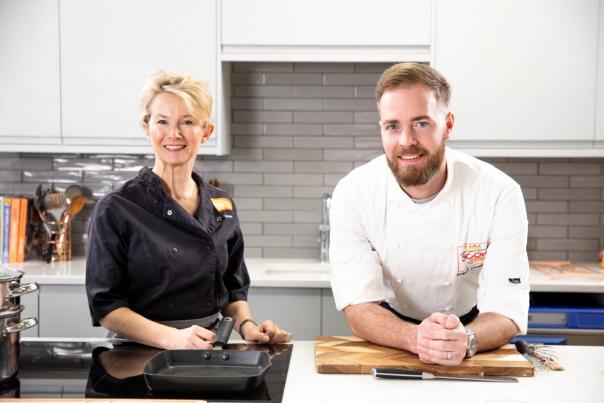 Abstract
Rob Chambers, executive chef at Hampton College, was crowned the winner of LACA's School Chef of the Year competition in 2021, sponsored by Quorn.
He recently visited Quorn's Leeds headquarters to meet the team, cook his winning dish and discuss what is important to him when he is planning meat free menus for schoolchildren.
Tell us a little bit about yourself?
A: I'm Rob Chambers, Executive Chef at Hampton College (Impact Food Group)
Who's your customer base?
I'm based at a secondary school, with sixth form. The trust comprises two secondary schools and two primary schools.
What is your most popular meat free dish?
My most popular dish would have to be veggie 'dirty nachos'. Whenever I make a batch of chilli con carne, using Quorn mince, I have to make sure there's extra to serve up with homemade tortilla chips and cheese, and salsa, guacamole and sour cream on the side for kids to serve themselves. Even the kids who aren't vegetarian can't resist them!
What is important when it comes to creating a meat free menu?
It's important to try and make meals fun and interesting for kids, even more so with meat free dishes. Getting them to try new things is quite difficult sometimes, so I like to offer up small free samples of anything that's new to encourage them to have a taste and let me gauge how popular it might be.
If it gets them excited and tastes good, then they'll definitely be back for more. I've noticed more kids developing an interest in meat free dishes, creating something that doesn't feel like it's any different to the meat equivalent is really important for getting their attention.
Tell us about your winning dish?
I used Quorn mince to create an aromatic steamed bao bun, sriracha glazed Chinese cabbage and Asian salad with a soy and chilli dressing.
Phil Thornborrow, foodservice director at Quorn, added: "The innovation and quality of dishes in last year's competition was incredible to see. This was the first year SCOTY had been meat free and Rob's dish stood out from the regionals. We're really excited to be working with him this year to identify opportunities for meat free on school menus.
"As we see more and more people realising the impact that their diet has on the planet, eating habits are changing and the interest in meat free is accelerating. In our experience, the education sector has always been ahead of the game on the sustainability agenda. Now more than ever before, it's crucial that we help children and young adults make healthier choices in their habit-forming years.
"We're feeding the minds of the future and we want to inspire future generations to eat more healthily and establish sustainable eating habits. That's why we're really proud to be working with LACA again on this year's SCOTY competition."