15th Jun 2023 - 04:00
Image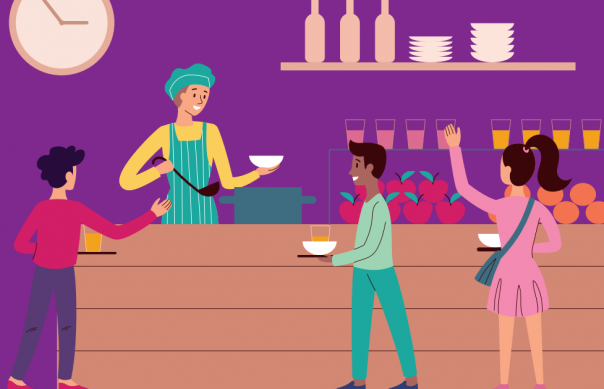 Abstract
Are there lessons for public sector catering managers from the approach taken to staff feeding by contract caterers? Consultant Julian Fris, who works with both, believes there are and spoke to David Foad.
What can the public sector can learn from business and industry (B&I) catering principles? That was the broad question I put to Julian Fris, founder and principal consultant of Neller Davies, a consultancy he started in 2005.
It is an independent consultancy operating across the healthcare; B&I; education and public attractions & venues sectors of the catering market.
He says that means he works with contractors, such as with Compass and its catering service provision for the Metropolitan Police, and with in-house operations, such as Ashford St Peter's Hospitals NHS Foundation Trust in Chertsey, Surrey.
And he believes that the public sector could benefit from adopting some of the approach taken by contractors whose business practices are sharpened by a closer involvement in the High Street retail environment.
Q: What are the main challenges that restrict the public sector?
Julian Fris: Cost, expertise, structures, behaviours, recruitment and retention, which are all becoming increasingly challenging. The processes involved for the public sector, for example, usually involves a procurement person, not a caterer, who will buy the goods or a catering service. And it's so cost-driven the bids you get don't reflect the actual cost.
If you are a contractor bidding for that business you can put in a fancy document and keep your costs low, but things are not always what you expect. Too often, then, it becomes a transactional exercise that focuses on 'boxes' rather than what the caterer really wants to do.
By contrast, contractors bidding in the B&I sector see it as more attractive and creative. Take hospitals as an example. If you are an in-house team you might find the Trust suddenly starts to implement cost-saving measures and then you are boxed into delivering a service with an unfeasibly low budget.
Add in the fact that 30%-40% of hospital workers bring in their own food and it's then no wonder that some hospitals have entirely given up on providing staff feeding.
When it comes to recruitment and retention, you simply have to look after your staff, especially in catering and hospitality where there are chronic shortages.
In Ireland there is a good example I'm familiar with, of a public sector institution looking at the market and adopting a more innovative approach. The Government-owned energy provider ESB has decided that it will provide free staff feeding.
The company realised it needed to recruit more people and quickly, and recognised that it was competing against private sector tech companies for qualified staff. And these are firms who really look after their workers, not only in terms of pay but in also in the workplace, and one of the things they typically offer is free or subsidised staff restaurants.
ESB has worked out that the cost of providing free food is still cheaper than what they would spend trying to recruit new engineers to replace those lured away by the tech companies.
Or take Ashford St Peter's where the existing commercial deal, based on a concession fee, for staff feeding didn't work because it didn't have the footfall. In a survey taken in 2018, customers gave the service a 52% satisfaction rate.
During Covid the existing contractor offer became unviable for both ASPH and the supplier, but the trust needed service continuity so it could enact special measures and avoid some of the usual procurement red tape.
We helped them draw up a strategic plan that focused on engaging the hospital workforce (clinical and non-clinical) which ensured collaboration and buy-in from the outset. As a result all retail catering services were brought in-house from October 2020.
A distinct set of targets to improve catering standards were developed to further align them with external requirements such as Government Buying Standards, WRAP initiatives and CQUIN guidance (a framework within the NHS that supports improvements in the quality of services).
It also aimed to improve food safety ratings from 3 stars to 5 stars, and respond to the NHS Food Review 2020, focussing on food safety and quality.
We brought in Bartlett Mitchell, a workplace caterer providing services to the corporate sector, to fast-track developments. The objective was to give employees a comparable service to BM's existing client base of legal firms, media, financial and tech organisations. 
We deliberately went to companies who didn't work in a healthcare space. We wanted fresh eyes on an age-old challenge.
However, without the endorsement of senior management at the Trust, this bold move would not have been possible.
The idea of giving food away was too optimistic, so instead we decided to a reasonable price on it. At a 20% discount on High Street prices we offered a really good meal for £4, with Bartlett Mitchell worked with us on a Mediterranean-type offer of fresh, healthy and tasty food.
We have trebled the revenue of £480,000 and now take in £1.4m, which has allowed for spending on refurbishments. Satisfaction surveys show the staff are happier and we're planning to open a new outlet at a satellite site and a 24/7 feeding offer that's not vended.
Q: How is the B&I sector better set up to succeed?
JF: Commercial companies know they have to compete to get the right people. The NHS has pay bands that can make it difficult to recruit a manager and these restrictions are taking people out of the public sector.
And, to be honest, the public sector is a bit old school. Lots of people have worked there for ever and the ideas have dried up.
Sitting above the NHS pay structure as an arms-length company, such as Accenture which is working with NHS Digital to provide NHSmail, the managed Microsoft-based email service with around 1.7m users, offers more flexibility. I believe you need to bring in the expertise of the private sector.
Q: Can you lay out the criteria for what 'success' looks like?
JF: You have to aim to have a good food culture. That means listening to customers and staff, it means finding out from them where they eat when they are not at work. There's no point in simply coming up with a standard menu.
You need food they're going to eat – everyone has different tastes and appetites. It's unlikely in the public sector that you'll be able to provide all the authentic dishes and street food concepts you want, so bring in the experts, who are often local, and get their help.
Staff feeding round-the-clock is now a requirement of the Hospital Food Standards and needed at other public sector sites, such as the Met Police where we work with Compass. So look at introducing micro-markets. They work well and mean you don't have to man everything all the time. But don't forget they need to be welcoming places so staff don't feel the need to go to the nearest petrol station for food instead.
Equally, where you can't provide the service, be open to having food delivered-in, and not limited to just the usual burger and fries places. Try to be inclusive.
Q: Can you explain the processes to go through to get there?
JF: At The Met Police it had been an in-house service for ever when we came. We started from a blank sheet of paper and  asked what do you need? We asked the officers and other staff, we did surveys, set up a steering group, and looked at market engagement to make sure it was deliverable by the catering companies.
When it came to the specifications, we told them what we wanted and leant heavily on previous experience. The motivators are very similar – we had 10,000 officers who needed to be fed, on site and on location and they didn't want just sandwiches and coffee. We set up, for example, street food stalls at the Notting Hill Carnival.
But a word of warning about making changes - be realistic about how long it will take. And as budgets will be tight, look at innovations such as micro markets, which are less expensive.
Overall, making the changes you need isn't easy, but it can be done. One of the most important things to remember if you want to improve your food offer is that you must motivate your staff and talk to them regularly about what you're doing and why.
Q: How would you suggest public sector organisations can start to tackle these issues?
JF: I would say you should stop for a moment and ask yourself: What does our organisation do? Look at the food, talk to the people. And one of the first things on your to-do list should be to make sure you have good people working for you.
Look at setting up partnerships with different organisations. At different times we've worked with B&I contractor bartlett Mitchell and the NAAFI.
This is vested outsourcing. We're all in it together, we've got a common purpose and we can make it happen. It's not only starting to make change, though, but maintaining it as well. You will need to be influencing people and sometimes changing their opinions, you need self-belief.
And engage with the finance officers and the board, which puts them in a good light and helps build confidence with the senior leaders.
When it comes to recruitment, then remember that Gen Z want employers that attach importance to food and catering.
There's no getting away from the fact that investment is needed, especially in many hospital sites. People don't want anything too fancy, just good and tasty.
At St Peter's Hospital the board chairman now takes his wife in for Sunday lunchtime dinner. A mindshift is needed, but it doesn't have to cost a fortune.