24th May 2022 - 04:00
Image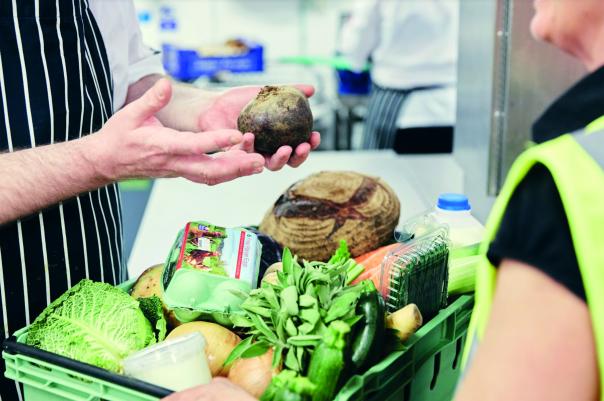 Abstract
Amid the discussion around developing a National Food Strategy, have we overlooked one model that is already working to reduce carbon emissions, invest in local economies and support public health? Amy Kilburn of DPUK Food looks at Dynamic Food Procurement in action.
It may not have made headlines in the same way that sugar and salt tax have, or had the controversy that reducing meat consumption brings, but the rolling out of Dynamic Food Procurement is also one of the 22 recommendations made by the National Food Strategy commissioned by the government.
A recent government inquiry held by the EFRA (Environment Food and Rural Affairs) committee also called for the UK government to 'drag public sector food standards into the new decade' by implementing Dynamic Food Procurement UK-wide.
So, what exactly is Dynamic Food Procurement?
There are four key features that bring tangible benefits for caterers:
Dynamic Purchasing Systems (DPS) overcome barriers to entry that SME suppliers face when attempting to access public procurement contracts.
Specialist Technology enables caterers within the public and private sectors to order from otherwise unreachable SME primary producers and suppliers and receive one convenient consolidated next day delivery and invoice.
Flexibility – Buyers can enjoy the value and supply chain resilience benefits of both short (for seasonal products) and long (for out of season fresh or ambient products) supply chains.
Transparency of data – Short supply chains bring unprecedented data on the provenance of food and information about the production process used. This can enable rankings other than price, such as climate or biodiversity sustainability, to select suppliers and products.
What is more Dynamic Food Procurement already has funding to make progress right now.
Today, there is a new and progressive push to establish Dynamic Food Procurement in every region in the UK and the impetus for opening-up the market to small producers is being taken forward by DPUK Food (Dynamic Purchasing UK).
This coordinating body has been established to enable existing and new public sector buying organisations to grasp the immediate opportunity to bring Dynamic Food Procurement to life in every region of the UK.
Since launching in December last year, DPUK has partnered with the charitable Dixon Foundation and has been working with 12 regions - covering the whole of the UK – to assist them in applying for a grant to build food networks, plus an additional up-to-£250,000 in match funding for each region to establish Dynamic Food Procurement for local anchor institutions.
Which obviously sounds great, but does it really work?
Dynamic Food Procurement can be a commercial win-win-win for the caterer, the producer and the regional food logistics provider, but the positive externalities resulting from this approach are perhaps even more exciting.
It has been proven to reduce greenhouse gases via shorter food chains, boost local economies by opening the market to smaller producers, and trigger positive health and nutrition benefits via greater fresh seasonal food choices.
We know that for large public organisations, secure contracts with reliable services is an imperative. A UK pilot in Bath and North East Somerset in primary schools and with The University of Bristol has successfully proven that all the benefits can be delivered.
Here are just some of metrics:
The Bath pilot successfully delivered the ingredients for over 2.3m meals in primary schools
University academics performed a carbon analysis that demonstrated a significant reduction in supply chain carbon emissions
SME food producers and suppliers contracted directly with the public sector for the first time
Digital inclusion in school kitchens was improved
The transparency of the supply chain as well as the economic, environmental and social sustainability of food procured was improved
Purchase value improved and overall food spend fell by 6% in real terms
Richard Howroyd, head of strategic procurement and commissioning for Bath and North East Somerset Council, says: "When we did our original review of success, everyone was saying, well, it's going to cost us more.
"No, it didn't. It was more cost effective. We did not see increases in cost. In fact, we beat the market in lots of areas, in particular around meat, fruit and veg, at a time where we were seeing massive inflationary increases in lots of other areas not involved in the pilot."
The resulting supply chain transparency was unprecedented; enabling more informed choices on welfare, carbon footprint and biodiversity impact to be made on the food at the point of purchase.
In another application of Dynamic Food Procurement in the South West of England; India Stamper, the catering contracts and relationship manager at the University of Bristol, adds: "I think it allowed us to keep a clear sight of the budget, because if you're ordering lots of different elements from lots of different suppliers, you have to have a minimum spend for all of those different suppliers.
"So having consolidated orders really helps to keep the budget down, which in any university setting is imperative."
Since these pilots both EFRA and the National Food Strategy have recommended the roll-out of the pilot across the south west at first and expanding to other public bodies.
The Crown Commercial Service has also been working with DEFRA to launch a framework that seeks to provide improved access to SME producers within the public sector food supply chain.
What will this mean for public sector caterers?
Essentially, Dynamic Food Procurement means greater choice and transparency when it comes to ordering ingredients. By opening up the market to smaller, local producers, chefs and caterers will be able to choose suppliers on the basis of organic certification, food miles, carbon footprint, seasonal growing practices, fair trade or whatever priority they are working to, rather than cheapest or fastest.
Caterers can order online, where they can schedule a consolidated delivery at a convenient date and time, with the buying organisation or framework handling the procurement. Cooks can order from dozens of producers on one single online store and arrange one consolidated delivery and invoice that can be paid on payment cards or on account.
Matt Carr, executive chef at the University of the West of England, says: "From a manager's point of view, it's a very strong tool, because you can almost then forecast what you're going to be spending week to week on your commodities, which is important, particularly when it comes to budget controls at the moment."
And the innovative system also brings a greater level of control and opportunities to improve nutritional values, provenance and traceability, creativity, and menu development.
Richard Howroyd, of Bath & North East Somerset Council explains some further benefits: "I certainly believe that using short supply chains in particular, really encourages higher quality produce, and higher quality produce doesn't necessarily cost more either.
"And the quality often means there is less wastage, it's a better flavour. So more of it is eaten and less is wasted. There are so many advantages around taking it this route."
So, when will we see Dynamic Food Procurement in action?
Well, it is expected to feature in The Food Strategy White Paper, expected out this month, and also in a major new report from the University of Exeter (2022) called 'Public Procurement of Food in the South West Region: Opportunities and Barriers to Relocalising Food Supply'.
In fact, the Centre for Rural Policy Research at the University of Exeter is making it a priority action, and you may also have heard Chris Packham speak of the benefits at the Public Catering Expo at the NEC in March.
Its profile growing, as is action to implement it with more and more public bodies and institutions set to plan for it in the coming year. As we progress toward 2030 net zero targets, with Government goals of food security, levelling up and public health, the benefits of buying and investing with local suppliers via transparent, short supply chains are clear.
Now is the time to act. Local authorities, educational and health institutions all have climate and carbon goals to hit as well as pastoral and nutritional considerations that they are asking their caterers to deliver.
If you're a caterer in the public sector and you would like more information about the implementation plan for your region, then contact DPUK, which is acting as a coordinating body and can link you up with others in your area – email: info@dpukfood.co.uk.