31st Aug 2021 - 06:00
Image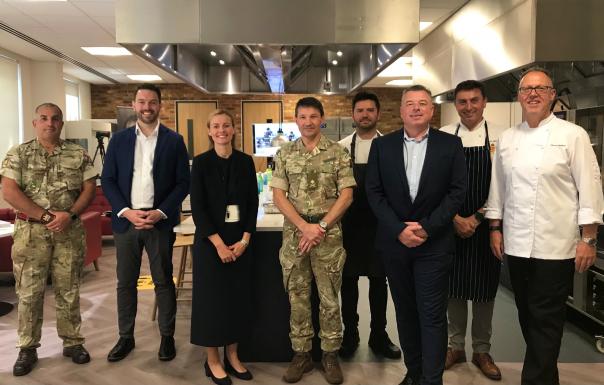 Abstract
Foodservice provider Aramark UK recently welcomed Major-General David Eastman, General Officer Commanding (Designate) of the Army Regional Command to its Farnborough HQ to sample a six-course tasting menu.
He was accompanied on the visit by Warrant Officer 1 (WO1) Colin Sinclair, the national catering manager for HM Forces.
Helen Milligan-Smith, managing director for Aramark UK, together with Mark Webber, culinary director for Defence Services, and Glyn Ingram, regional contract director, welcomed Maj-Gen Eastman and WO1 Sinclair, with a menu created by Aramark's Chef of the Year, Mark Austin, and executive head chef at the Royal Military Academy Sandhurst, Yves Girard.
The menu aimed to showcase the team's new culinary concepts, innovations and creativity including rabbit and pancetta boudin with a goat's curd panna cotta dessert.
Helen Milligan-Smith said: "Aramark has built a successful relationship with the Ministry of Defence, and DIO [Defence Infrastructure Organisation], so it is a privilege and an honour to welcome Major General David Eastman and Warrant Officer Sinclair to our culinary showcase.
"By working together, with a focus on chef-inspired menus and high-quality ingredients, we can provide tremendous improvements to the quality of life for our military personnel, ensuring that we are serving what they want to eat whilst helping to improve their overall experience in the armed forces."
Maj-Gen Eastman responded: "Catering is a fundamental part of army life. The food our soldiers eat has a real and tangible impact both on their health and engagement levels.
"We want to ensure that what we offer adapts and grows with our forces. It is fantastic to see these food pilots taking place. We have been thoroughly impressed by the creativity shown by the Aramark team."
Andy Honnor, head of South East Region, DIO, added: "We work closely with our industry partners to ensure that they are meeting the needs of our customers. It is essential that personnel have healthy and nutritious food to eat. We welcome this innovative approach and look forward to even more creative ideas."
Aramark serves 8,462,315 meals to army personnel in dining facilities across the south east and London, the north, Scotland, and Northern Ireland each year, through a proud partnership with the DIO.
Over recent months, the Aramark team has trialled a number of innovations across military sites to better understand the needs and wants of service people, whilst providing forward-thinking, delicious, and nutritious meals.