11th May 2021 - 07:00
Image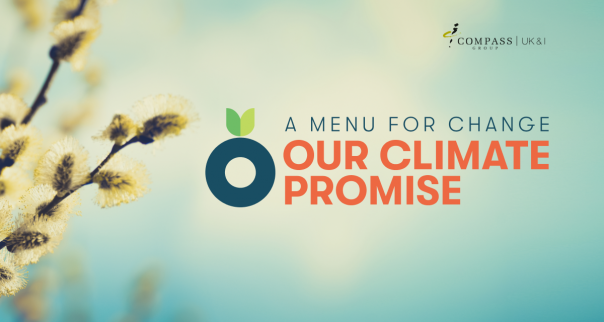 Abstract
Following Compass Group UK & Ireland joining the United Nation's 'Race to Zero' campaign, the food and support services company has become the first in the industry to publish a Net Zero Plan.
The Net Zero Plan will help Compass deliver its ambition to create a sustainable food system. Compass has announced plans to reach net zero by 2030, in line with targets to limit global temperature rises to 1.5°C above pre-industrial levels.
The company is looking to achieve a reduction in carbon emissions of at least 55% by 2025 and at least 65% across its operations and value chain by 2030 from a 2019 baseline.    
By 2040 Compass will try to ensure a 40% switch towards plant-based proteins, with an interim target of at least 25% by 2025. Compass is aiming for 70% of the top five food categories (dairy and cheese, fruit and vegetables, pork, beef and chicken) to be sourced from regenerative agriculture by 2030.  
The business is already working to remove all single-use plastic cutlery and unnecessary plastic plates by July 2021, while all fleet cars are expected to be 100% plug-in electric by May 2024.
Robin Mills, managing director of Compass Group UK&I, said: "At Compass we are passionate about food and great services. We believe it is our responsibility to contribute towards a future of sustainable food production and regenerative agricultural principles and practices, and a commitment to climate Net Zero is an important milestone.
"Critical to the delivery of our targets will be the partnerships with our clients, suppliers, employees, civil society partners and government. I couldn't be more excited for the future of foodservice."
In support of these goals, Compass UK&I has published their Climate Promise and Roadmap to Net Zero, which together provide more detail on the philosophies and milestones it will champion in this decade.
Andrew Griffith MP, UK Net Zero Champion, added: "I'm delighted Compass Group UK&I has signed on to be part of the UN's Race to Zero, as businesses have a central role to play in making a successful transition to a low carbon economy.
"Compass Group UK & I's ambition is great news for the UK's green recovery and I welcome its aim to help build a more sustainable food system. I hope other businesses across the sector follow in its footsteps and join the Race to Zero."
Access the Roadmap to Net Zero below: