25th Jul 2023 - 05:00
Image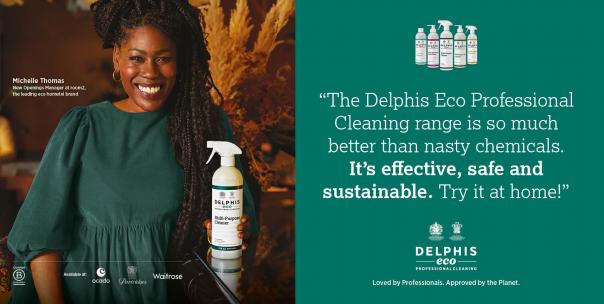 Abstract
Delphis Eco, the chemical cleaning company that works in partnership with the hospitality sector, has launched its Heroes Campaign to encourage businesses and consumers to change their buying behaviours to be more sustainable.
The first hero to be announced is Michelle Thomas, new openings manager at room2, part of Lamington Group. Not only will Delphis hero stories go on the front of each retail product, but the company is creating a 48-sheet tube advert at Holborn Central Line as well as an advert at Welwyn Garden City.
Mark Jankovic, founder and chief executive of Delphis Eco, said: "With such symbiosis between Delphis' B2B and B2C ranges, the Hero Campaign is designed to champion Delphis' commercial partners, the real heroes behind Delphis Eco.
"As the inaugural 'hero', Michelle demonstrates exceptional dedication and leadership in championing eco-conscious practices within the hospitality sector. Her visionary approach aligns perfectly with Delphis Eco's mission to promote sustainable cleaning solutions and sets a remarkable example as an advocate for sustainable living in the hospitality industry."