28th Nov 2019 - 10:26
Image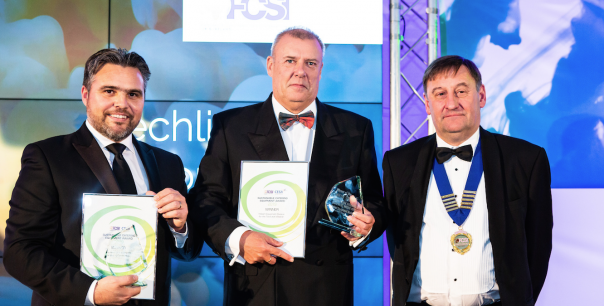 Abstract
Catering equipment company, Hobart won the Sustainable Catering Equipment Award from the FCSI (Foodservice Consultants Society International) for their Two-Level Washer.
The accolade was awarded at the 2019 CESA conference and the award recognised Hobart's 'innovation' in the field of sustainability.
The Two-Level Washer saves time, energy, water and space whilst doubling the capacity and productivity of a conventional hood-type. With space at a premium in modern kitchens, the machine's two wash chambers offer flexibility.
At peak times, for instance, a utensil wash programme can take care of heavily soiled pots, pans and cutlery in the lower compartment, while up to three racks of dishes can be washed on a separate programme in the upper level.
Tim Bender, sales director at Hobart UK, said: "This award is recognition of Hobart's position as a frontrunner in sustainable catering. We've invested four years of research and development into the Two-Level Washer and receiving this award from the FSCI is a wonderful reminder that all our hard work is paying off."
The Two-Level Washer's water consumption is monitored constantly via Hobart's senso-active resource management function. The machine's genius-x² filter system cleans soiled water in three steps, reducing detergent consumption by up to 35%. Coarse soil and food waste are collected in the strainer basket, preventing them reaching the tank.