27th Oct 2020 - 05:00
Image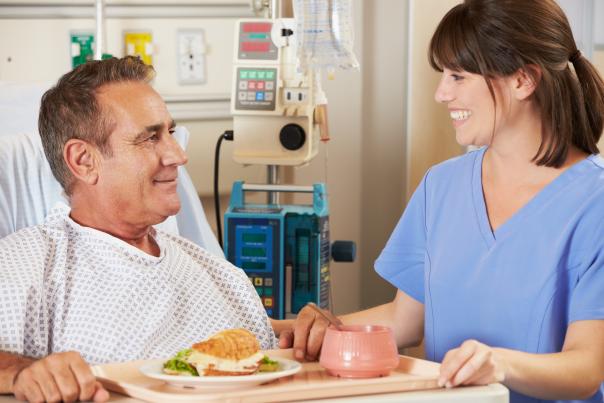 Abstract
Proposals for 'game changing' reforms to hospital food have been presented to the Government following a review of the food services available for patients, staff and visitors within the NHS.
The Hospital Food Review, advised by Prue Leith CBE, has revealed large inconsistencies in food quality and services across the NHS. It has also urged the Government to establish legal standards for hospital food quality and sustainability.
The report suggests NHS trusts could consider acquiring a suitable accreditation scheme such as the Food for Life Served Here (FFLSH) certification scheme, which ensures 13m NHS meals are served every year.
The report states: "Independent accreditation is a robust way to demonstrate that trusts are meeting strong sustainability criteria and complying with the relevant mandatory standards.
"Trusts with a Soil Association 'Food for Life Served Here' award, for example, can demonstrate their commitment to a wide range of product assurance schemes, […] This will generally guarantee very good or excellent performance by the hospital catering team against Defra's balanced scorecard."
The Hospital Food Review proposed eight recommendations to help improve the quality of meals served. These included improving food and drink standards, with a particular focus on food safety, also kitchen upgrades, cutting food waste and the appointment of a monitoring group to ensure compliance.
FFLSH certifies caterers for providing meals cooked from scratch to encourage more hospital kitchens to prepare fresh and nutritious meals. The accreditation scheme also champions the use of local produce in order to support the local economy whilst protecting the environment. 
Rob Percival, head of food policy at the Soil Association, added: "This review could be game-changing in turning the tide on poor-quality food being served across English hospitals, but only if the recommendations are implemented in full.
"It's time food standards were regulated with monitoring and inspections to ensure good practice. It would be brilliant to see hospital trusts using their buying power to support British farmers and enable environmentally sustainable food production."
Food for Life, a Soil Association programme, has supported more than 70 NHS hospitals, trusts and health boards across the UK improve their food provision.
Today, 26 October 2020, Public Sector Catering magazine will host a webinar on the Hospital Food Review, starting at 2:30pm. There is still time to register for the webinar here.
To download a copy of the full report, click on the link below: