1st Jul 2022 - 08:49
Image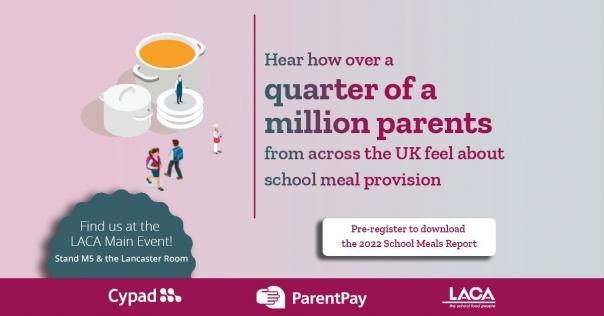 Abstract
LACA and Cypad have joined forces to create the 2022 School Meals Report, which will be unveiled at the LACA Main Event (6-8 July).
Over 300,000 parents from across the UK have told the three organisations how they feel about school meal provision.
Following on from the success of the 2021 School Meal Report, the three organisations have again conducted one of the largest studies ever undertaken with parents. This research, run via a survey of ParentPay users, aims to helps us to understand what caterers and school leadership teams need to do to ensure their clients and families are happy with the service provided. 
Brad Pearce, LACA vice chair and Merica Wilsher, head of sales at Cypad (part of ParentPay Group) will discuss the findings from the latest ParentPay, Cypad and LACA research capturing the views of parents and carers on the key issues for the school meals service including allergen management, The National Food Strategy, sustainable sourcing, meal uptake, cashless payments and the role of digital technology.
The 2022 report has also been supported by ASSIST FM and their members in Scotland, ensuring coverage across the UK.
Notably, the 2021 report found:
Most parents said their children were eating school lunches - 88.8% of primary school children choosing it at least one day a week, rising to 91.8% of pupils in secondaries
That's an average of 87.9% of pupils choosing a school meal once a week
80% of parents feel school meals are priced correctly
Key initiatives such as 'Eat and Learn' recommended in the National Food Strategy were welcomed by parents
Pre-register for the 2022 School Meals Report here.