21st Jun 2022 - 07:00
Image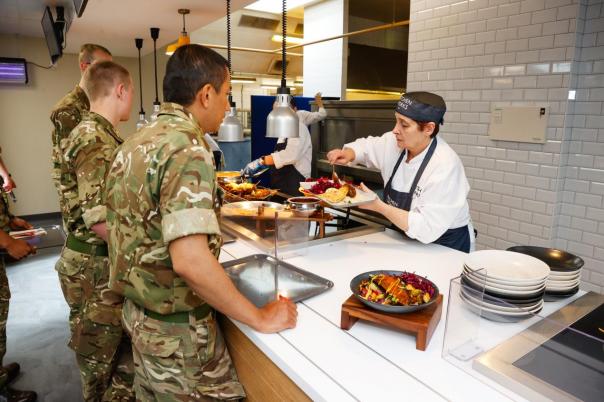 Abstract
To mark Armed Forces Week Sodexo has announced the opening of a new dining facility at the Army Training Regiment in Winchester.
JRD by Kitchen Works Co. delivers a modern, high-quality, attractive and value-for-money mess solution as part of the Army Eats programme. The Sodexo also launched the educational tool Mindful Active, which aims to:
Encourage service personnel to eat more nutritionally balanced meals on base
Encourage service personnel to get the most out of their time on base, socialising outside of their accommodation
Ensure service personnel are generally more satisfied with the food and services provided
Paul Anstey, chief executive of government at Sodexo UK & Ireland said: "This launch represents our commitment to meeting the dining needs of the modern military, delivered in partnership with the Army and DIO. It's fantastic to see our vision brought to life in this vibrant new environment, and to know that we are contributing to the wellbeing - and ultimately the operational capability - of our armed forces."
JRD by Kitchen Works Co. provides a mix of familiar favourites with more aspirational dishes offering seasonal and global flavours, delivered as plated meals as well as grab-and-go options all in a relaxing environment. Fresh ingredients are used to create healthy, balanced, tasty food through a wide-ranging menu. Meal deals and promotions complement well-balanced, consistently sized portions, which offer great value-for-money.
WO1 (SSM) Colin Sinclair, HQ Regional Command, added: "Army EATS is about recognising the customer's needs, recognising how the customer works, and that they may not want three meals a day or any kind of restrictive menu; they want a more welcoming environment with modern technology, and a menu that responds to their needs.
"By addressing timings, technology, the offer and the environment in which our customers dine, we know that we can have a positive impact on the wellbeing and ultimately retention of our service personnel. Investing in facilities like JRD by Kitchen Works Co. is a positive step forward in how we elevate the Lived Experience of our people and show them that we're investing in them."