11th Sep 2023 - 10:30
Image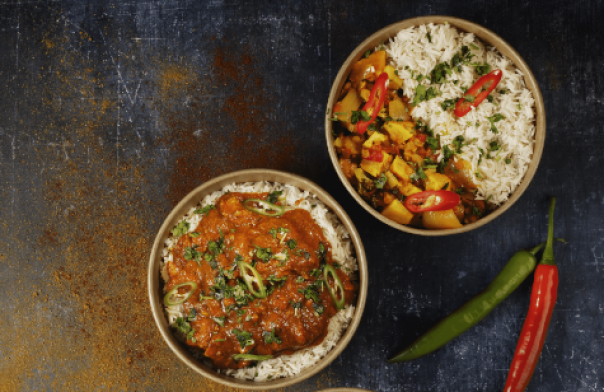 Abstract
Wholesaler and catering provider Creed Foodservice has launched a new curry pot solution as part of its Kitchen '72 all-in-one meal portfolio.
The solution includes a new range of bespoke scratch-made curry sauces. Creed has created Curried Away which sees marinated chicken and a range of other proteins, paired with one of four handmade curry sauces, alongside rice.
Designed to be packed up in one takeaway box, the meal can be served in a canteen setting, from a stand-alone kiosk, or simply as part of your normal menu, giving caterers the opportunity to be completely flexible with the solution.
The solution uses two lines from the Kitchen '72 product range – the marinated meat and the curry sauces – to create the perfect starting point for caterers, with the 2kg pouch of sauce pairing with the 2.5kg protein of choice.
There are four pouches including Korma, Madras, Tikka Masala and Vegetable Jalfrezi. There are two diced marinated chicken thigh options including Tandoori and Garlic & Herb.
Created with school feeding in mind, the solution meets school compliancy criteria, prioritising provision of good, fast food. Allergen free and offering vegan and halal options, Curried Away is designed to be as inclusive as possible.
Rob Owen, executive business development chef at Creed, said: "With the meat delivered ready-marinated, diced and portioned, along with chef-prepared sauces and a range of add-ons and toppings, we remove the need for highly skilled chefs in operators' prep-kitchens, bringing costs down across the board.
"Accompanying POS ties this altogether as a fully-packaged up solution for caterers who are increasingly looking for ways to simplify operations. We've designed all the accompanying collateral to have that global food vibe, bringing the street-food experience to caterers who are keen to keep customers on-site with appealing lunch options."
To find out more about Curried Away, or the other Kitchen '72 solutions, visit: www.creedfoodservice.co.uk/kitchen-72.