12th Jul 2022 - 04:00
Image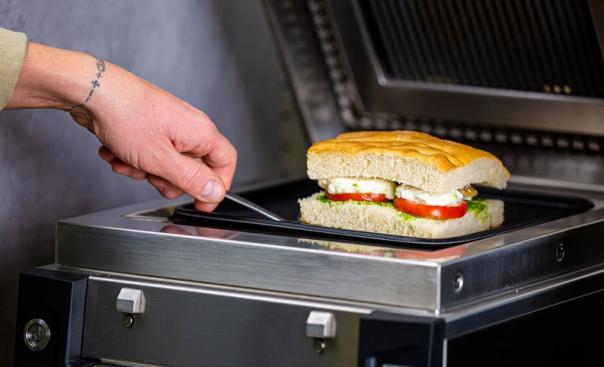 Abstract
Five years on from its original launch, Electrolux Professional has unveiled a 'new and improved version' of its popular SpeeDelight high-speed cooking solution.
SpeeDelight is an all-in-one solution for the preparation of hot snacks such as sandwiches, roll-ups, tacos and pizzas.
The combination of contact plates, infrared radiation and microwave technology into a singular compact footprint allows 'grab and go' meals to be prepared up to three times quicker than traditional panini presses and toasted sandwich machines.
The appliance has been updated with a host of new features to help improve user experience, based on operator feedback collated in the years since its launch.
Stuart Flint, training & demonstration manager at Electrolux Professional, said: "Customer feedback is an incredibly important part of our R&D process. Listening to comments from operators has allowed us to double down on the traits that make SpeeDelight so unique, including cooking times, ease-of-use and consistency. As such, customers will now be able to benefit from even better results than ever before."
The updated SpeeDelight will now offer cooking cycles for both burgers and club sandwiches, in order to provide a truly comprehensive menu of hot snacks. The introduction of a new non-stick tray will also enable uniform heat distribution for even cooking, which can be effectively cleaned through the use of water alone.
Also customers can now access recipe management through OnE Connected, allowing for greater consistency across the fleet and a reduction in food waste.
The new model is on display at Electrolux Professional's Center of Excellence in Luton, where visitors can book in to experience a hands-on demo alongside the company's full range of foodservice and laundry solutions.