16th Sep 2021 - 05:00
Image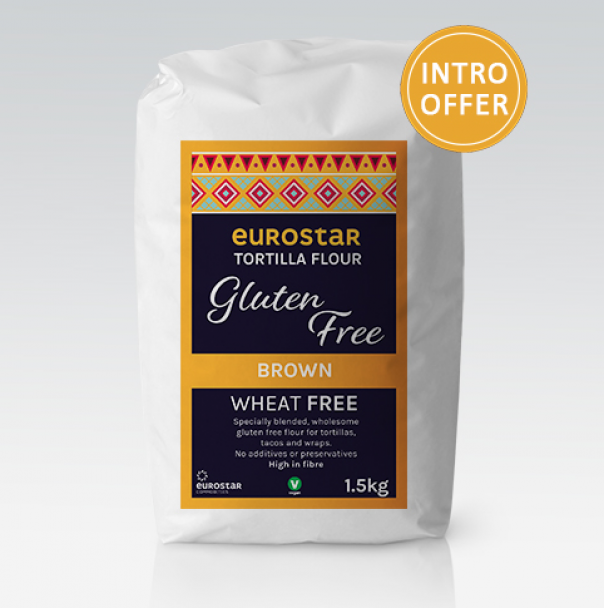 Abstract
Eurostar Commodities, 'one of the UK's leading ingredient suppliers', has launched a new range of gluten-free flours for the creation of tortillas, tacos and wraps.
The clean label range of flours are made from 100% natural ingredients, gluten-free, wheat Free, vegan, high in fibre, allergen free, produced and packed in a gluten & allergen free factory in Yorkshire with 100% recyclable packaging.
Products are available in two varieties white and brown in sizes 1.5kg, 3kg, or cases of 8×1.5kg & 4x3kg. Ingredients include starch, flour (rice, pea, maize), buckwheat flakes, and vegetable Fibre.
Jason Bull, director of Eurostar Commodities said: "We recognise that there is a huge opportunity to create a healthier flour for making wraps and tortilla. The market for these products is growing steadily in Europe and predicted to grow by 5.5% by 2027. However, the quality of some of these products, and some of the preservatives used are not what consumers want right now.
"We are seeing continued interest in clean labelling and a movement towards simple, clean, and wholesome foods. This new range will provide the variety and high quality to create many different clean label products for industry and ultimately home cooks and bakers."
Clean label refers to creating a product using fewer and more easily recognised natural and wholesome ingredients. With a focus on producing health and wellness ingredients Eurostar Commodities has invested £600,000 in new clean label production facilities at their Yorkshire headquarters.