20th Nov 2014 - 16:04
Image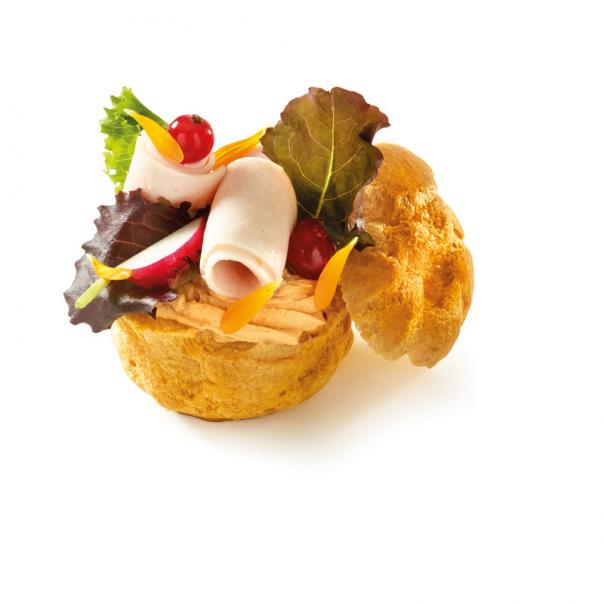 Abstract
Pastry manufacturer Pidy has launched a new Eating Moments 'anytime, anywhere' campaign providing a range of pastries that can be eaten sweet or savoury, for breakfast, lunch or dinner.
Pidy launched the campaign at Salon International de l'alimentation (SIAL), which included a new savoury choux pastry selection. The savoury choux range can be used to create sweet or savoury canapés, appetisers and desserts.
The éclairs can be used as baguettes with fillings such as honey roast ham, stilton cheese and smoked salmon as well as fresh salad fillings. Alternatively, keep them as a traditional dessert with chocolate, strawberries or whipped cream.
Robert Whittle, general manager at Pidy UK, said: "The SIAL Show was incredibly successful. Pidy won plenty of interest with our new fresh livery and our unique looking stand displayed at the show. Chef Yves Mistiaen was cooking up a storm of interest with his culinary moments delighting customers with breakfast pastry concepts.
"These included granola, Greek yogurt and honey served in the new red Corolle 85 and the delightfully posh truckers favourite in the form of a Paris brest bun served with bacon, fried egg and tomato slices!"
The savoury choux range includes éclairs and profiterole style pastry in various sizes. Each pastry now also has a wider base allowing more room for fillings.
Pidy also launched the Corolle 85 range. This crispy thin pate a fonçage pastry can be served as a breakfast option with blueberries, mixed nuts and Greek yoghurt, or they can be enjoyed at lunchtime filled with tomato, pesto, seasonal greens, mozzarella and fresh basil.
The manufacturer's new palm free large vol au vents are also ideal for savoury dishes such as coquille shells, scallops with a rich white wine veloute sauce.
Pidy is a Belgian family food business specialising in ready to fill pastry products. With three production units in Belgium, France and the USA, Pidy supply to over 50 countries worldwide.