8th Dec 2021 - 12:40
Image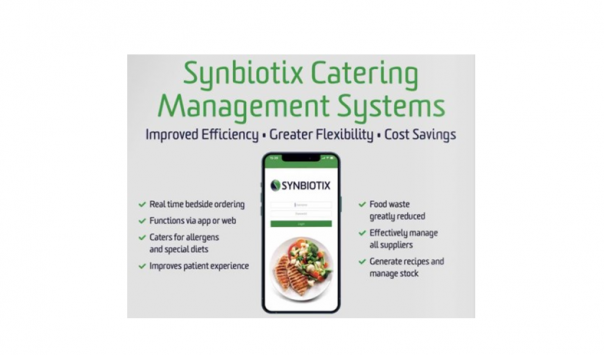 Abstract
Synbiotix Solutions understands that catering can enhance a patient's hospital experience and improve medical outcomes. Effective management of production, stock and wastage is essential, and the Catering Management System covers every step of service from end-to-end.
Starting with production, the Catering Information System (CIS) can administer anything: from the largest CPU to Regen kitchens and anything in-between. It can manage your suppliers, administer your stock, and generate recipes and nutritional analysis - all from one package! The modular system includes digital HACCP monitoring systems for every stage of the process, from receipt through cooking, label printing, dispatch, and delivery.
A spokesperson for Synbiotix, said: "We all want food that looks good and tastes good, but it's essential it does good too. Our Nutritional Analysis System provides outputs from individual items, recipes, and menus, which are then compared to BDA Standards for compliance.
"It is linked via APIs to multiple supplier databases, which ensures real-time updates whenever nutrition or allergen information in any item changes. It is simple to use and designed to give the Catering and Dietetics teams everything they need back-of-house and at ward level, in a simple to access and easy to digest format.
"Next; to food service! menuPick is our patient bedside meal ordering platform; a vehicle for creating an innovative, cutting edge and quality led patient catering experience which can run off any mobile device.
"Food orders are taken electronically at the patient bedside using a tablet and are transmitted in real time to an operations console controlled by the catering department. menuPick automatically calculates the optimum pack sizes and quantities to minimise cost and wastage, and temperatures can be recorded at every stage of an item's journey to ensure safe service.
"At mealtimes, menuPick identifies the patients and their orders ensuring that the correct food is served to each patient. Food consumption and wastage can be recorded after service and fed into an advanced suite of reporting tools. These reports allow you to track item popularity, wastage costs, manage food safety and follow every step of an item's journey all the way to the patient's plate."
"Finally, our systems aren't only limited to patient catering! We have two solutions to assist you with your additional catering and commercial needs: online ordering, and EPOS Tills. Our online ordering module, menuPick.com, allows patients, staff, and visitors to order food electronically via their own devices from hospital outlets for delivery or collection. Using menuPick.com widens the options available to patients, minimises staff waiting time on break and reduces the movement of people around the hospital, as well as easing the burden on catering.
"Additionally, we can support your outlets with our EPOS Tills system, which displays front-facing allergen and nutrition information on tablets or display screens to aid compliance with the obesity strategy. It links directly to a stock management platform and generate automatic reorders from your suppliers as required, along with a full back of house management suite including purchase order and invoicing management.
"Live dashboards provide a wealth of management information to help with menu planning, sales mix analysis and staff productivity reports along with KPIs such as average spend per transaction and total sales. All data required for CQUIN and sugar-sweetened beverage reporting is automatically captured and can be accessed by running one simple report.
"At Synbiotix we understand that requirements and procedures can differ from hospital to hospital and even from ward to ward. We've split our end-to-end systems into modules, so you only have what you need, and the system is fully scalable, with every part configured to work directly in line with your requirements.
"We've rolled our Catering Information System out nationally across Wales and Scotland to improve patient experience, reduce food costs and improve the speed and quality of food delivered to patients. We'd love to do the same at your trust too! Visit www.synbiotix.com to book your demo and get more information on our solutions."