15th Nov 2023 - 09:44
Image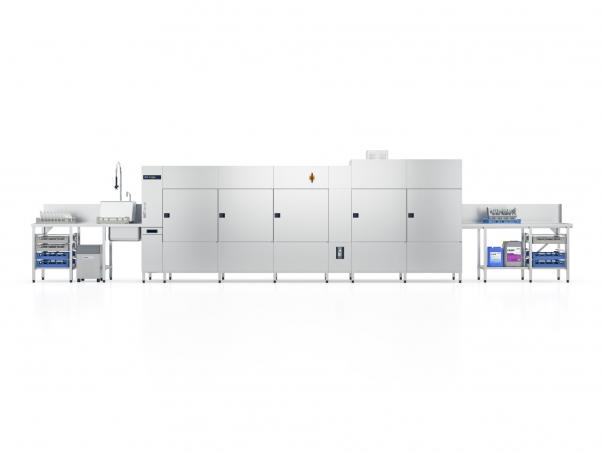 Abstract
Winterhalter has launched new versions of its MT (Multi Tank) high volume conveyor dishwasher systems. The company says these MTs set new benchmarks in terms of performance, sustainability and adaptability.
There are two models of MT conveyor systems, including the MTF flight machines where dirties are loaded directly onto the conveyor and the MTR rack machines which use racks to carry the ware. They are ideal for mass catering in hospitals, care homes and universities.  
Stephen Kinkead, managing director of Winterhalter UK, believes the new MTs are a 'gamechanger' that will help designers and operators meet the demands placed on commercial kitchens today. 
He added: "Functional and energy efficient technology, clever spatial planning, economical operating processes, ease of use and maximum hygiene safety – the MTs deliver in all these key areas."  
The MT's high performance washing system produces 'first class' results while the superior multi-filtration process minimises running costs, by lowering water use and thus reducing the energy needed to heat it. 
MT systems can handle 8,000 plates per hour, while the equivalent MTR has a capacity of 355 racks per hour. As well as cleaning efficiently, the 'air knife' and standard drying zones deliver optimised drying results, so that ware can be handled efficiently and quickly after the wash.
The new MT is based around a versatile modular system that allows machines to be configured to very precise specifications – so that it can be constructed to exactly match the application, and designed to match the shape and size of the room it is intended for.
The basic structure of the machine consists of the pre-wash, main wash and rinse zones, plus an inlet zone, positioned upstream, and loading and unloading zones. Additional zones, such as extra wash zones, allow the machine to be tailored exactly to individual requirements. 
List prices for the new MT start from around £51,000. For further details, call Winterhalter on 01908 359000, visit www.winterhalter.com/uk-en/ or email info@winterhalter.co.uk.