19th May 2021 - 07:42
Image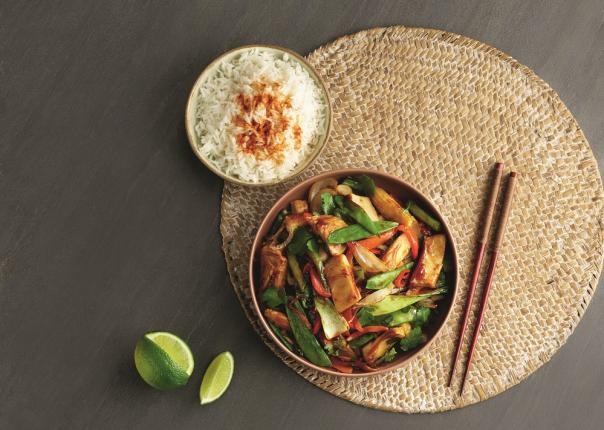 Abstract
A hearty veggie chilli recipe even meat eaters will admit it tastes heavenly. Our incredibly versatile GARDEN GOURMET® Vegan Fillet Pieces allows you to enjoy the flavourful plant based meat in its best company: sweet chilli sauce, Thai basil, gently fried red chillies, peppers and garlic. Add the white rice into the mix and you've got a new staple comfort dish – the plant based stir fry putting all your vegetarian ingredients to good use.
Ingredients
Serves 10
GARDEN GOURMET® Fillet Pieces 1 kg
Sunflower oil 60 ml
Garlic, crushed 40g
Red chillies, chopped 60g
Pak choi, washed and sliced 235g
Red pepper, sliced 400g
Bean Sprouts 400g
Spring onions, scallions 100g
Mange tout 400g
Soy sauce 35 ml
Sweet Chilli Sauce 150g
Sesame seeds 50g
Sesame oil 40 ml
Thai basil 40g

TO SERVE
Jasmine rice, cooked 1 kg
Preparation method
Cook the jasmine rice according to the packet instructions.
• Heat the oil in a large wok, add crushed garlic a chopped chillies fry for 2 minutes.
• Add the fillet pieces and fry until they start to colour.
• Add the pak choi, red pepper and stir-fry over a high heat for 2-3 minutes. Add bean sprouts, chopped red chillies, spring onion scallions, mange tout and cook for 2-3 minutes.
• In a bowl mix together the soy sauce, sweet chilli sauce, sesame seeds, and sesame oil. Pour mixed sauce over the vegetables and cook for another 2 minutes.
• Add the chopped Thai basil and serve with the cooked jasmine rice.