19th May 2021 - 07:05
Image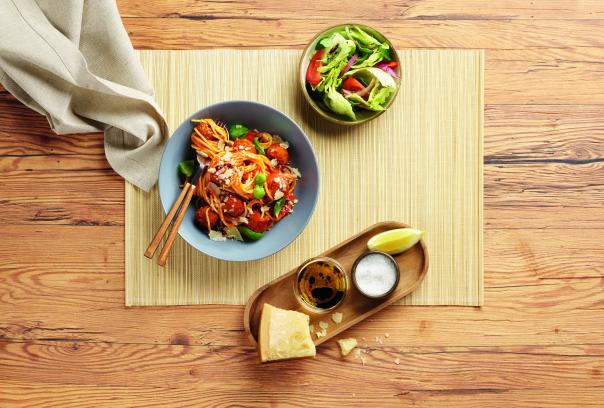 Abstract
Our incredibly versatile GARDEN GOURMET® Vegan Meatballs are easy to prepare and pair perfectly with rich sauces, absorbing the delicious flavours. Whether you're creating a
traditional pasta mains or appetising starters, this tasty plant-based solution means you can offer your diners more exciting options.
Ingredients
Serves 10
GARDEN GOURMET® Vegan Meatballs 50
MAGGI®Rich & Rustic Tomato sauce 900g
Olive oil 40 ml
Fresh red chillies, deseeded and
chopped 50g
Fresh green chillies, chopped 50g
Fresh basil, torn, leaving some to
garnish 20g

TO SERVE
Wholemeal spaghetti, cooked 1 kg
Olive oil (for cooking spaghetti) 20 ml
Chopped basil 40g

SIDE SALAD
Baby gem lettuce, sliced 800g
Baby plum tomatoes, halved 200g
Cucumber, sliced 200g
Carrot ribbons 100g
Red pepper, sliced 100g
Beetroot, sliced 150g
Preparation method
Cook the wholemeal spaghetti according to the packet instructions in boiling water and olive oil.
• Heat the oil in a cooking pot, add the chillies and garlic then fry for 5 minutes over a gentle heat until they start to brown.
• Add the MAGGI® Rich & Rustic, bring to the boil and season to taste.
• Add the GARDEN GOURMET® Vegan Meatballs and most of the basil (leave a few sprigs to garnish), cook for 10 minutes on a medium heat.
• Mix the cooked pasta with the arrabbiata sauce and serve in a dish, placing the meatball on top.
• Decorate with the torn basil.
• Serve with the prepared salad on the side.