18th May 2021 - 08:06
Image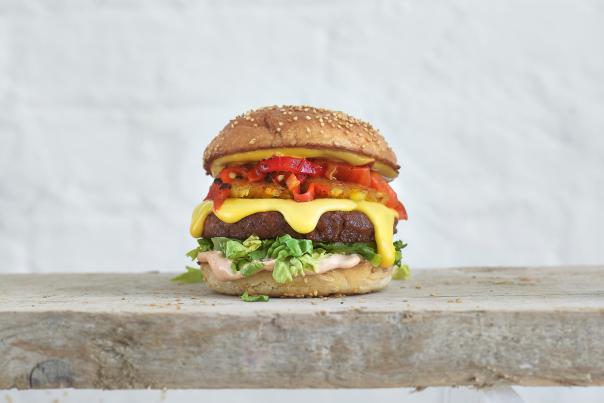 Ingredients
Serves 2 - multiply ingredients according to your requirements
for the fondue burgers
1 Sweet pepper  
1 Red chilli  
Red wine vinegar  
Olive oil  
Sea salt 
Gem lettuce (shredded)  
6 x Mini hash brown (fried)  
2tsp Chipotle paste 
4 tbsp Vegan mayo  
French's mustard 
Sesame burger bun  
for the fondue cheese 
100g grated vegan cheese 
50g unsweetened soya milk  
5g corn flour  
2 tsp mustard 
Preparation method
1. For the pickled peppers... char the pepper and chilli over a flame, chargrill or on a BBQ, leave to cool, scrape off some of the char, slice the pepper and chilli, mix in a bowl with a splash of red wine vinegar, a good pinch of salt and a drizzle of olive oil. Set aside. 
2. To make the fondue… place the grated cheese in a bowl with the cornflour and mix well. Place the milk in a pan over a gentle heat. Tip in the cheese and mix until fully melted. Add the mustard, mix well. You can either set this in a tray and cut our slices or keep warm until needed. 
3. Make the chipotle mayo, mix the mayo with the chipotle and set aside. 
4. Fry the hash browns in a fryer at 180C for 2mins, remove from the fryer, leave to cool and then smash the hash brown with a spatula, re-fry until crispy. Set aside and keep warm.  
5. Toast the bun and set aside. 
6. Cook the burgers… on a flat top griddle or in a pan, heat a drizzle of oil over a medium heat. Cook the burgers for around 3mins on each side (slightly longer if the burgers are frozen). When the burgers are nearly cooked, add a dollop of the fondue on top.  
7. Time to plate up! Start to build your burger… mayo on the bottom, then lettuce, then burger/cheese, then the peppers, the hash brown, followed by a drizzle of mustard and the top of the bun!  
Serve with sides to customer requirements. 
For more inspiration go to www.meatlessfarm.com/recipes or get in touch directly on foodservice@meatlessfarm.com