3rd May 2021 - 09:00
Image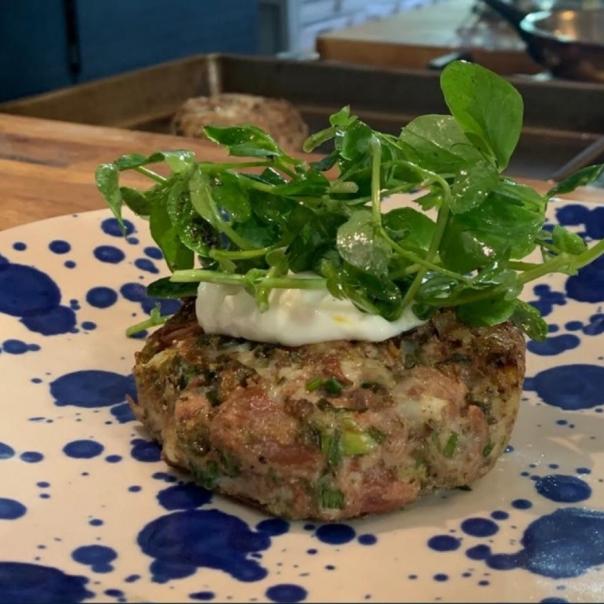 Ingredients
Serves 2
160g new potatoes
225g prepared jackfruit
2 spring onions, finely chopped
1 tbsp vegan mayonnaise
1 tsp lemon juice
1 tbsp chopped capers
2 tsp fresh parsley, chopped
2 tsp fresh chives, chopped
2 tsp kombu seaweed, powdered
2 tbsp buckwheat flour
salt & pepper to taste
1 tbsp cold pressed rapeseed oil
1 tbsp vegan aioli (or vegan mayonnaise)
1 handful pea shoots
Preparation method
Boil the potatoes until tender and lightly crush with a fork.
Combine the potato with the jackfruit, spring onions, mayo, lemon juice, herbs, kombu seaweed and season to taste.
Mix well and shape into two equal size patties.
Coat each patty in seasoned buckwheat flour and pat off any excess.
Heat the oil on a frying pan and cook for a couple of minutes on each side until golden brown.
Place in a 180-degree Celsius oven for twenty minutes.
Top each patty with a little aioli or vegan mayonnaise and garnish with the pea shoots.

Are you a professional chef, menu developer, or food and beverage professional looking for plant-based inspiration? Don't miss your opportunity to attend Europe's first 100% plant-based trade show, coming to London's Business Design Centre 15-16 October 2021. Visit http://www.plantbasedworldeurope.com/ for more information.