6th May 2021 - 15:01
Image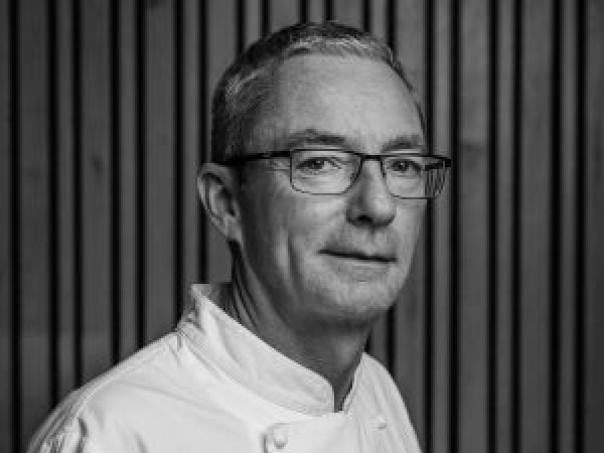 Abstract
David Mulcahy, culinary director at Sodexo and vice president of the Craft Guild of Chefs, discusses plant-based options.
Q1: Why should caterers look to put more plant-based options on their menus?
David: Sodexo is committed to ensuring that the food and dining experiences we provide for all our guests have health and wellbeing at the core and that the impact of our business operations on the environment is minimised as much as possible.
It is becoming more important that we work together with partners to tackle the relationship between a richer plant-based offer and the positive impact that this has on our planet.
We know that agriculture is a significant contributor to greenhouse gas emissions, so increasing the range of plant-based meals we offer is a positive step towards reducing our carbon footprint.
We don't want customers to feel they have fewer options available; rather, we want to demonstrate the versatility that plant-based ingredients offer, and as chefs we have an exciting opportunity to help entice people to eat less meat by coming up with creative and inspiring plant-rich dishes.
Our chefs have many options to swap dairy for plant-based alternatives for butters, yoghurts, creams, milks and eggs, as well as swapping high carbon emissions-generating meats for meat alternatives, or making vegetables, pulses and grains the central hero of dishes
Q2: How have you tackled this challenge?

David: We have made a commitment to ensure that a third of all our menus are plant-based dishes, and as a signatory of the Food Foundation's Peas Please Pledge we have pledged to purchase more vegetables and use them within menus, particularly in the schools where we operate.
To meet these commitments, we have created a range of dishes which feature in menus under the Future 50 foods initiative using some of the world's most sustainable plant-based foods as identified by WWF and Knorr Professional.
Future 50 ingredients include a range of pulses and grains, leafy greens, and both common and lesser known vegetables. Most importantly they are highly sustainable and require less water and are extremely resistant to weather than many other varieties.
Through 'The Future Food Collective', a Sodexo innovation programme, we have collaborated with Unilever and Rational, supported by the Food for Climate League, on the Good for the guest, planet and Sodexo project, which involved developing lower-carbon meals that would appeal to our customers using the plant-based meat alternative range, The Vegetarian Butcher. These menus are currently being launched into over 200 restaurants in our corporate services business in the UK but will eventually be rolled out across the Sodexo business in all countries around the globe.
We are also working closely with our partner WWF to grow the Finer Diner project; a  pop-up food offer which provides plant-based dishes while also educating and raising awareness about the benefits for the planet of moving towards a more plant based diet. Later in 2021 a roadshow will take place to promote Finer Diner across schools and universities in the UK and Ireland.
We are also helping to champion local fruit and vegetables, and also reducing food waste, through our Wasteful to Tasteful initiative. Working with farms to take fresh surplus or 'wonky' fruit and veg into our business that might otherwise end up in landfill, our teams are encouraged to come up with exciting ways to showcase these ingredients in appetising meals for our guests.
Q3: Can savings be made by introducing such changes?

David: In principle savings are possible due to certain ingredients being less expensive, but many meat alternative products can be expensive when compared to meat as this is still a relatively new area of innovation and needs time to evolve.
However, it is critical that chefs are fully trained on how to use their culinary skills to enhance the taste, flavour and visual appeal of plant-based ingredients so that they can come up with enticing meals that will ensure that these dishes are popular and generate strong sales.
There are also labour and energy savings to be made. As part of the 'Good for the guest, planet and Sodexo' project development, we experimented by preparing and cooking a selection of meat and meat-alternative dishes. We found that the shorter cooking times required for non-meat options demonstrated a considerable reduction in energy costs and of course carbon emissions from both the ingredients used and the cooking process.
Q4: How have you promoted new dishes and menus?

David: Dishes are promoted at site level to customers as part of daily menu choices. There are also promotions and internal communications that ensure our teams are aware of these innovative changes.
Our click and collect app, known as Bite, allows consumers to order a range of plant-based dishes as well as navigate content including healthy recipe ideas, mindful messaging and healthy eating promotions.
As social distancing ends and more guests come back to the workplace, we will hold tasting sessions for the 'Good for the guest, planet and Sodexo' range to ensure people have the opportunity to taste plant-based alternatives and encourage them to make behavioural changes to their diet.

The Finer Diner pop-up was a great example of how tasting sessions can really help drive awareness of the versatility of plant-based meals, with the samples proving a big hit with students, so we look forward to showcasing this initiative again later in the year.
Q5: What has been the feedback from customers?

David: There is a growing demand from clients and customers to provide more plant-based alternative options and so this has been well received.
Q6: What's next?

David: We are currently gathering insight and feedback with regard to plant-based dairy alternatives. From plant-based milks to vegan cheeses and egg replacements, we will continue to work on options to innovate in this area.
---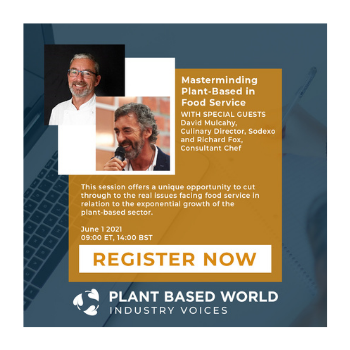 Are you considering the opportunities of introducing more plant-based food to your service offering? If so, this session is for you.
Join David Mulcahy, Culinary Director at Sodexo UK & Ireland with Richard Fox, Consultant Chef at Europe's first 100% plant-based expo Plant Based World, as they discuss some of the opportunities and challenges you may face.
A highly respected individual with a wealth of industry experience, David Mulcahy's role at Sodexo includes key projects which tackle reducing food waste, significantly increasing plant-based choices, reducing energy usage, and forming strategic partnerships with collaborators.
SAVE THE DATE: June 1 2021, 09:00 ET, 14:00 BST
REGISTER FOR FREE: https://loom.ly/F1_gLkc
---
Read more about the plans for Plant-Based Week taking place 17-21 May

---