11th Jul 2023 - 04:00
Image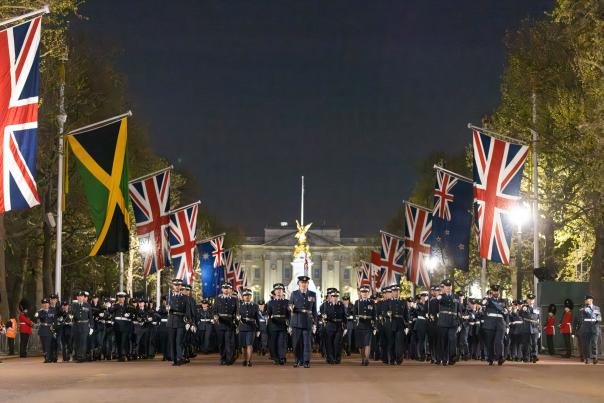 Abstract
Glyn Ingram, defence and judicial sector director at Aramark, which holds a number of MoD contracts in London and the south east, talks to David Foad about the company's role in the Coronation of King Charles III.
The Coronation of King Charles III at Westminster Abbey on May 6 attracted a global TV audience estimated at 400m, 20m of those watching here in the UK.
With viewing figures like those, no one wants to make a mistake, so rehearsals in London were a major feature of the week before.
Aramark UK, which holds catering and other FM services contracts with a number of military sites in the south east, was heavily involved in supporting the more than 10,000 service personnel taking part in the run-up and on the big day itself.
David Foad: Can you tell us about how you prepared for this event?
Glyn Ingram: We did the Queen's Platinum Jubilee and the royal funeral last year, which were similar in terms of the pomp and splendour, though more sombre affairs. The coronation was more about vitality.
King Charles wanted done things in a certain way, and one of the challenges was identifying who makes the decisions and who you listen to. Then we had identify our own team, which needed a floating plan of availability depending on who was on holiday or off sick.
We started rehearsals at the beginning of May, which meant blocking off streets, and these went on through the night so we had to be ready to feed them around the clock. Blocking off streets, though, sometimes meant our regular delivery drivers couldn't get to where they needed.
DF: How much time did you actually have to execute that planning in the end?
GI: Eight weeks out we started physically with the King's Troop Royal Horse Artillery practising in St James's Park. We had one document, that everyone shared and we started with daily calls, then moved to twice daily calls as we got closer to the day. We were operating 15 sites across London, including venues that are not normally in use.
For example, the RAF were billeted at a local church. We knew in advance broadly the requirement by location and the resources that were needed. But with an event like this things change - the number of people, the requirement or the timeline.
We're never told why, we simply have to make it work. We're not the decision-makers, requests come cascading down and then the Defence Infrastructure Organisation (DIO) says yes or no. Last year's jubilee was fantastic in helping our preparations. We took a lot of lessons from that and talked with the military.
DF: What were Aramark's areas of responsibilities?
GI: It was very like our regular services at the sites where we hold contracts - catering cleaning, waste collection and disposal, horse waste (there were 250 horses on parade), as well as retail and leisure, coffee shops, convenience stores and accommodation. We were turning round rooms sometime two or three times a week, there were requirements for ad hoc marquees, portable ablutions – toilets, showers, changing rooms - as well as dining spaces, cobbling and tailoring services.
Service personnel these days want a good cup of coffee so we set up eight pop-up coffee pods. We organised our staff carefully, keeping front-line teams delivering the services and regional teams as the key points of contact, and our head office team supporting remotely should they be needed.
That meant senior staff were mostly remote, even if they wanted to be closer to the action. My principle was simply, if you haven't got a purpose for being there, don't be there. All the frontline staff needed to do was just need to pick up a phone, send an email or text.
DF: How many people were involved from Aramark?
GI: There from 600 to 650 – mainly frontline employees involved catering and cleaning. With the heavy footfall cleaning was so important. The catering was focused on remote feeding. The regional team was moving between sites as needed, while the central remote team acted as a hub.
The supply chain operated remotely and we also had an HR team for additional support. It's such a prestigious event, so we put our frontline staff into it and backfill with other staff as needed taken from our day-to-day operations elsewhere. It's got to be said, the importance of everyone working together as a team is what makes a success of an operation like this.
DF: Was there anything unexpected that affected your role in the Coronation?
GI: One was quite a big change from previous events like this and that was the sustainability factor that King Charles wanted to incorporate. Previously troops would have been bussed in, arriving together at the same location.
This time they did away with the buses and relied on trains, so service personnel were coming in from various locations and at different times, so we were not sure about how many troops we'd have to feed or when they would arrive. We had to juggle with the question, is it more sustainable to feed them in our bases or take the food to a remote location. Either way, we had Plan B and Plan C scenarios ready.
Another challenge was that the barriers restricting access around London were subject to change at the last-minute, so access wasn't always available. We had to work with the supply chain to increase deliveries or change them. When that happened we were focused on how fast we could change.
DF: How did Aramark cope with the demand for flexibility needed in an operation of this size?
GI: People give up 10 days to two weeks of their life for an event like this. When you are feeding service personnel round-the-clock you need people who are committed and on site. Everyone has to be aware not only of their role, but that of others too.
DF: Was there cooperation among the different service providers involved? If so, how did that work?
GI: The way the military contracts work is that you get awarded a regional bundle of sites under a multi-activity contract. We've got the London and south east region, so we were heavily involved. However, there were troops from other barracks outside that area as well as logistics, so we liaised closely with the DIO on that.
DF: Has Aramark's work for the event been recognised?
GI: Feedback from customers at the time was excellent, and it's made me immensely proud. Both the military and the DIO were very, very positive. Weeks afterwards someone from the DIO pointed out someone from my team for their role. In fact, Mike Green, chief executive of the DIO personally visited and thanked our team for their work at Buckingham Palace, St James's Palace, and Hyde Park. We've also had letters from the military expressing their appreciation.
Internally, I've been down and thanked the team and Frank Gleeson, the chief executive for Aramark North West Europe came over to personally thank everyone. It's so important to make the point to them that they have played a part in something truly historic.
DF: Any personal thoughts about the occasion?
GI: At the Trooping of the Colour in June, to see the change in colours of the flags and the letters CR rather than ER I found really moving. It brought home to me that it was the end of one era and the start of the next.