17th Jun 2022 - 04:00
Image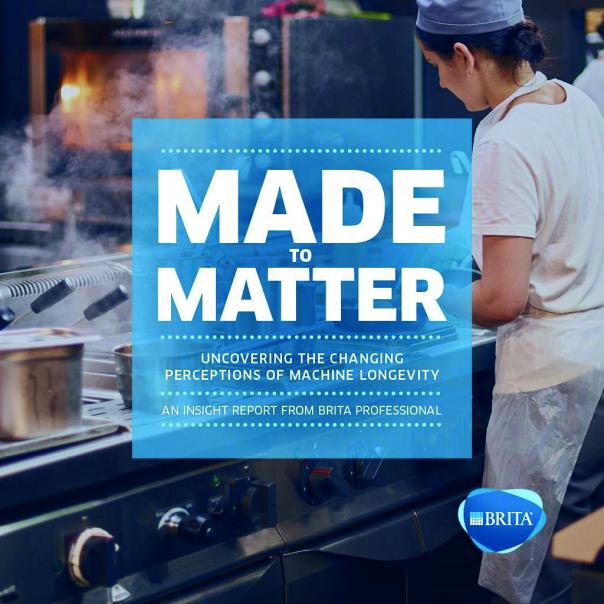 Abstract
Brita Professional sales director Steve Buckmaster looks at the 'dramatic' impact businesses can achieve by extending the lifespan of their equipment rather than replacing faulty machines.
Catering operators don't just have their plates full right now. Consider their pandemic-era dishes piled high with large helpings of increased running costs, staff shortages, rising labour and consumables costs, and a side plate of reduced footfall.
Add lashings of sustainable concerns battling for attention on top of all this, and it's hard to know what to prioritise when revenues are being impacted across the table.
Despite this growing list of difficulties, sustainability hasn't fallen off the agenda. Food waste continues to dominate much of this conversation, and for good reason too. However, perceptions of waste must change if the sector is to better address sustainability concerns, including the tendency to replace faulty equipment rather than investing in longevity.
Our research shows that two-thirds of those in hospitality agree that this acceptance of a 'disposable approach' has affected their expectation of how long equipment should last.
Yet, if the sector were to address this 'throwaway' attitude, and focus on extending the longevity of its machines, it could rapidly boost its sustainability credentials and reduce waste. A goal that becomes even more important when you consider 99% of hospitality staff say working for a company with sustainable credentials is important to them.
That's why it is the focus of our new report Made to Matter – Uncovering the Changing Perceptions of Machine Longevity.
Coffee machines, glass washers and combi ovens are just some of the vital machines that keep the wheels turning in any catering operation and 90% of operators surveyed agreed that the breakdown of such equipment would be detrimental to the business.
When breakdowns account for nearly half (47%) of new equipment purchases made by hospitality businesses – and likely reflected across the wider catering industry – and reliability issues are cited as a major factor in 28% of machine replacements, we know that equipment waste can be reduced if we can avoid these situations.
At Brita Professional we want caterers to know exactly how they can extend the lifespan of their equipment by carrying out essential preventative maintenance – adopting a 'cradle-to-cradle' approach, rather than a 'cradle-to-grave' one.
That's why we teamed up with industry-leading manufacturer Blue Seal and distributor First Choice Group in the report to share some of the best ways to look after equipment rather than relying on costly new purchases.
Naturally, ensuring a robust and regular service and maintenance schedule is adhered to – in line with the manufacturer's recommendations – is the best place to start.
This is something 65% of businesses agree with. Not only does this validate a warranty but it will also ensure any potential issues or faults are picked up before they become a more severe problem.
If issues do arise, it's vital genuine original equipment manufacturing (OEM) spare parts, consumables, and accessories are used.
This all helps to keep equipment running as efficiently as possible for the longest time.
Properly training all staff to clean and operate catering equipment should always be a priority and regular inspections are also important.
And, of course, avoiding the number one enemy of catering equipment – limescale build-up – is crucial.
Download the report for free from: www.brita.co.uk/professional.