24th Oct 2023 - 04:00
Image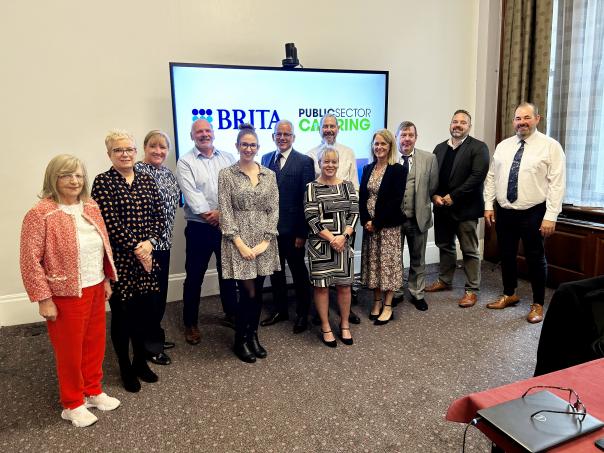 Abstract
Research by BRITA Professional has highlighted the importance for education caterers in building relationships with suppliers. To follow up, an industry group met to discuss the findings, and David Foad joined them.
The consensus view among the panel was that the 30%-plus rises in food and fuel prices that were hitting the sector last winter have eased, that prices have become more stable and, according to Michael Hales, there is 'a little bit of light at the end of the tunnel'.
The challenges higher prices threw up for operators included menu changes to incorporate substitute products, reviews of menus to manage cooking times more efficiently and smaller portions.
Brad Pearce emphasised, though, that this was only done where existing portion sizes were larger than mandated by the School Food Standards and they were simply cut to meet minimum requirements.
He added that in Plymouth this move had been accepted by schools as necessary and there had been no kick back from children or parents.
Anita Brown agreed, saying she had done similarly in Stockton. She made the point that the whole experience had shown the importance of keeping a regular conversation going with suppliers.
Gavin Squires echoed that, saying that as a supplier Bidfood had ideas, options and menu suggestions of their own that they could offer caterers if they were really struggling.
The BRITA Professional Research had shown that 56% of caterers admitted they'd had to make small adjustments to their menus due to rising costs of food or ingredient shortages. The panel was asked if that rang true and where adjustments had been made.
Cathy Amos said that, from a supplier perspective, she had seen caterers cutting small amounts of meat from recipes and adding alternative, cheaper proteins such as lentils.
She said this had not only helped cut costs but had the unplanned benefit of actually reducing the carbon footprint of some dishes.
Julian Edwards, though, had some words of warning about last-minute ingredient substitutions, saying that this opened the door to allergens inadvertently being added to a dish without the necessary menu warnings in place for servers and children.
It was agreed that as well as dangers for children, this added extra stress for busy catering teams and took a toll on their mental wellbeing.
The group felt that this was, without doubt, a danger though Cathy Amos of Brakes pointed out that if a supplier had to make a substitution it would never supply one that added allergens and it would be delivered with the usual full disclosure of those in the product.
She was backed by those operators around the table, who said they had been very well served by their suppliers – both during Covid and as prices started to rise sharply last year.
Chris Fay said that BRITA came out of the pandemic facing a lot of pressures. Yet, because BRITA was a family-owned business, the company had been able to pivot and be agile on the manufacturing side of business, implementing cost savings and increasing sustainability by recycling filters.
Pat Fellows, a consultant who works with Bidfood, said the company worked hard to help school catering operators with a number of initiatives and ideas to support them.
When it came to building relationships with the procurement and supply chain, the research found quality and reliability came out top, but that there was also demand for flexibility.
Brad Pearce said that he worked hard to build and keep relationships with local farmers and growers, as his company CATERed had a business model based on using as much fresh and local produce as possible.
And while all agreed that taking steps to help make supply chain relationships more reliable was worthwhile, it was admitted that there were occasions when they bought from supermarkets and wholesalers. That was similar to the research, which found that 52% of caterers admitted they used supermarkets when struggling with the supply chain.
Anita Brown said that there were this made the most sense. If you needed only a small quantity of an ingredient such as vegan cheese, for example, then it was quicker and cheaper to buy it from a local shop.
The round table panel was also asked about the greatest challenges they faced in operating equipment. This followed on from the research finding that caterers saw poor availability of replacement parts as the biggest equipment headache (56%), with frequent breakdowns (37%) the next biggest problem.
Jenny Scarrott said that a lot of time was spent trying to educate around the knock-on effects of not replacing faulty or old equipment. Though the cost concern was understandable, she added that it was important to have reliable equipment.
Judith Gregory said kitchen refurbishment plans in Wales ahead of the roll-out of universal free school meals in primaries had been hit by the availability of the microchips needed in so many pieces of equipment.
Kirstin Hatherley, said the war in Ukraine had hit world semiconductor production [Ukraine provides half the neon used in making microchips] and this had hampered the ability of service and maintenance teams to deal with kitchen breakdowns.
Inevitably, many of the issues facing school caterers came back to the flawed funding system. Brad Pearce said the recent rise in the funding for universal infant free school meals by 12p to £2.53 was welcome, but it was less than the funding per meal for benefits-based Free School Meals.
He added that LACA was also concerned that children in UK were being treated unfairly, with school meals funding worth well over £3 in Scotland.
Round table attendees included:
Jenny Scarrott, BRITA UK business account executive
Chris Fay, BRITA UK business account manager
Brad Pearce, Immediate past chair LACA and managing director of CATERed
Judith Gregory, vice chair of LACA, education catering business manager at the City & County of Cardiff
Gavin Squires, Bidfood business development controller
Michael Hales, LACA vice chair elect, and managing director Juniper Ventures Limited
Julian Edwards, chair of FCSI, owner of consultancy GY5
Kirstin Hatherley, Hatherley Commercial Services and chair of Ceda
Patricia Fellows, school meals consultant
Cathy Amos, Brakes head of customer marketing
Anita Brown, LACA chair, and service manager for Stockton on Tees Borough Council