17th Apr 2023 - 04:00
Image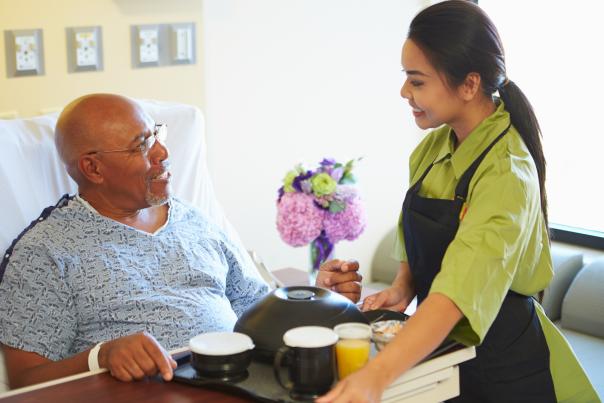 Abstract
Tackling food waste as well as boosting patient and staff satisfaction are mutually achievable goals for hospitals and their catering providers argues Dawn Pollard, managing director of catering at Civica.
With food price inflation hitting a record high of 16% in recent months, the environmental and ethical dimensions of food waste have come into much sharper focus.
In our homes, we generate an estimated 6.6m tonnes of food waste each year according to the food waste charity WRAP, and food waste is a particular challenge in hospitals, with almost a third of the £230m food budget spent on food which ultimately goes to waste, as highlighted in Phil Shelley's hospital food review (2020).
As well as the obvious financial burden it is placing on an already stretched NHS, food waste leaves a substantial carbon footprint, given the raw materials, energy, water and land usage required to produce it. There is also the moral question of allowing good food to go to waste.
Hospital catering providers operate in a particularly challenging environment, serving a constantly changing patient community with a broad range of dietary needs, preferences, and levels of appetite. It is perhaps unsurprising therefore, that hospitals are hotspots for food waste.
However, hospitals could achieve a substantial reduction in food waste, whilst at the same time improving patient and staff satisfaction, with the food choices on offer. This would represent a 'win-win' for hospitals, patients and the planet. The vital ingredient to the success of this endeavour – which our hospitals and their catering providers already have in abundance – is data.
Companies like Amazon, Uber and Netflix have mastered the power of data to transform our consumer experience. The result is a slick, fast, intuitive service, delivering what we want today and predicting what we're likely to want tomorrow.
A similar data-driven approach can help to cut food waste and improve patient and staff satisfaction and we've got evidence to prove it. Electronic meal ordering (EMO) is already delivering impressive results, as evidenced by Chesterfield Royal Hospital NHS Foundation, which provides healthcare and community services for more than 400,000 people across Derbyshire.
By deploying digital bedside ordering technology, Chesterfield has achieved a 50% reduction in service time, improved patient satisfaction and a significant reduction in food waste.
Hospitals hold or generate a great deal of patient and staff data, but it could be put to far more effective use. Data-driven digital technologies generate crucial insights to support smarter decision-making.
In practical terms, this could help ensure more efficient stock and menu management or allowing patients to select menu options closer to mealtimes, a key recommendation in the National Standards for Healthcare Food and Drink. This would mean happier, healthier patients and fewer meals going to waste. It would also mean patients getting the nutrition they need to get better – and leave hospital.
Real-time data can also allow catering providers to map meals to patients and not to beds, ensuring that perfectly good food isn't going to waste while its intended recipient is sitting elsewhere in the hospital.
Crucially, data-driven tech could also help ensure greater availability of food for hospital staff, particularly those working late nights. Pre-order and pre-payment options could ensure hospital staff are able to see what food is available in advance, thereby allowing them to plan their meals and ensuring no food goes to waste.
As the provider of more than 140m inpatient meals a year, our hospitals are on the front line in the battle against food waste. Delivering a meaningful reduction in waste hinges on not wasting that other resource they have in abundance – data. Let's make every 'byte' count.