30th Oct 2023 - 04:00
Image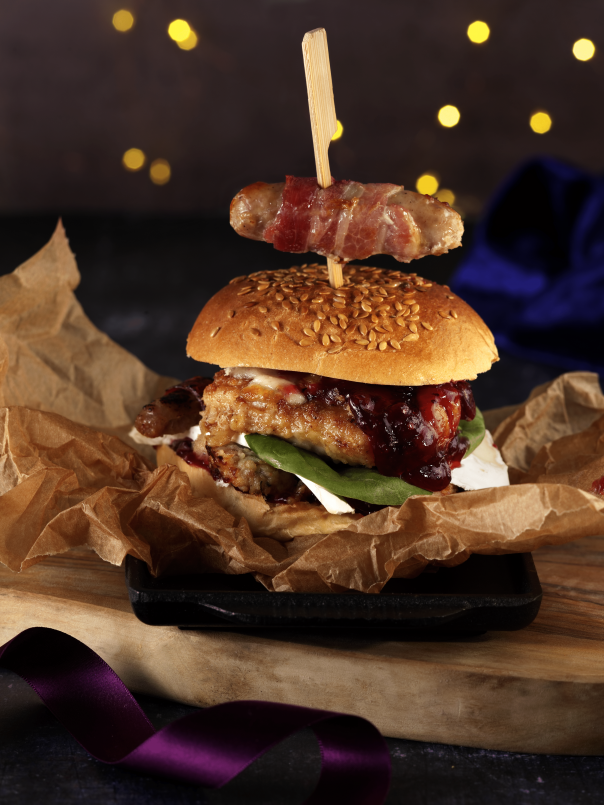 Abstract
Delving into some of the findings from its Plates to Profit Report released earlier this year, Creed Foodservice explores ways to make Christmas profitable, without losing any of the magic for consumers.
Rob Owen, Creed's executive development chef, said: "After what has been a challenging year for so many, this festive period will be key to finishing the year on a high. Essential to making this happen is understanding what the customer wants from a meal out, or quick festive bite, and creating dishes which have strong appeal, work operationally and still deliver that iconic festive feeling." He shares his top tips.
Don't sacrifice quality
With 86% of consumers suggesting that good quality food has a price, and with 75% prepared to pay more for higher quality, be sure to factor this in. Particularly when buying meat and seafood; buy the best you can within your price bracket.
Consider higher quality, but slightly smaller, protein portion sizes to keep margins working for you. If you get your accompaniments and sides right, consumers won't be left feeling short changed.
Consider staff time
Keeping a close eye on staff time is essential to creating a menu that wows, but still works. Around 39% of those surveyed in Creed's Plates to Profits report said they were buying in more pre-prepared or semi-prepared items in a response to having less staff available.
This can also be flipped on its head – the more prep time in a dish, the higher the cost to produce it. Work with your wholesaler to identify products that help you cut down kitchen prep time without compromising on flavour and finish.
Bread is best! Upgrade your selection
Christmas is a time when many consumers will be looking to upgrade their meal choices, and opt for extras that feel like a treat. Bread and butter is a great place to begin with this, with many operators now charging for bread as a starter anyway.
Artisan breads and flavoured butters will not only entice the consumer, but will help justify the extra spend. Creed works with Hobbs House, an iconic Bristol bakery, whose products include Rosemary and Sea Salt Focaccia and St. Martin Sourdough.
Offering a breadboard with a festive-flavoured compound butter, such as chestnut and sage or bacon and cranberry, will have strong appeal for many and requires minimal prep time.
Offer side dishes that add sparkle
Premium sides are a sure-fire way to encourage customer spend. It seems many operators have taken note of this, with 42% already having dialled up their side dishes and accompaniments in day-to-day operations. For Christmas, be sure to offer really appealing extras that the consumer just can't turn down. Hispi cabbage wedges roasted with garlic, walnut and parmesan is a to-die-for dish that is very simple to prepare and offers good return.
Loaded fries topped with festive ingredients like crispy bacon bits, melted cheese and cranberry sauce is sure to be a winner, whilst more traditional vegetable dishes can be given the wow factor using a few simple ingredients – how about Chantenay carrots roasted in honey and topped with fresh parsley?
Take classic high-return dishes and give them a festive upgrade
Burgers are one of the most popular year-round dishes, and it's no secret that a festive burger is a menu winner during the holiday season. Go all out and offer a turkey burger featuring all the festive trimmings – from delicious pigs in blankets and red cabbage, to cranberry sauce and Camembert slices. 
For grab and go operators, or those offering lunchtime options to take away, open sandwiches are also a great way to showcase nostalgic festive ingredients and they look visually appealing on the plate. How about an open sandwich loaded with smoked salmon on a cream cheese base with giant capers, rocket and a lemon dressing, with fresh dill sprinkled on top?
Don't forget the drinks
Irresistible cocktails and loaded hot chocolates with added festive liquors can be made to look and taste as exciting as you wish. Much of it is the visual appeal of the finished item, so be sure to make your drinks as 'extra' as you can.
A cinnamon stick and a slither of orange in a mulled wine, or a hot chocolate topped with whipped cream, festive chocolates like Terry's Chocolate Orange wedges and Quality Street miniatures and finished off with a dusting of white chocolate curls, is a quick and easy way to create a drink which has Instagram appeal. 
Christmas leftovers reimagined
95% of operators suggested they could improve the levels of food waste within their business and with the busy Christmas time approaching, finding clever ways to use any excess product in your kitchen is important
Taking a classic British favourite and adding a twist, Creed have created a Bubble and Squeak Burger which features leftover roast potatoes and other veg, topped with pickled red cabbage. Most importantly though, is trying not to over-order in the first place.
Work with your wholesaler to get bespoke sized packs of meat that suit your cover numbers, and don't be scared to use frozen products to minimise wastage – from bake-off breads and pastries, to desserts.