8th Jun 2023 - 04:00
Image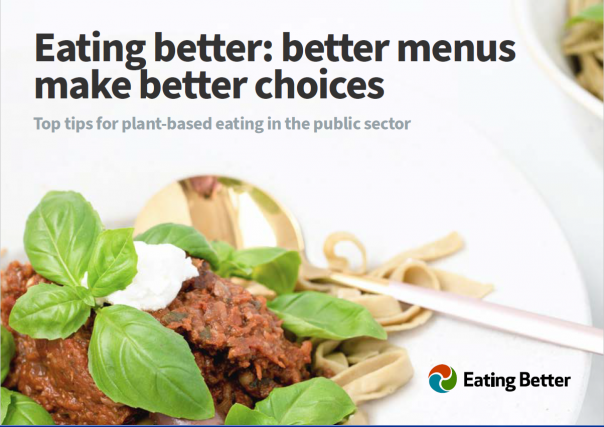 Abstract
The Eating Better alliance offers a practical guide to help public sector caterers promote plant-based menus.
Changes to menu design and language can be a low cost and effective way to encourage more sustainable diets with less meat and dairy and more plants.
Eating Better has reviewed the latest evidence on nudges to promote plant-based eating and spoken to public sector leaders in the field to produce a step-by-step guide with top tips to make plant-based eating the norm.
Tip 1 – More and better choice of plant-based dishes
•  Ensure that at least 50% of the menu is plant-based
•  Put plant-based options at the top of the menu
•  Encourage diners to try plant-based meals
The number of plant-based options on menus has been identified as an important behavioural 'nudge' to influence meal choice.
Tip 2 – Make plant-based dishes the core offer
•  Avoid describing dishes with restrictive terms, such as 'vegan' or 'vegetarian'. Instead, use basic symbols, 'V' or 'Ve' and if necessary, use terms like 'plant-based' or 'plant-protein' in the menu description
The terms 'vegan' and 'vegetarian' actively discourage meat-eaters from selecting plant-based or meat-free options, but 'V' and 'Ve' symbols have been shown to have no impact on choice and do not discourage meat-eaters.
Tip 3 – Stimulate the senses with better food descriptions
•  Use positive language to describe flavour and freshness of the product ('homemade', 'cooked to order', 'sweet and mild')
Describing vegetables as 'indulgent' or 'zesty', 'rich', 'tangy' and 'slow-roasted' could lead to 25% more people selecting vegetables than when labelled with a basic name.
Tip 4 – Avoid negative language
•  Don't use negative language about contents and nutrition (ie. 'meat- free', 'meat-less' 'low fat', 'low calorie')
•  Highlight the variety of plant- based ingredients (eg. 'plant- protein lasagne' instead of 'meatless lasagne')
Using the terms 'meatless' and 'meat-free' is ineffective at encouraging plant-based meal selection. These terms can create the impression that the meal may be missing key ingredients or nutrients (particularly protein) and has lower appeal.
Tip 5 – Make the connection with traditional and familiar dishes
•  Use traditional and familiar wording (i.e 'plant-based meatballs and spaghetti')
•  Avoid modified wording such as 'chickenless' or 'fishless fingers'
Consumers are far more likely to select a menu option if the dish or ingredient are familiar to them. Familiarity is more important to consumers, when choosing from a menu, than both health, nutrition and price.
For more information visit: www.eating-better.org.