29th Oct 2019 - 08:31
Image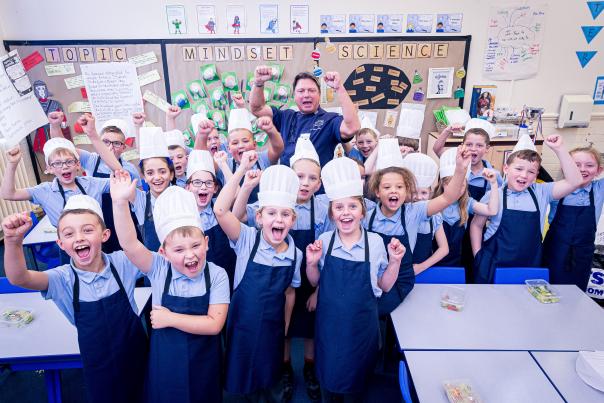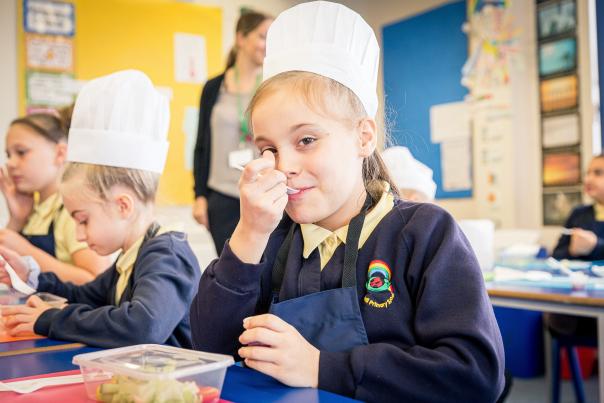 Abstract
Essential Cuisine joined forces with Brakes to celebrate British Food Fortnight by delivering education sessions to children in schools.
Inspiring the next generation of chefs 
Jonathan Harvey-Barnes, senior development chef at Essential Cuisine, hosted the interactive cooking sessions, which focussed on scratch cooking using British produce. 
Fifty pupils aged 7-9 from Darnhall Primary School in Winsford and Victoria Road Primary School in Northwich were involved in the cooking sessions (both catered for by Edsential). The pupils were taught knife skills including 'the bridge' and 'the claw' technique to chop fresh vegetables.
Harvey-Barnes, said: "Both Essential Cuisine and Brakes are passionate advocates that a love of cooking and food should begin as early as possible.
"Engaging with kids at grass-roots level not only helps them improve and hone basic kitchen skills, it's also vital in helping them understand food and its importance on their individual well-being. 
"Edsential were delighted with the sessions and several of the pupils remarked after how they now wanted to become chefs and were excited about taking their aprons home to help their parents prepare meals – hopefully we have, in some small way, helped inspire the next generation."
Each pupil was given a chefs' hat, apron and a goodie bag filled with Essential Cuisine and Brakes items.
Lisa Johnson, Brakes sector marketing manager for education, added: "We are, once again, delighted to be supporting and promoting Love British Food/British Food Fortnight.
"We see educating children about the great fresh produce and ingredients available on their doorstep as a key part of our role as a responsible supplier."
British Food Fortnight 
British Food Fortnight ran from 21 September to 6 October 2019 and it aimed to promote the best of British food.
British Food Fortnight 2019 was the most successful to date, with increased involvement around the UK, including a 10% rise in schools, hospitals and communities taking part.
Love British Food & Drink have also announced plans to rename the annual event to British Food and Drink Fortnight, which will run from 19 September to 4 October 2020. Drinks have been included in the campaign to ensure British drinks are celebrated.
Essential Cuisine supports young chefs 
Essential Cuisine is a patron of the Chefs Adopt a School charity, an organiser of North West Young Chef of the Year competition and a sponsor of the South West Young chef of the Year competition. Their chef team regularly give up their free time to mentor young chefs.
As part of the initiative Essential Cuisine and Brakes are collaborating on a co-branded recipe book to showcase the best of British produce with hints and tips.