8th Oct 2021 - 05:00
Image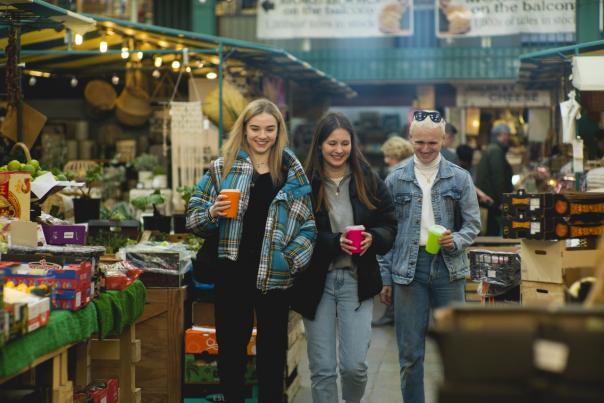 Abstract
Addressing the challenge of excess waste packaging is a problem which many businesses are trying to solve, with plenty now making significant pledges towards tackling what is a global climate crisis.
FSG, a Nottingham-based manufacturer and supplier of reusable packaging and dinnerware products, has worked within this space for 12 years - helping many big brands overcome the challenges around changing their packaging and dinnerware solutions for cleaner and greener alternatives.
The University of Birmingham (UoB) was one such organisation and FSG has struck up a fruitful partnership in recent years which has continually delivered results in tackling excess waste, whilst educating students and staff, and improving operating costs for the university.
"The University's Hospitality and Residential services team were challenged with issues relating to food and drink takeout packaging, with a focus on sourcing inventive ways to tackle unnecessary waste and make reusable solutions the norm," explains Lynn Johnson, FSG's managing director.
"The aim was to reduce the amount of single use food takeout boxes and disposable hot drink cups, with a view to becoming waste free across these areas."
FSG's Eco to go reusable boxes and cups were chosen by the University for their sustainability credentials, which are consistent with the organisation's commitment to reducing its environmental impact whilst maintaining economic viability.
"UoB's goals from the initiative were to empower staff, students and visitors to take control of their environmental impact; to wipe out single-use disposable food and drink containers, and eradicate the throwaway culture that comes with them," Lynn adds.
FSG's Eco to go box was trialled at the UoB Hub Café Vale Student Village in September 2016. Staff marketed the boxes around campus using posters and eye-catching visuals on tv screens, and the benefits of these products cannot be overstated in Lynn's eyes.
"The boxes are made from sturdy, recyclable polypropylene and can be reused extensively. Students and staff purchase the Eco box for £4 and are responsible for cleaning and returning the boxes to their designated food outlets. A free meal is offered if the student chooses to hand the box back to the university at the end of the year.
"In the first year of using the product, from 2016 to 2017, 135,625 disposable containers were replaced with reusables with a total saving of £17,404 - which was a fantastic result!" says Lynn.
"Eco to go boxes are essentially a self-supporting initiative. £21,000 a year was being spent on single-use food containers, which was an unnecessary expenditure resulting in thousands of containers going to non-recyclable waste. The initial outlay for 1,008 boxes was just over £4,000, but resulted in a saving of over £17,000," she adds.
As a result of the environmental and economic success of the scheme, the decision was taken to withdraw all single use hot food takeout boxes from the University's Vale Village.
The environmental push didn't end there. As Lynn details, following the success of the Eco box, UoB decided to expand its environmental commitments by extending its reuse policy to coffee cups.
"Eco to go cups were selected because they are the most environmentally friendly reusable cups available in the market. They're made from agricultural waste - so the cups are 100% natural, non-toxic and biodegrade in compost - eventually turning into fertiliser.
"UoB incentivised the uptake of the reusable coffee cup by selling them at cost price and offering a free drink with the initial purchase of the cup - a brilliant idea.
"Menu boards advertised hot drinks without the price of a disposable cup and charged 10 pence for every hot drink taken in a disposable cup to discourage use of disposables. Floor standing and countertop points of sale were used in cafes and retail outlets, alongside a poster campaign detailing a clear environmental message.
"UoB also held Eco festival days to further educate people as to the benefits of reusables versus disposables. The marketing and the information distributed by the team really sold the idea to staff and students and the results really speak for themselves."
As a result of the partnership between FSG and UoB, 5,000 cups sold out within three and a half months. The figures, dating from the launch in freshers week in September, through to December 2017, showed that 69,993 disposable cups were used, while 35,083 reusable cups were used.
Achieving a 33% uptake of reusable cups in this short period of time, alongside the success already seen with Eco to go boxes, demonstrates that a hunger is clearly there for change.
FSG, alongside its partners, are leading the charge for a more sustainable, cleaner and greener future through the widespread use of reusable products and for Lynn and the team, this is only the beginning.