19th May 2023 - 04:00
Image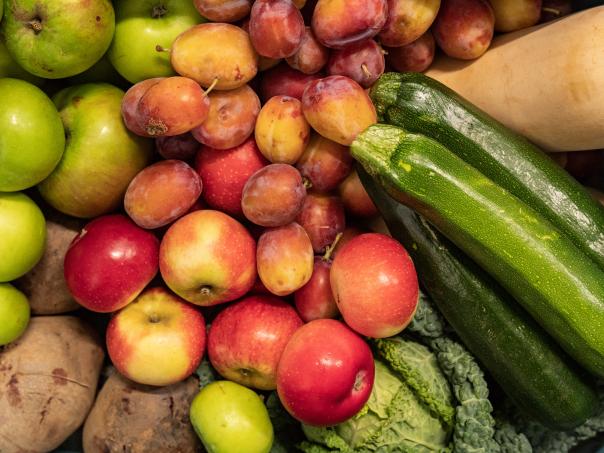 Abstract
David Mulcahy, culinary ambassador for food development and innovation with Sodexo UK & Ireland, talks about how the company uses unwanted fruit and veg.
Sodexo launched Wasteful to Tasteful to help reduce the volume of grade B fruit and vegetables that are thrown away or left to rot. In partnership with Ferryfast, a co-operative of farmers in Worcestershire, boxes of rescued fruit and vegetables are delivered in recycled banana boxes to Sodexo's catering teams across the country.
Q: How schools were approached about this?
DM: Sodexo has been working with Jess Latchford of Wasteknot since late 2018 to provide boxes of rescued fruit and vegetables to our catering teams. Working with Jess at WasteKnot we developed a plan to make these boxes available through our supply chain on a regular weekly or bi-weekly basis, we named the initiative Wasteful to Tasteful.
We created a range of marketing materials, newsletters and a selection of videos to drive engagement and to ensure we had some good collateral ready for our catering teams to access. We broadly agreed what vegetables would be likely to be available based on what the farms were planning to grow so that recipes could be tailored to include these.
In order to start with a strong uptake we allocated boxes to over 120 sites on a weekly basis through the core part of the school year.
Q: Was it incorporated into the curriculum in any way?
DM: While not directly incorporated into the curriculum, the use of the collateral such as posters in the school dining halls has helped Wasteful to Tasteful become known by the students and teaching staff. Our teams will often display the boxes in the dining areas as part of 'discovery tables' to showcase unusual vegetables or for specific promotions and theme days such as British Food Fortnight or around Halloween the boxes will include pumpkins and squash.
Q: What were the challenges you overcame in getting schools involved?
DM: While broadly positively received, there have been some sites that perhaps may struggle with the irregular shapes or amounts of product that come in a box almost as a mystery box. This is where our skilled development chefs come in, they work closely with our catering teams to provide ideas, recipes and creative ways to use the rescued produce.
The Covid-19 pandemic did disrupt this initiative as we had to pause deliveries when schools were closed. And that has been followed by supply chain disruptions and, in some cases, staffing challenges. Such factors have resulted in our menus needing to be adapted accordingly.
Thankfully the use of Wasteful to Tasteful is back on track and our teams are back to being creative with the rescued produce they receive and with such a strong emphasis on healthy eating this is having a great impact.
Q: How were the recipes developed?
DM: My team of development chefs are given all the available information about what produce may be available in the boxes on a season-by-season basis. We then devise a range of recipes to ensure there is a good selection of hot and cold dishes suitable for different parts of the day covered.
In addition to my team of development chefs who work on dishes and menus for our entire education business including state and independent schools as well as universities, we have many onsite chefs devising their own recipes. And we encourage them to share them with us so that we can then include these for other teams to use.
All the recipes are vetted by nutritionists. Recipes include chocolate and beetroot or Kale brownies, vegan root vegetable muffins, delicious seasonal salads and, of course, classic favourite dishes and soups that use the produce often included in the boxes.
Q: How was it promoted in school dining halls?
DM: There is a selection of posters, menu paper and videos that are available and used to highlight dishes which have been created using the Wasteful to Tasteful ingredients from each week's box.
Q: How were your catering teams involved?
DM: When we launched Wasteful to Tasteful our catering teams were invited to join group calls and meetings to hear what Wasteful to Tasteful is, how it works and the bigger picture of how by taking perfectly good fresh seasonal produce that is surplus or a bit wonky in shape helps prevent food waste by using it to create delicious dishes rather than it going to landfill. Our catering teams receive recipe ideas with the boxes they receive, but are also encouraged to be creative and to share their ideas for dishes.
Q: What reactions did you get from children, teachers, and parents?
DM: We continue to receive positive comments from our clients and their teaching staff, particularly as this is just one element of our food waste initiatives and one that through posters in the dining hall and other collateral we are hoping to encourage people to look at doing this at home too as many supermarkets offer their own versions of wonky fruit and vegetable options. Given that a lot of the recipes using the rescued produce are very plant-based it also helps encourage children to try new dishes and to eat more vegetables.
Q: Is this being expanded to more schools?
DM: With over 100 education sites currently taking boxes, the plan is to expand further across our estate and with additional frequency. We regularly review the marketing materials, recipes and messaging and continue to engage with new sites to help them realise the potential of participating. We expect to double the uptake of the scheme over the coming year.