16th Nov 2020 - 07:00
Image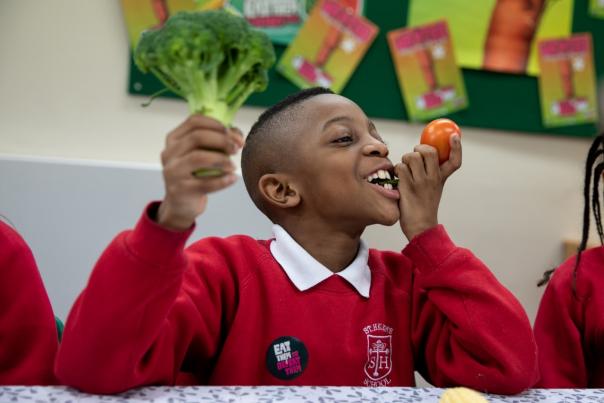 Abstract
The health of the nation's children has never been higher on the agenda, from the impact of lockdown on child mental health to Marcus Rashford's campaign for holiday meals, there is real momentum behind giving kids the right start in life, writes Dan Parker chief executive of Veg Power.
Here at Veg Power, we want to make a difference not just to children's diets right now, but to create habits that will stay with them as they grow into teenagers and young adults.
That's why we have put schools and caterers at the heart of a framework to create a long-lasting cultural change in the way kids perceive vegetables.
'Eat Them to Defeat Them' campaign
The initiative uses a combination of the playful 'Eat Them To Defeat Them' campaign we developed in partnership with ITV.
The campaign encourages children to step up and save the world from an 'invasion' by dastardly veg – alongside activities, educational resources and tastings. It gives them the confidence to try vegetables, together with their friends and classmates, and puts them in control of their diet in a unique and refreshing way.
Children are given a sticker for participating, as well as a reward chart and sticker pack to take home. This helps parents to repeat, reward and normalise these new consumption habits at home. The campaign has directly increased UK veg sales by £63m between February 2019 and July 2020, equivalent to 517m children's portions.
Changing perceptions
Children are endearingly honest in their views. 'I don't eat vegetables', you might hear them say. Through encouragement, enjoyment and a positive peer environment, we are helping to change that view. It works because it speaks to children in a way they can relate to – it's fun, exciting, and distinct from conventional public health messages.
The positive impact is there to see, with 76% of children surveyed saying the 'Eat Them To Defeat Them' campaign and schools' programme had made eating veg more fun, and 50% saying they'd eaten more vegetables as a result.
To give a flavour of the kind of comments we've received directly from kids and their parents: 'It made me feel more confident to eat more veg'; 'my child ate veg he would normally refuse'; and 'my kids keep on saying the phrase and my youngest loved getting the sticker rewards'.
Collaboration with schools
The collaboration with schools and caterers is pivotal to the success of this initiative, with 1,500 schools and 425,000 children having already taken part. And we'd love more of them to get involved when it returns in February.
More than four in five schools said it was more popular than any other healthy eating initiative they'd ever run, and 92% want it back next year, underlining the positive impression it has made so far.
Statistics can only tell you so much, and it's been the feedback from headteachers and catering managers that has most warmed our hearts. They've reported children that wouldn't go near a vegetable suddenly becoming passionate fans, improved engagement in learning, and a positive, can-do atmosphere among the children.
A report by school caterer HC3S in July 2020 highlighted clear evidence of kids engaging positively with the initiative, and an overall belief among schools that it is helping children to eat more veg.
Parents welcomed the joint approach between caterer, school and home, and a survey of participating families also revealed that 68% of parents believe their child is now willing to try a wider variety of vegetables.
The benefits to schools and caterers go beyond altruism: schools have reported a 25% reduction in food waste as children are more likely to eat the veg on the side of their plates, while caterers say they've seen improved staff engagement and team morale.
It's also good for a caterer's reputation, though we know this pales into insignificance in comparison to the feeling of making a positive impact in society.
Obesity crisis
The nation is facing an unprecedented obesity crisis, with a shocking 38% of children projected to leave primary school overweight or obese by 2024, according to Public Health England.
As many as 94% of 5-10-year olds eat less than three to five portions of veg a day, and a third fail to get a single portion. Schools and their caterers are uniquely positioned to help rewrite the narrative, and we want to help them.
Final thought
Going forward, supported by a unique collaboration of growers, retailers, caterers and other partners, we plan to develop Veg Power into a sustainable and lasting initiative that will have a positive impact on our nation's children for years to come.
That includes a richer, year-round schools programme featuring growing, cooking and eating veg, and putting healthy eating at the heart of every child's education.
We'd love you to come on the journey with us.