15th Mar 2023 - 04:00
Image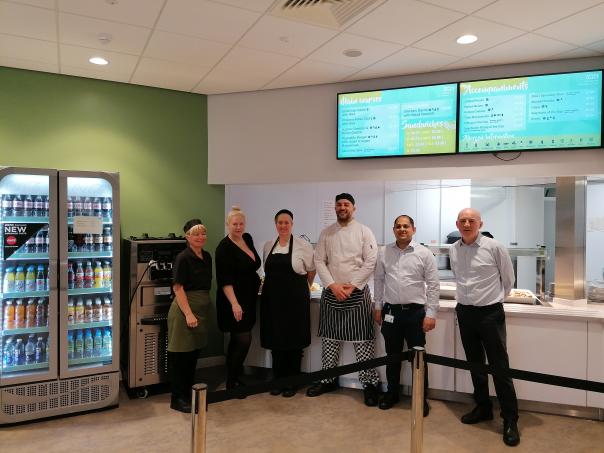 Abstract
Stepping Hill Hospital in Stockport has won awards and praise for the way it provides an outstanding catering service to patients, staff and visitors. Edward Waddell visited to see how they do it.
The facts are simple. Stepping Hill Hospital serves 2,400 meals a day to patients across breakfast, lunch and dinner. The heart of the operation is an NHS kitchen that was purpose-built in 2014 to replace the existing one. The trust has since started to invest in new ovens, boilers, bratt pans and dishwashers to make sure the catering team is working with modern, efficient equipment.
The staff restaurant, meanwhile, has a lunch service from 12pm-2pm, which feeds around 500 people over the course of a day. The menu is decided in monthly meetings based on the latest food trends, what is in season and what dishes are popular.
Allergens are displayed on television screens to give customers peace of mind that they are in a safe environment. The restaurant operation itself was refurbished as recently as March 2020, with new ovens and service equipment.
Other catering facilities at the hospital include vending machines and two Costa Coffees on site, with a third outlet planned to help give staff extra food and drink options. And sustainability is not forgotten - the catering team also recycles its food waste into biofuel.
Focus on fresh food
Duncan O'Neill, support services manager at Stockport NHS Foundation Trust, explained the hospital had a combination of full-time and part-time staff, with around 13 chefs covering the patient and retail side 'who strive to offer people healthy and nutritious food'.
"The vast majority of the soups, main courses, desserts and accompaniments will be made by scratch on the day. Wherever possible the emphasis is on fresh food. Obviously we do cook and chill certain items for example a cottage pie."
In August 2022 the hospital received five out of five stars when inspected by Environmental Health for its food hygiene standards.
A spokesperson at the time commented: "We work with the Trust's nutrition team to make sure the food we provide is of a high standard. The catering department creates freshly-prepared dishes each day in our purpose-built modern kitchen facilities. We cater for a range of diets and dietary requirements.
"Our catering staff and chefs are all trained in food hygiene and handling. Our own catering porters aim to bring the food to the wards quickly and efficiently in specially designed heated trolleys so that the food reaches patients at the best possible standard."
Duncan described the Socomel heated trolleys the hospital used as a 'game changer' because they keep hot food warm and cold food cool. He said that when hospitals get negative feedback for their food it is most likely because of the temperature it arrives at for patients.
Challenges of food inflation & recruitment
Speaking about the challenges of food inflation and staff recruitment, he noted: "It's been a challenge. I think most people in catering would agree it has been unprecedented. After the Russian invasion in Ukraine the price of oil doubled within an eight-week period.
"In terms of coping we have been shopping round wherever possible between our different suppliers. Over the last few weeks I have had two suppliers contact me reducing costs on dairy products, which has been one of the main pressures. We are actually seeing a couple of items go down in price which is encouraging.
"Since Brexit, unfortunately, we have struggled to get chefs on board. It is definitely a challenge there are not the numbers there once were three or four years ago. We are not getting the same amount of candidates for a position. We are doing okay, it is just taking longer."
Despite these challenges the catering team has been able to thrive and become an exemplar site by introducing innovative menu ideas, switching to an electronic ordering system and hosting special themed days.
Introducing more plant-based dishes
The catering department has incorporated more plant-based dishes to meet growing demand as well as introducing venison on the menu.
Duncan said: "There has been a conversation around reducing the amount of meat but not taking it off the menu. We worked in collaboration with Quorn, who have been on site on two occasions over the last 12 months where they have brought their team of chefs in to work alongside ours.
"We are looking at offering meat-free alternatives on the patient and staff menu. The main driving force is around variation and menu choice. Meat-free options are becoming more popular with patients."
Putting venison on the menu
When venison is on the menu it is usually selected by around 200 patients a day and it has increased in popularity. He added: "It's a different product. It adds a little bit of foreign interest on the menu.
"In terms of the volatility of pricing, three years ago the gap between venison and beef was a noticeable one, but the venison price has stayed stable whereas beef and chicken prices have gone up. The gap between the two is negligible now, plus the venison gives a really good yield as there is very little waste.
"So when we cook the product we are getting a really good return. It is also a very sustainable meat. Game on hospital menus, although there are a few sites that do it, is not prevalent and you wouldn't expect to see it on the menu as a hospital patient so it adds a little bit of interest.
"From a chef's perspective its quite good for them to use different products to be a bit more creative with something else rather than just beef or chicken."
Electronic meal ordering
Stepping Hill Hospital has also introduced the Datasym electronic meal ordering system, which Duncan said had been the catalyst for several changes that have been made.
"With our old paper-based system we would buy menus for a three to four month block. When you've ordered four months' worth of menus then you are tied into that menu for months and you can't change it.
"With the electronic system it has worked really well when we have had issues with the supply chain through Covid and Brexit. If, for example, we couldn't get a product for the menu we have a bank of recipes which we can dip into and replace that particular dish the day before.
"We can adapt that dish or change the menu completely. The electronic meal ordering does give you that flexibility and creativity which didn't exist in the old paper base.
"We can add in all the allergen information to the dishes that are on the iPad for the patients to see. We can also add pictorial information for patients for whom English is not their first language or those with a cognitive impairment. We can show them a picture of what a dish would look like. You are adding in additional layers of information to the patient."
The catering department includes in-house diet chefs who focus on freshly prepared meals for all types of dietary requirements, including for patients with dysphagia.
The hospital is currently running what Duncan calls a 'unique' deli sandwiches trial in which patients can create their own bespoke sandwich.
He said this was a good solution for picky eaters or allergy sufferers who can customise their order using the electronic ordering system.
The iPad meal ordering system was also beneficial as it reduced human error; under the old paper-based system things could get lost or damaged.
As we toured the hospital together a member of staff praised Duncan for the trust he puts in his colleagues to come up with unique ideas that can be incorporated into the service. Duncan responded: "We like to do things differently here."
To remain responsive to patients and keep the catering team on its toes, they are regularly tasked with conducting audits in which patients give their feedback on the quality of food and where they believe improvements can be made.
Stepping Hill Hospital has also employed an Estates and Facilities Matron to act as a go-between to help the catering team and ward staff jointly to improve the quality of meals.
Themed menu days
Specially themed menu days are held regularly, and technology is playing an increasing role here too.
"We have started to utilise the electronic meal ordering system for themed menus. The first thing we did was a steak night. Most NHS sites probably don't have steak on the menu, but we got in contact with our butcher and it went down really well.
"As a consequence of that we are doing other things as well around the menu content. We also have a wide range of different cultures within our team so we have started asking our staff what they would like to cook and what kind of specials.
"We've had Filipino, Spanish and Bangladeshi dishes on as well as a Valentines-themed evening. It goes down really well.
"When Erica Bell and Shelley Pearson-Smith won the competition last year we showcased their meal via the electronic meal ordering system. That was really well received.
"It ensures creativity within the team and allows the team to do something different. It stops the chefs from getting menu fatigue."
He is referring to the Stockport NHS Foundation Trust catering team duo of Erica and Shelley, who triumphed in the 2022 final of the NHS Chef Competition, which was held at Warminster Cookery School in Wiltshire.
NHS Chef of the Year 2022 winners
The pair cooked a four-course menu. The starter was watercress soup and poached egg served with garlic oil and home-made croutons; they followed this with braised ox cheek, celeriac fondant, roasted carrot and seasonal greens; then came wild mushroom tagliatelle with lemon parsley crumb; and finally a dessert of fondant pudding with chantilly cream, chocolate crumb and a salted caramel sauce.
Phil Shelley, senior operational and policy manager for soft FM at NHS Estates & Facilities, and one of the judges on the day, said: "The scoring through the competition has been incredibly close, which is great as it shows you've all continued that improvement. But it's important also to say that the winners are absolutely stand-out and they should be incredibly proud."
Duncan also praised them, saying they would often stay on during their own time to perfect their dishes, source ingredients and improve their teamwork.
Erica and Shelley said: "It was an amazing achievement. It was a lot of hard work and it was good to get something out of it. We started off with regionals, then we went to a mentoring event which also had a cooking element.
"Then we had three days the first week [of the finals] then three days the next. Over the six days we did 70 odds dishes.
"The menu was based on each challenge. We knew what we wanted to do for the regionals as we regularly cook seasonal, on trend and nutritional food.
"The ox cheek was something different. We had to keep in mind that whatever we made had to be suitable for the patients, whether as a special at Christmas or for an occasion."
When asked about the benefits of the competition and encouraging others to enter this year they added: "Oh yes definitely. Everybody was so nice meeting the other chefs.
"It was interesting to see how they worked. Gaining a mentor with so much experience was also beneficial. It's the number of extra skills that we got out of it as we stretched ourselves.
"It is a chance to showcase that NHS chefs can cook and we have similar qualities to restaurant chefs. It's a great competition for chefs to showcase their abilities and show what they can do."
Public Sector Catering Award
It is also worth mentioning that last April Duncan received the Hospital Catering Award at the Public Sector Catering Awards.
Speaking about the award, Duncan concluded: "It was nice to get a bit of recognition for myself and, of course, the wider team. No one can do anything in this environment on their own.
"You need the support and the backing of those around you. It was a reflection of everyone's hard work and efforts for the things we have done over the last couple of years."