20th Jan 2020 - 09:00
Image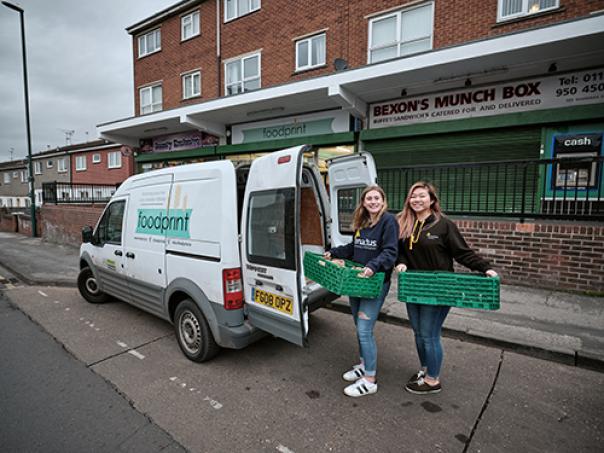 Abstract
A University of Nottingham student-led social enterprise that saves and sells food, which supermarkets would otherwise throw away, has won a 'prestigious' Impact Award from Universities 21 (U21).
Foodprint won the Impact Award for their student-led project, which helps around 600 people every week receive surplus nutritious food. 
Foodprint's origins 
Foodprint opened in 2017 with the support from Nottingham City Council to save food from supermarkets that would have otherwise been thrown away. The food saved is still 'perfectly good' to eat and the scheme prevents food going to a landfill site. 
Foodprint sells this unwanted food in a store in Sneinton to ensure everyone in the local area can afford 'high quality and nutritious' food.  Revenues from the shop subsidise the redistribution network, which delivers surplus food to homeless shelters, food banks and school breakfast clubs.  
The store and redistribution network are operated by a large body of volunteers from the university and from the local community.  
Robert Mokaya, the university's pro-vice-chancellor for global engagement, said: "We are extremely proud of our Enactus students and in this particular case those involved in Foodprint who have won this award in the face of fierce competition from other valuable projects globally. 
"The prize is testament to the clear vision, ambition and sheer hard work of these young entrepreneurs who are making a real difference to thousands of people in Nottingham every year. Their efforts are a double win in terms of the impact on the environment and tackling food waste in a highly practical and effective way."
Sustainable approach 
The Foodprint shop in Sneinton is run by students from Enactus Nottingham- a non-profit organisation that supports student entrepreneurs. 
Since it started the company has saved over 30 tonnes of food from being wasted, which is equivalent to 130,000 Kg of C02 emissions. 
Chris Hyland, director of Foodprint, added: "Winning this prize is a huge honour, and reflects the enormous amount of work and passion put in by Foodprint members past and present, our amazing volunteers, local community partners and our customers. We're really excited to scale our environmental and social impact even further in 2020. 
"We are dramatically increasing the amount of food we save from landfill and are soon to launch 'Foodprint on Wheels' to truly make high-quality affordable food accessible to all. We're sure RISE's support will be invaluable in helping make it a success!"
Impact Award 
Foodprint won the Impact Award from U21, a global body that works to improve student experience and share best practice in research and educational 'innovation'. 
The RISE (Real Impact on Society and Environment) award opportunity showcases student-led projects and is 'inspired' by the United Nations 17 Sustainable Development Goals. 
There were 16 student businesses from U21 institutions all over the world competing for the prize. For winning the Impact Award category Foodprint will gain 'international exposure' and have the opportunity to converse with a global network of 'expert mentors' and supporters. 
A global panel of judges from the world of 'social entrepreneurship and innovation' chose the victorious teams from a selection of video pitches.
Professor Bairbre Redmond, provost of U21, commented: "The U21 RISE projects are truly inspiring and demonstrate both the ingenuity and the depth of concern that students in U21 universities have in making the world a better place. 
"I loved watching these videos and seeing what is happening in social enterprise and innovation around the world. My congratulations to all who took part and we look forward to supporting them to reach their goals."