16th Nov 2021 - 06:00
Image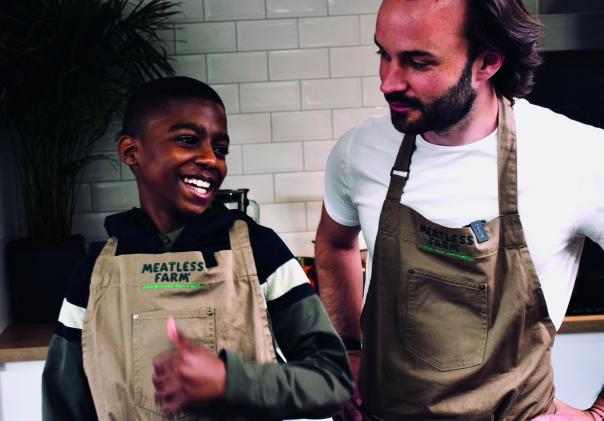 Abstract
The UK's youngest award-winning plant-based chef, Omari McQueen, has been signed up by Meatless Farm to help drive the uptake of plant-based food in school canteens.
British meat-free, plant-based food producer Meatless Farm has recruited 13-year-old YouTube star Omari McQueen to help launch 'For Kids By Kids', which aims to drive the uptake of plant-based food in school canteens.
Omari has already accomplished things people spend a lifetime trying to achieve, boasting the title of the youngest award-winning vegan chef in the UK, as well becoming the chief executive and founder of vegan restaurant Dipalicious.
Not only that, the entrepreneur recently landed his very own vegan cookery show on the BBC's children's channel, CBBC and added a further string to his bow with his first vegan cookbook – Omari McQueen's Best Bites Cookbook.
The 'For Kids By Kids' campaign will be kicked off with a series of films and recipe videos, shot alongside Meatless Farm culinary chef Ben Davy. These will feature school dinner favourites and education about why school dinners and sustainable eating are important.
The company also sponsored LACA's National School Meals Week, which ran from November 8-12, to help introduce more plant-based options in schools.
Here Omari and Ben answered some questions from Public Sector Catering magazine about the partnership.
Public Sector Catering: How will your partnership with Omari help school caterers to get ahead of the sustainable food conversation?
Ben: School caterers are in a unique position when it comes to showing children the connection between delicious food, sustainability, and nutrition. Schools should be the place where kids are inspired to try new foods and to really think about what foods is, where it comes from and the impact our choices have on the planet. I hope our partnership with Omari will help bridge that gap and get everyone talking.
PSC: Which dish did you have the most fun creating/ Which dish is your favourite?
Omari: We absolutely loved creating the Cheesy Meatballs and think it will be a standout favourite. Although, we have kept the dishes as simple as possible to cater to all preferences. We believe you can create plant-based versions of many popular family meals by swapping meat for plant-based meat alternatives to create classic dishes, just like the pasta with meatballs or bangers and mash.
PSC: How do you think the plant-based movement will be integrated into school catering over the next five years?
Ben: Schools can make a huge difference in driving education around food and the benefits of having plant-based meals as part of your diet. We'd suggest that caterers involve suppliers to create farm to fork educational experiences. As well as getting children cooking so they can see first-hand how easy it can be to make healthy meals that are delicious and have a positive impact on the world around them.
Kids are now more aware than ever about the climate crisis and helping them understand the impact of their meal choices and the effect that choosing plant based alternatives to meat will have on their future is hugely important.
PSC: Do you think that nutrition around food should play a more important role in schools syllabus?
Omari: I am extremely passionate about the sustainability of food and teaching my generation more about where their food is sourced and the long-term environmental impact our food choices can have.  
Ben: For many children, school is their main interaction with food, particularly for the 1.4 million who claim free school meals. Learning about food nutrition is therefore vital and should play a role in schools - Meatless Farm is currently working with a not-for-profit partner, Rethink Food in order to deliver this kind of education in schools around nutrition and the environment.
PSC: We know that you are championing for carbon labelling, how do you think this will benefit the foodservice industry?
Ben: Having a carbon labelling system will help consumers and the industry make more informed decisions about the foods they are eating and the effect they have on our planet.
Making small changes to what we eat could meaningfully reduce emissions while saving important resources like water and energy, so the industry has the ability and a duty to make a positive impact by being transparent with labelling.
PSC: How is the vegan diet more sustainable than other types of diet?
Ben: Making small changes to what we eat could meaningfully reduce emissions while saving important resources like water and energy. For example, if every household in the UK went 'meat free' for one more meal per week it could reduce national carbon emissions by up to 8.4%, which is a significant impact from small individual changes but something not many people realise.